Discover more from Grace on Football
The Premier League and other football (soccer) nonsense.
Over 12,000 subscribers
Are Tottenham Becoming a Good José Mourinho Team?
Is that still a thing? It might still be a thing!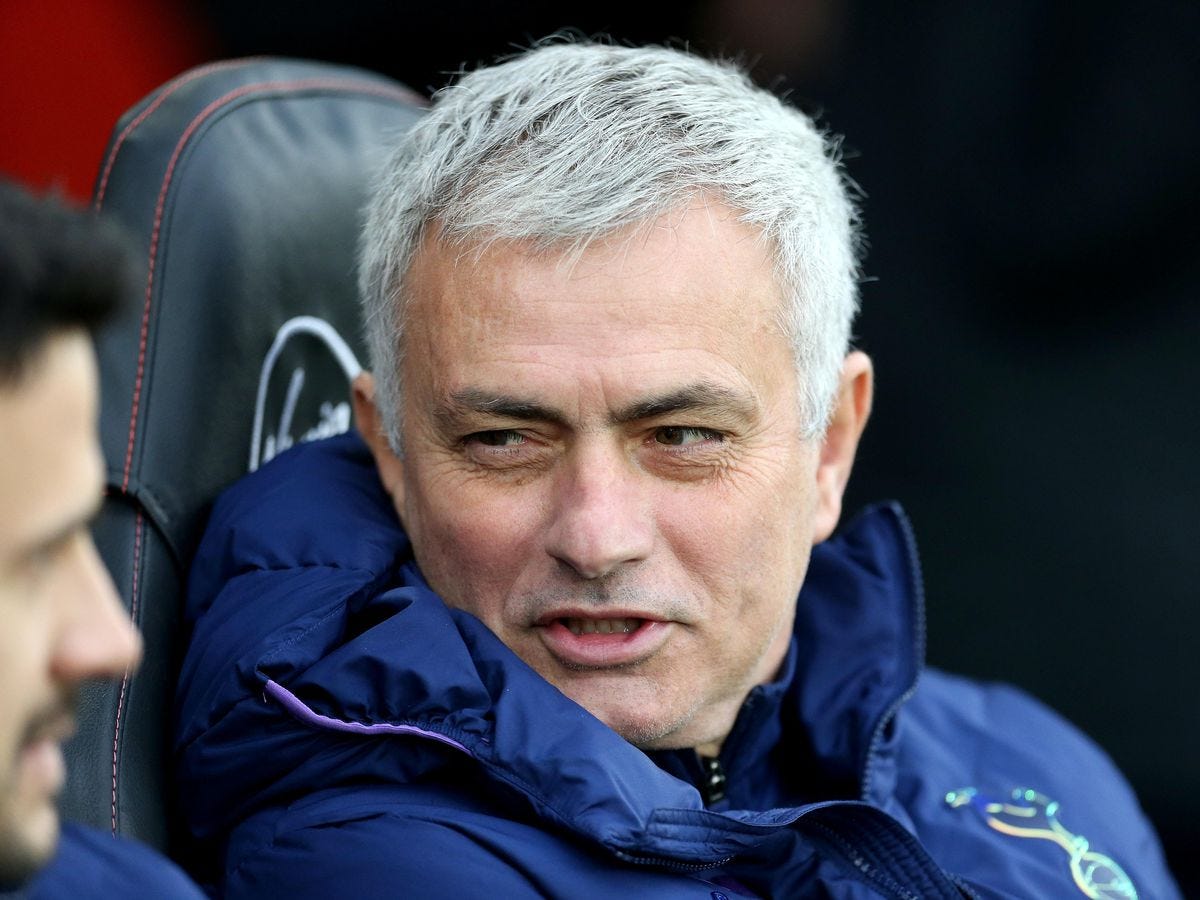 I'm about to do something very dangerous that historically has terrible consequences. I'm about to judge a José Mourinho team early in his second season at the club. You know how this plays out by now. The cycle seems destined to repeat itself forever.
Mourinho's career really seems to exist in two acts. The first was an unstoppable rise. The relentlessly well drilled Porto, Chelsea and Inter sides were machines of football teams, relentlessly getting the job done no matter what circumstances. Then, starting at Real Madrid but certainly not ending there, things began to get a little more bitter and twisted. Mourinho 2.0 is a rather less perfect beast.
Madrid was also the point at which he settled on a tactical format he's stuck with since. It was by necessity more than anything else. In Cristiano Ronaldo, he had someone who attacked open space on the counter better than perhaps anyone in the history of football, so you have to build the side around him. The transformation had begun under Sir Alex Ferguson, but it was Mourinho who really finished off all the stepovers to make Ronaldo a ruthless goalscorer. This meant moving him over to the left flank, where he cut cut inside and shoot on his right foot, and pushing him as high up the pitch as possible.
To complement a player as individualistic as Ronaldo, Mourinho added Mesut Özil in the number ten role to be the totally unselfish provider. With Ronaldo so attacking on the left flank, he made the right more solid, with Ángel Di María as a hard working creative winger. Gonzalo Higuaín and Karim Benzema would alternate upfront, with Higuain offering more of a goal threat but Benzema bringing better link up play with Ronaldo. Behind the attacking quartet you had Xabi Alonso's direct passing from deep to hit Ronaldo quickly, while Sami Khedira offered more of a box-to-box presence. Marcelo was a very attacking left back by nature so, on the opposite side, Álvaro Arbeloa served as a much more defensive right back. In between the pair, Sergio Ramos was somehow partnered by even more of a bastard in Pepe. There's nothing revolutionary about a fairly straightforward 4-2-3-1 shape, but it had balance across the pitch.
Mourinho returned to Chelsea after falling out with everyone at the Santiago Bernabéu and he brought this template with him. Eden Hazard is a very different type of player to Ronaldo, but he was the side's one obviously brilliant individual, so he also played very high on the left. After struggling for a solution in the first season, Diego Costa arrived to provide all the physical dominance, link-up play and goalscoring Mourinho needed from his centre forward. Oscar as the number ten was a slightly busier, more industrious player than Özil, but the tactical demands were basically the same. Willian fit the Di María role like a glove. The midfield format was slightly different, with Cesc Fàbregas offering even more creativity than Alonso but less control, so Nemanja Matić was more of a conventional defensive midfielder to cover him. The full backs were flipped this time, with Branislav Ivanović offering a lot going forward on the right whereas César Azpilicueta barely crossed the halfway line on the left. Again, there's nothing that innovative, but it was a balanced system.
At Manchester United, you could see how he was at least looking for the same template. Matić was brought in to play alongside Paul Pogba in the "Fabregas role". Jesse Lingard used every ounce of his moderate ability as the ten. Marcus Rashford and Anthony Martial competed for the advanced wide left role while Romelu Lukaku led the line. He had some of the pieces he needed, but never all of them, while he had a number of players who just didn't fit his structure at all. If you squinted at it, you could kind of see what he wanted, but it was never really that close to being there.
When he set foot in North London, his first actions seemed to be about following this template again. On the face of it, this made a lot of sense. Harry Kane has a wide enough range of skills to tick all the boxes Mourinho wants from his nine, while Son Heung-min loves to be pushed up high on the left as a kind of poor man's Ronaldo. Dele Alli is an ideal pressing ten, the number "eight-and-a-half when the team loses the ball and a number nine-and-a-half when the team has the ball" as Mourinho describes the role. Serge Aurier and Ben Davies are not the highest quality full backs around, but Aurier definitely wants to get forward while Davies is much more comfortable defending, so it's a good stylistic fit.
There are some mitigating circumstances, but it wasn't very good. Most of the players either fit the role but weren't really good enough, or had the ability but didn't meet the criteria. For most of the summer, it seemed like Mourinho was working towards fixing this. Pierre-Emile Højbjerg arrived to start alongside Harry Winks in a budget version of the Alonso/Khedira midfield partnership. Matt Doherty was coming to play the attacking full back role but hopefully, unlike Aurier, show actual competence. Maybe we were about to see a functional side in this template for the first time in years.
*Adam Curtis voice*
But then something different happened, something that none of the experts saw coming.
Gareth Bale was a force of nature in his first spell for Tottenham. He doesn't quite have that at age 31, but it's still hard to question the move to bring him back for a year. But what it means is Spurs now have two wingers who want to push up high and score goals themselves. In a purely tactical sense, Sergio Reguilón is just as much of a change. Tottenham have both two attacking full backs and two attacking wingers who should expect to be starting regularly. It's changed the whole set up.
As we've established, Mourinho wants balance. If he's using both wingers and both full backs to attack now, the centre has to become more solid. And so this seems to be why he's using a sort of 4-2-3-1/4-3-3 hybrid shape this season. The "ten" this time seems to be either Tanguy Ndombele or Giovani Lo Celso, both more creative central midfielders than anything else. It's not "eight-and-a-half when the team loses the ball and a number nine-and-a-half when the team has the ball", it's eight-and-a-half all the time. With the classic number ten space now open, Kane can in turn drop a little deeper to become the "nine-and-a-half", which then gives Son and (eventually) Bale even more licence to come inside and score goals.. I think this is a big part of why Dele has been sidelined recently. His tactical responsibilities have been broken up and shared out to different players, and it's not obvious how he fits into this shape.
There are still problems to be solved. I'd really like to see both Lo Celso and Ndombele in the team, perhaps rotating between deeper and more advanced roles. Further back, Davinson Sánchez and Eric Dier are a far from convincing centre back partnership. But I like what's happening a lot more than previously. With two attacking full backs stretching the pitch, Spurs can exploit the space in wide areas much more easily against compact sides. We've never seen Mourinho show he can consistently do this, but the new shape should in theory allow him to break down deep blocks and win games while dominating possession convincingly. We're not going off a lot right now, but this might be the start of a third era for Mourinho. It could well be more productive than his second.