Discover more from Grace on Football
The Premier League and other football (soccer) nonsense.
Over 12,000 subscribers
Can Chelsea Push On Under Frank Lampard?
They've got a young core of talented players and big name signings are coming, but tactical questions remain.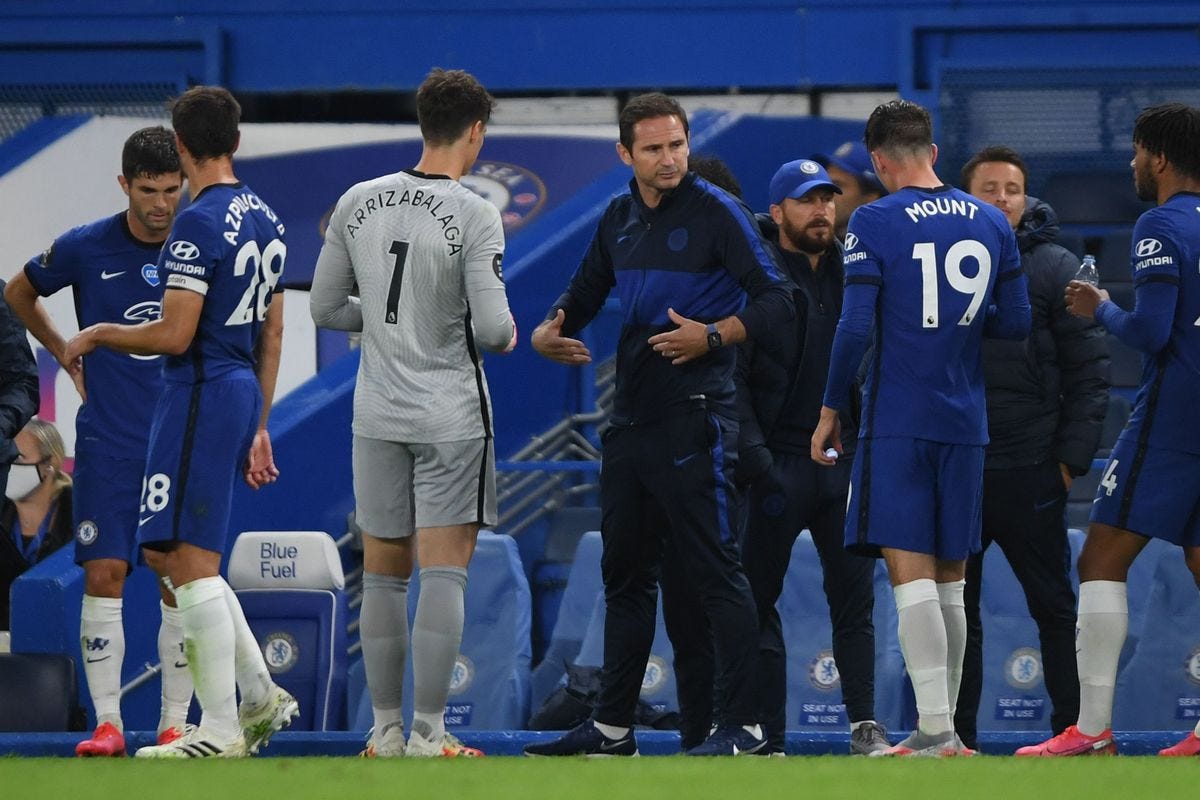 A note on stats: expected goals are from Football Reference with data from StatsBomb, shot volume is from WhoScored, xG per shot is calculated from both. Post-shot xG and pressures are from Football Reference/StatsBomb. Unfortunately as of writing this, the data does not include last night's game, which is annoying, but the picture isn't much different overall.
---
It's a strange season for Chelsea in a lot of ways.
On the one hand, they're ahead of most people's expectations. Of the 24 pundits BBC Sport asked to predict the top four at the start of the season, only six had Chelsea in there. "Arsenal and Spurs are stronger than they were last season, whereas Chelsea are not", cried Pat Nevin. "[Manchester] United and Chelsea are the weaker of the top six teams", claimed Jermaine Jenas. And it wasn't just the usual ex-player crowd. "I can't really see Chelsea having a good season at all", Michael Cox told the Totally Football Show last August. They've "taken a chance on a manager who's had one season that, from what I can tell, was about par [for Derby County]... [and] they're so lacking in standout individuals. Do any of their front three get in any of the other top six sides? I don't think they do. They just don't have the quality players as far as I'm concerned.
"I think they're the most likely [traditional top six] side to finish outside the top six. I'd be very surprised if they came in the top four".
With five games to go, Chelsea are sat snugly in third place. Bet365 give them an 83% implied probability of getting there, and that's even before we consider CAS could make it a top five this year. Another season of Champions League football at Stamford Bridge looks on the cards. It felt like the hot take so oft repeated last summer that it became lukewarm was that Chelsea would really struggle this year. They haven't. Job done?
But at the same time, Chelsea have often flattered to deceive this campaign.
---
Tuesday's 3-2 win at Crystal Palace felt like a summation of so much of the season. Frank Lampard's side were genuinely thrilling at times, pressing high up the pitch and unleashing so much quality, with Christian Pulisic in particular impressing. But at the same time, they were just so easy to get at. There was so little control, so little ability to stamp their authority on the game and shut it down. Pulisic put the away side 2-0 up after 27 minutes, and past Chelsea teams would've put the game to bed at that point. Antonio Conte or José Mourinho's sides would've shut up shop, kept it tight and made sure very little of note happened in the game.
Lampard's Chelsea are different. Even at 2-0, central midfielders Ross Barkley and Mason Mount continued to push forward and look for a third goal, while deep lying playmaker Billy Gilmour kept taking risks to progress the ball up the pitch. As admirable as this all sounds, it pretty quickly led to... whatever this is. Yes, Wilfried Zaha's subsequent strike was of great individual quality, but come on, don't leave this much space for him to move into.
Chelsea are a pressing side. That's obviously not a bad thing, and many of the best teams in Europe this past decade have pressed high. They also don't look that bad defensively, if the top line numbers are to go by. 33.0 expected goals conceded is nothing to sniff at, and puts them fourth best in the league. Ahead of Liverpool, even. But I'm not convinced this tells the whole story. Their xG per shot conceded of 0.12 is ahead of where you'd want it to be. Chelsea are good at limiting the number of shots the opponent takes, but the shots they do get are pretty high quality. It looks even worse on the post-shot model. The data suggests the average shot on target Chelsea's keeper (usually Kepa Arrizabalaga, but occasionally Willy Caballero) faces has a 35% chance of going in. Only Southampton have a higher number here. Kepa has received a lot of criticism this season, and in my view it is mostly deserved. But he's not exactly playing in a system that keeps things tight and ensures the shots he faces are manageable.
25% of Chelsea's pressures are in the opposition third. By this measure, that makes them the fourth highest pressing team in the Premier League. That's not a remarkable number, trailing the mighty Liverpool, the still-mostly-mighty Manchester City, and the wait-what-how-are-you-serious Burnley. But all three of those teams have clear plans to avoid getting countered. Burnley are very aggressive in keeping a compact shape at all times. Liverpool let the full backs bomb forward but have the central midfielders play very disciplined tactical roles. Manchester City haven't done it so well this season, mostly due to personnel issues, but at their best Pep Guardiola is insistent on ensuring he always has two players screening what becomes a back three to protect against counters.
What is Lampard's plan for protecting against counters? What are Chelsea doing tactically to ensure that they can press high while still retaining a solid block from which to defend if a team gets at them? I can't see a clear strategy for this when watching the side.
(There's also the significant issue of defending set pieces, but that's really its own thing, so I'll leave it aside for now).
---
In possession, there are also real questions, and one not unique to Stamford Bridge. As we've mentioned, Chelsea's game is about pressing teams high up the pitch and creating transition opportunities (yes, as a trans woman I can't help but laugh at using "transition" like this). For a manager who spent nearly his entire career in England, it's a positively German approach, but it's one that actually resembles much of his own time at Chelsea.
Remember that first Mourinho side at Chelsea that won back-to-back Premier League titles? If not, trust me when I say they were some side. They had all the promised Mourinho defensive solidity, and they trotted out a few dull wins in their time, but at their best they also produced some really entertaining stuff. Didier Drogba didn't score too much in his first two years, but he had a terrific ability to occupy two centre backs at once while bringing other attackers into play. Either side of him, Arjen Robben and Damien Duff offered blistering pace and trickery as neither old fashioned "wingers" nor strikers, commonplace now but a real novelty back then. Lampard himself would then bust a gut to get into the box and make runs off Drogba's hold up play. It was exciting. It was breathtaking. It was reactive football at its best.
It was so good that subsequent managers Avram Grant, Luiz Felipe Scolari, Guus Hiddink and Carlo Ancelotti couldn't resist sticking with it. They all made their tweaks and added their own flavour, but the template had been set in stone by Mourinho. André Villas-Boas, Roberto Di Matteo and Rafa Benítez tried to change it but couldn't find something that worked as well. It was only when Mourinho himself returned that the new system was constructed, again a reactive counter-attacking style but this time build around Eden Hazard.
Lampard seems to want to do something similar this time. His team's best performances have come from playing fast football with Mount, Pulisic and others running into space. It's really enjoyable and can be effective a lot of the time. 59.0 xG this season, behind only Man City and Liverpool, is a testament to that.
But it's a little "60% of the time, it works every time".
I should credit my friend Nathan A. Clark for pointing this out, much as I am loathe to give him the adulation. The Premier League has, obviously to anyone watching it, changed since Lampard's playing days. Mourinho became an expert at defending in a low block, but the likes of Sam Allardyce and Tony Pulis made it the model for how to keep a clean sheet if you're a team in the bottom half of the league. Any club the stature of Chelsea will play a significant number of games where the opponent parks the bus and lets them have lots of possession against a set defence.
Pretty much everything I've described in this article applied to Jürgen Klopp in his first two years at Liverpool. Klopp brought with him a hugely successful model at Borussia Dortmund built around counter-pressing and transition play, but it just didn't quite work the same way in England. Liverpool got great results against the big teams, but sides sitting deep found it easy to frustrate Liverpool, who didn't really know what to do when they weren't able to press the opposition and create moments of chaos for the opponent. And of course, they frequently got caught with their pants down at the other end in embarrassing fashion.
As you might have noticed recently, Klopp fixed these problems. There were two ways in which he achieved this.
The first was simply excellent signings. Don't overthink this one. If you sign Virgil van Dijk and move Dejan Lovren to the bench, if you replace Simon Mignolet with Alisson, of course you'll improve defensively. Liverpool identified exactly the areas of weakness and signed exactly the right players to fix them.
The other was a tactical tweak. Klopp recognised he had two excellent full backs in Trent Alexander-Arnold and Andy Robertson and his side could do the bulk of the ball progression through them. This meant that Liverpool stretched the play much better, and simply being compact couldn't stop the Reds now. They had a plan to overload wide areas of the pitch and force those deep set opponents to confront them, creating space elsewhere. This then meant that the midfield three could stay very disciplined and compact, taking up a role of preventing counters. In a tactical rethink, Klopp had solved the issues at both ends.
Chelsea certainly intend to do the first of these. The club are sitting on plenty of cash for the transfer market while others retreat due to coronavirus. Fractures in the approach under previous regimes look to be a thing of the past, as Lampard and technical director Petr Čech are long time friends and both have the trust of director Marina Granovskaia. No one will come in who Lampard doesn't want. But I still don't see the strategy. Hakim Ziyech and Timo Werner are already bought: both very attacking, both risk takers. Have they been signed because Lampard has a clear idea of how they will improve the system and mitigate Chelsea's shortcomings? Or have they been signed simply because they're both really good and available at the right price?
The second thing could define Lampard's time in charge at Stamford Bridge. Don't get me wrong, we can overcomplicate football like this, and the most important thing when it comes to winning games is just having the best players. Chelsea will win plenty of football matches next year through individual quality, just as Liverpool and Man City do. But how does their system maximise this? Ok, they have shown ability to use pressing, reactive football against sides looking to play. But does the system have a clear way of breaking down the deep block sides who want to sit back? Does it then protect against their counters?
The fact is that Chelsea are going to have a fabulous crop of players coming into peak age in a couple of years. I can't imagine this doesn't turn into something worthwhile, even if it isn't the best version of what it can be. But to really win big titles, to really lay a marker down worthy of the Chelsea sides Lampard played in, there will need to be something of a tactical evolution. I'm not suggesting Lampard isn't capable of this. But it is the next step towards achieving his and the club's goals.