Discover more from Grace on Football
The Premier League and other football (soccer) nonsense.
Over 12,000 subscribers
Can Liverpool Tactically Adapt Without Van Dijk?
The cheat code is gone. Can Liverpool still win playing the game in normal difficulty?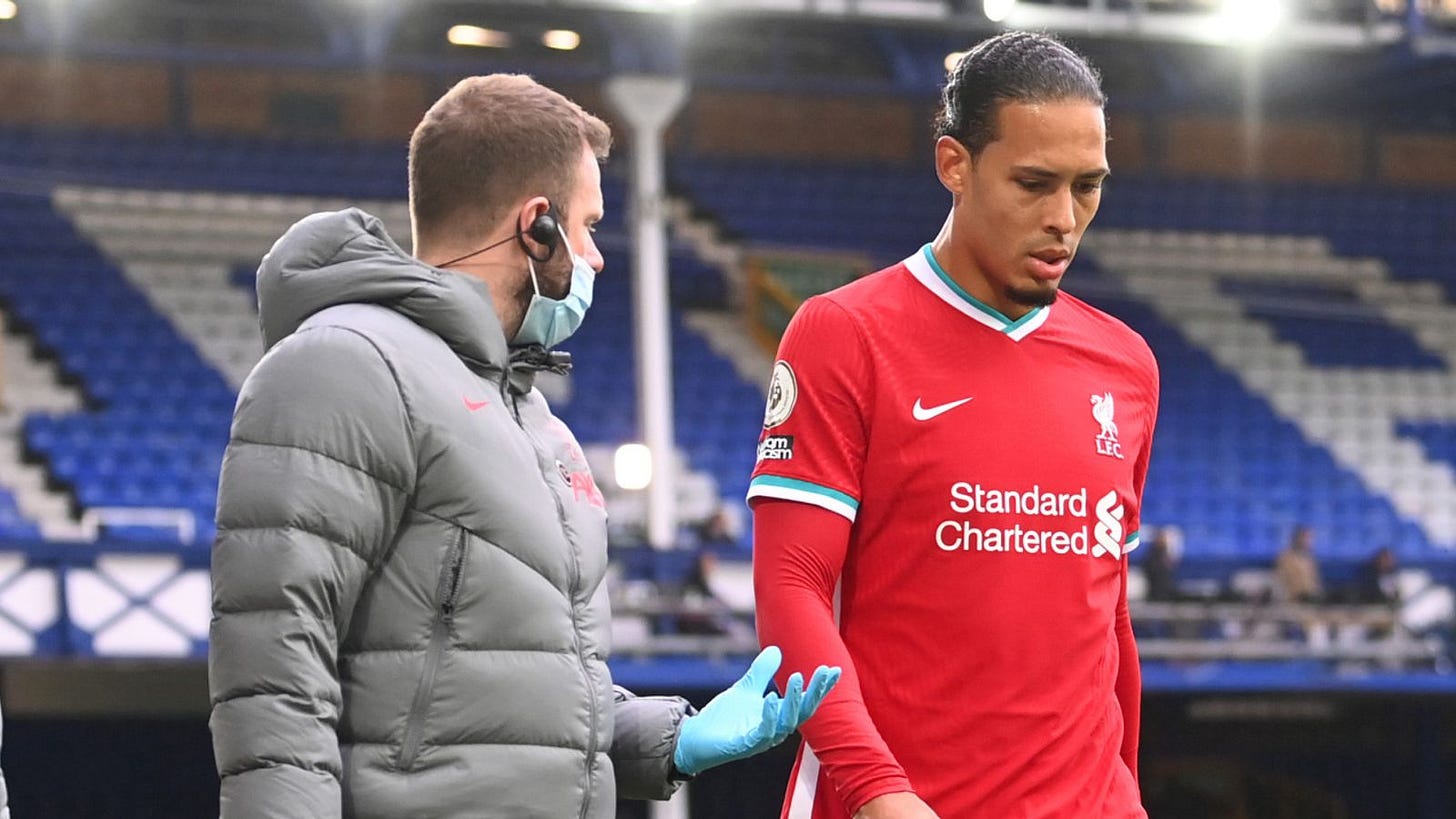 Virgil van Dijk got injured and the world held its breath. He was, as many have said in recent years, the player who made the difference for Liverpool. He came into a very shaky defence and almost instantly turned it into a rock solid unit. Centre backs aren't supposed to be able to do what Van Dijk did.
And now he's not there.
At times I've felt like Van Dijk is Liverpool's cheat code. Every great pressing side needs to have one. Occasionally, your press is going to get broken and opposition attackers will be running into space at your goal. You need someone, anyone, with the ability to just come in and fix it in those situations. It makes the whole thing work and you can keep pressing the way you want to.
He did it in a different way, but Fernandinho used to fill this role for Manchester City. Pep Guardiola's pressing system was outstanding, but occasionally they'd get caught open with David Silva and Kevin De Bruyne pushing up the pitch. As the lone man in midfield, Fernandinho would clean things up more often than not. Once they started playing the much less mobile Rodri as the pivote, well, you know what happened next.
Van Dijk is that important for Liverpool. Without this cheat code, the defence could start to open up the way Man City's has. There's always a solution to these kinds of problems, and here are some suggestions.
Option One: "He's our centre half, he's our number... three"
This is basically what we saw against Ajax and probably where Jurgen Klopp's head is at right now.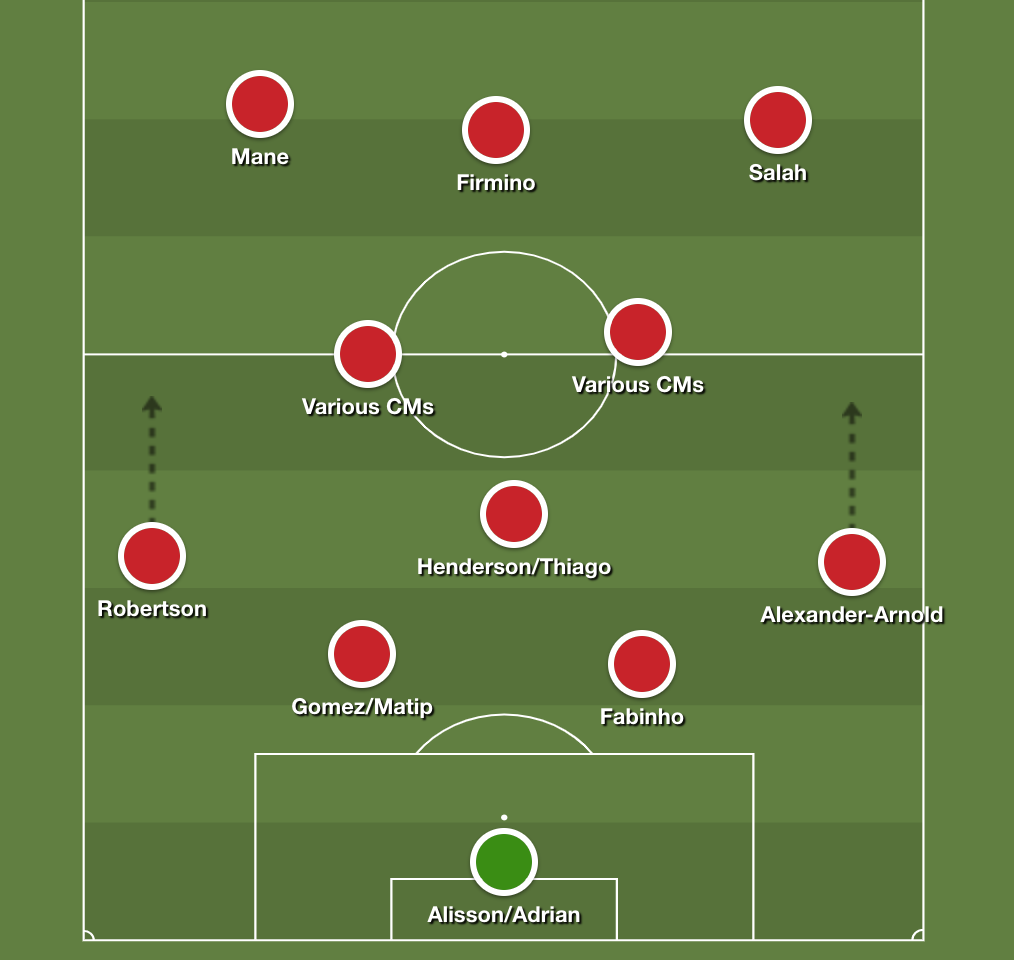 You've watched Liverpool over the last two seasons so you know how it works. The full backs push way up while the midfield stays very compact to protect the centre backs. The front three play the way the front three play. It's simple, it's effective, and the players know how to do it in their sleep.
Fabinho comes in for Van Dijk, and he's looked surprisingly impressive at centre back. These may be famous last words, and he'll inevitably now drop a huge clanger this weekend against Sheffield United, but I can't think of an attribute you'd need from a centre back that he doesn't have. But even if we assume the best possible outcome from Fabinho at centre back, he still has some important differences with Van Dijk. 
The most obvious is that he prefers the right sided role, which shouldn't be a huge issue for Joe Gomez or Joel Matip to move across, but it still might take a little bit of time for everyone to get used to. The second is that he's a much more front foot defender. Van Dijk always stood off and waited until the last possible moment to intervene. Michael Cox splits centre backs into "cats" and "dogs", with the former staying sly and intelligent waiting to pounce, while the latter goes after the ball aggressively at first instance. Van Dijk might be the best "cat" in world football, which meant Matip and Gomez always played the role of the "dog". Fabinho, being a defensive midfielder by trade, is much more of a front foot rottweiler. Gomez and Matip are both fairly flexible, but it could also take time for them to adjust to waiting a little longer and using more patience.
The other story is that Liverpool have turned up the pressing early on in the season, and this scales it back down. In the first few games, Klopp had Naby Keïta pushing way up from midfield to join the front three and press right from the front. Keïta is arguably the biggest loser from Van Dijk's injury, as Liverpool seem likely to go back to the so-called "boring" midfield. That's probably for the best.
Option Two: rein in the full backs
The same formation as option one, but with different instructions. Liverpool play their usual system, but instruct the full backs to play more disciplined roles. This might see Gomez sometimes play at right back, or Kostas Tsimikas on the left.
This would let Klopp use his midfield more aggressively at times with Keita and Thiago. It would make Liverpool a little more, well, normal.
Option Three: back three and wing backs
It's something a lot of people have suggested.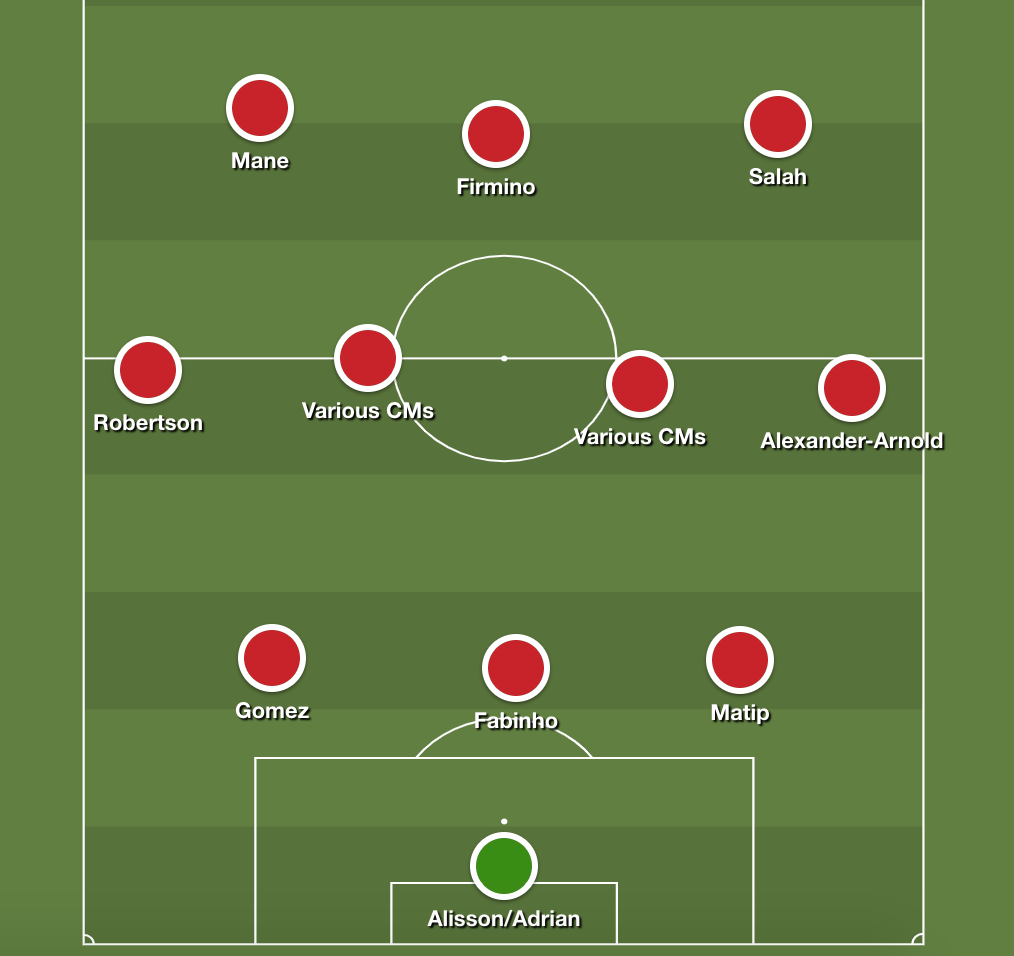 The theoretical benefit is that you get an extra centre back in there to divide up the workload more evenly. The midfield is already pretty dull, so we're not losing a ton from there, and the full backs take up advanced positions anyway. So it's really the same shape but with an extra defender.
To be honest, I kind of hate the 3-4-3 system except in specific circumstances. Everything just becomes sort of "fixed". The wing backs, by necessity of starting in that area rather than bursting into it, become much more static players receiving the ball. This arguably suits Trent Alexander-Arnold to an extent, but it really takes a lot from Andy Robertson's game. Similarly, it changes the way the front three operate without the full backs running beyond them. Mohamed Salah and Sadio Mané would become more fixed as attacking midfielders while Roberto Firmino turns into a conventional number nine. Liverpool would lose a lot of fluidity in order to theoretically be more solid with an extra defender. It's not my favourite approach.
Option Four: let's get weird
I'll admit this system is kind of ripping off what Pep Guardiola did against Arsenal last weekend. But you know, good artists copy while great artists steal.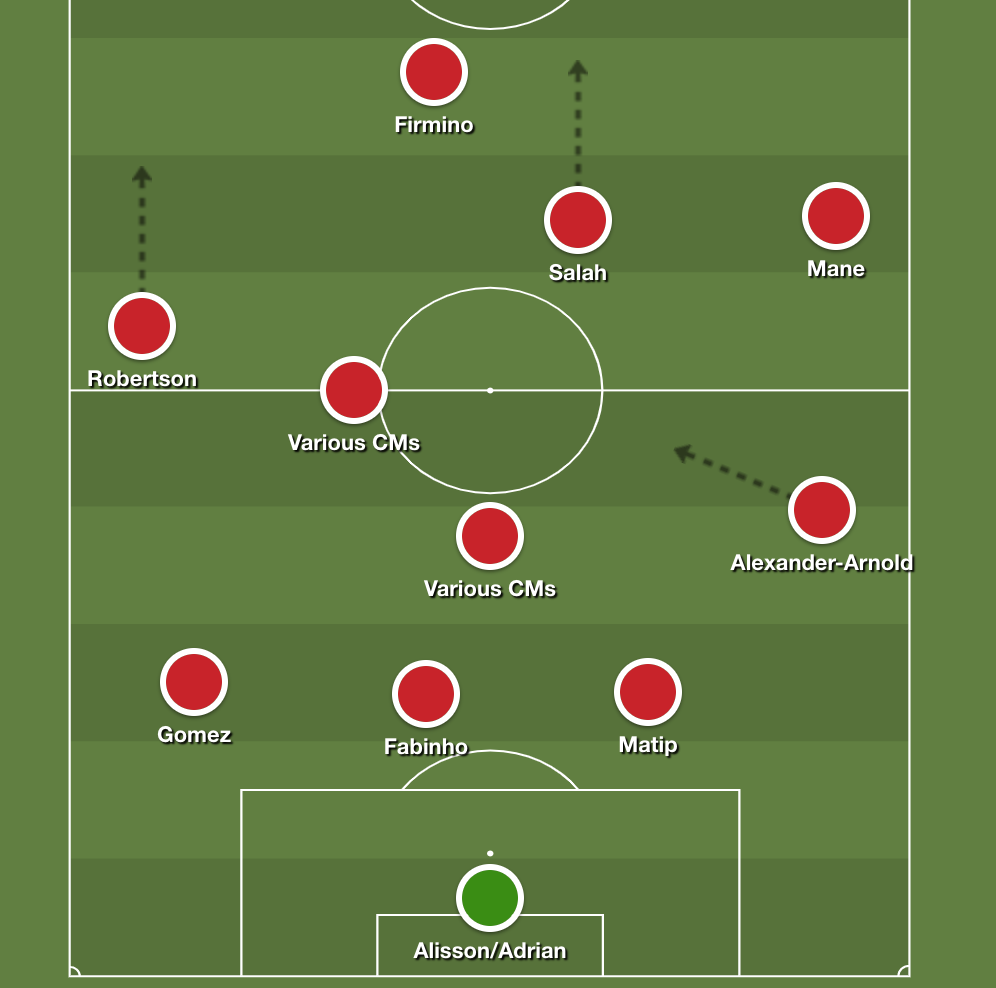 It might be described at times as a 4-2-3-1, a 3-5-2, a 3-3-4 or a 4-2-4. Here goes. Robertson plays his usual role even more aggressively, not even bothering to drop back and becoming a fourth attacker much of the time. Alexander-Arnold meanwhile starts at right back but comes inside as a third central midfielder. Mane starts on the right flank rather than the left to fill that space, while Salah forms a sort of strike partnership with Firmino.
Liverpool generally defend with two centre backs behind a compact midfield three. The idea with this shape is to get three defenders and three midfielders, without sacrificing too much on the attacking end. You still get Alexander-Arnold's ball progression, but in more central areas. Mane is probably the player who suffers the most here, being stationed quite far out on the right, but sacrifices have to be made somewhere. This would be more "defensive" than Liverpool's normal setup, but still very fluid, still able to press in the way Klopp wants, and still able to attack at speed. It's a bit mad, I'll admit, but I'm throwing it out there.
The truth is Klopp will probably just stick with what he's been doing. Fabinho will play a lot of minutes at centre back, and maybe it'll work or maybe it won't. He's been pretty fixed in terms of the setup for a number of years now, and I have a hard time imagining him suddenly changing between lots of different systems now. Still, it's fun to ponder, and I think there's merit in trying something else.