Discover more from Grace on Football
The Premier League and other football (soccer) nonsense.
Over 12,000 subscribers
Goodbye, David Silva. They don't make 'em like you anymore.
He lead a new vanguard in English football. A decade on, things are changing again.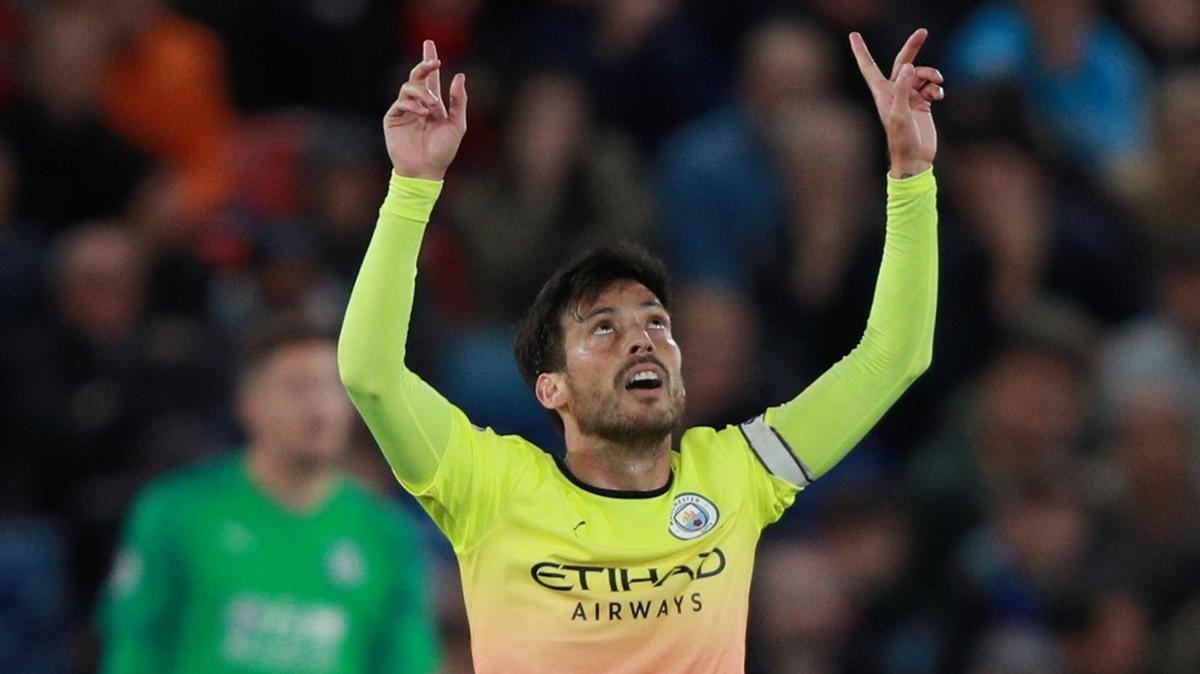 Since Sheikh Mansour bought Manchester City in 2008, the club have won four Premier League titles coming in broadly two eras.
The first, under managers Roberto Mancini and Manuel Pellegrini, is the significantly less heralded era. Neither manager completely stamped his mark on the side, with City's success usually stemming from a quartet of brilliant individuals: Vincent Kompany, Yaya Touré, Sergio Agüero and, yes, David Silva. Kompany held things together at the back (especially under the less sturdy Pellegrini team), Silva offered technique and playmaking qualities between the lines, Agüero had an explosive goalscoring threat, and Touré somehow offered all of the above at times.
Pep Guardiola's arrival at the Etihad transformed City forever and this quartet were not immune. Kompany was in the later years of his career anyway, so he contributed when he could but was never going to be a lynchpin of these years. Touré's age and his well publicised dislike of Guardiola meant a key role was probably never on the cards, though he played more often under the Catalan than you probably remember. Agüero has contributed and continued to score a lot when he's on the pitch, but he's never seemed quite like a "Guardiola player". He feels like an add on to the system, someone Guardiola tolerates for his brilliance, rather than an intrinsic part of how he wants his team to play.
But Silva? He absolutely belonged in Guardiola's City from day one. He's the one player who fits just as easily alongside the names Kevin De Bruyne, Raheem Sterling and Kyle Walker as he does Pablo Zabaleta, Joe Hart and Edin Džeko. He's become the symbol of City's most successful era because, amidst everything that has changed, he's been the constant of the past decade, always vital.
Silva arrived in the Premier League at a time when English football was questioning itself like never before. The national team had been dumped out of the World Cup playing a dreadful dirge of rigid, boxy long ball football, bereft of tactical cohesion and ideas beyond lumping it forward. Spain won that tournament playing intricate possession football with a core group of players from the unquestioned masters of the form, Guardiola's Barcelona. The best club side and the best national team in the world were from the same country (in law, if not in the hearts of many), using a lot of the same players, playing the same style of football. It was beyond debate. Short passing, possession, technique, intricacy: that was modern football.
The Barcelona trio of Sergio Busquets, Xavi Hernández and Andrés Iniesta were never leaving the Camp Nou. Xabi Alonso had just left England to return to La Liga and it seemed only a matter of time before Cesc Fàbregas did the same (who was a more explosive player from his time in the Premier League anyway, and not really in this mould). Of the technical midfield maestros in that World Cup winning squad, it was Silva whose future was not secure, Silva who would be able to reinvigorate a side with some stardust of the modern tiki taka game. In that sense, it was a huge coup that City were able to land him.
There have been great number tens in the Premier League before. Great attacking midfielders. But never one quite like Silva. He wasn't a prolific scorer, averaging just six league goals a season. The only time he broke double figures was in 2014/15, and hardly anyone considers that his best campaign. He wasn't really a "scorer of great goals" either, lacking a reputation for spectacular strikes like Matt Le Tissier or Dennis Bergkamp. He never came that close to breaking the assists record that Kevin De Bruyne just equalled, either.
What he offered more than any other creator in the history of English football, however, was control. The Premier League is famed for its breakneck pace, but such was Silva's talent that he could slow it down when he wanted to. Before Guardiola's arrival, City never really conformed to the Barcelona principles of positional play, but when Silva was on the ball, he could make it feel like they did. More prolific goalscorers Agüero and Touré consistently benefitted from his skill to run games in the final third. The more Silva was involved in a game, the better City were playing. He brought a little Xavi and Iniesta to City's play when every other Premier League side couldn't call upon such elegance.
Don't take my word for it, take Guardiola's. "Xavi was a player with outstanding control and dynamic, he couldn't lose the ball", the City manager explained. "He could control the game rhythm, reading perfectly when to accelerate. Andrés [Iniesta] is similar, but always changing the pace. And David Silva is a mixture between both of them. David also knows when to control and when to accelerate."
I mean, is it literally possible to praise a footballer more highly than that? A mixture of both Xavi and Iniesta. According to Pep Guardiola. That's the pinnacle for a creative midfielder. But what's really interesting is how the Catalan boss then discussed his partner in crime, De Bruyne.
"Kevin is exuberant. He is not a controller, he is more dynamic, coming from behind, finishing, crossing, appearing here, then there, defending, attacking ... He is a complete player, less control and much more movement. When he stops he is not that effective as Xavi, David and Andrés."
If Silva was all about control and slowing things down, then De Bruyne is the exact opposite. His game is, to use Guardiola's word, movement, and speeding things up. That might be why the Silva/De Bruyne axis has been the most deadly creative midfield pair the Premier League has seen. Silva could kill you by making time stop, and De Bruyne could kill you at a thousand miles per hour. Either way, you're toast.
But here's the thing: next season, City will have a lot more "movement" players than "controllers". Phil Foden and Bernardo Silva are wonderful technicians, but they're busier players who like to make advanced runs and take risks. Guardiola seems reluctant to play either in the [David] "Silva role". Ferran Torres will join Raheem Sterling and Riyad Mahrez as direct wingers. It's all much quicker than Silva offered. This is probably why City have so often played both Rodri and Ilkay Gundogan deeper in midfield this season, getting control into the side elsewhere on the pitch, but the pair cause problems without the ball. There isn't an easy way to get that Silva-esque quality without the man himself.
And while he led the way, those who followed him have for the most part moved on. Santi Cazorla, the second best controlling playmaker to set foot in England, is but a distant memory on these shores. Juan Mata once looked in the Silva mould, but successive Manchester United managers drilled all of that out of him. Mesut Özil is technically still an Arsenal player, but he may as well be long gone.
Inevitably, what was once new has now become old. Football has become energetic and physical once more. Once City end their Champions League campaign, there won't be a top European side that fields a Silva style attacking midfielder right now, save for perhaps Real Madrid (and Zinedine Zidane has always felt about a decade behind the tactical trends). The modern pressing game has made things so much more frantic at times, and the idea of space "between the lines" feels ridiculous. Today, the space is out wide, hence someone as creative as Trent Alexander-Arnold thriving at right back. Those pockets Silva drifts into require more robust players.
Players like Silva, Cazorla or Mata have often been called "magicians", and on one level it feels like a little bit of magic is falling out of the game. In 2020, football is about tempo and pressing more than ever, less magic and more science. The cycle always comes back around, and just as Guardiola declared the death of passing midfielders four years before he personally brought them back into style, so to will creative controllers come back in. But for now, though, we should hold on to memories of Silva, because it might be a little while before we see someone who is special in quite the same way as him.