Discover more from Grace on Football
The Premier League and other football (soccer) nonsense.
Over 12,000 subscribers
How Liverpool Built a Title Winning Side From Turf Moor
Burnley away was once the scariest fixture on the calendar. Klopp totally flipped that.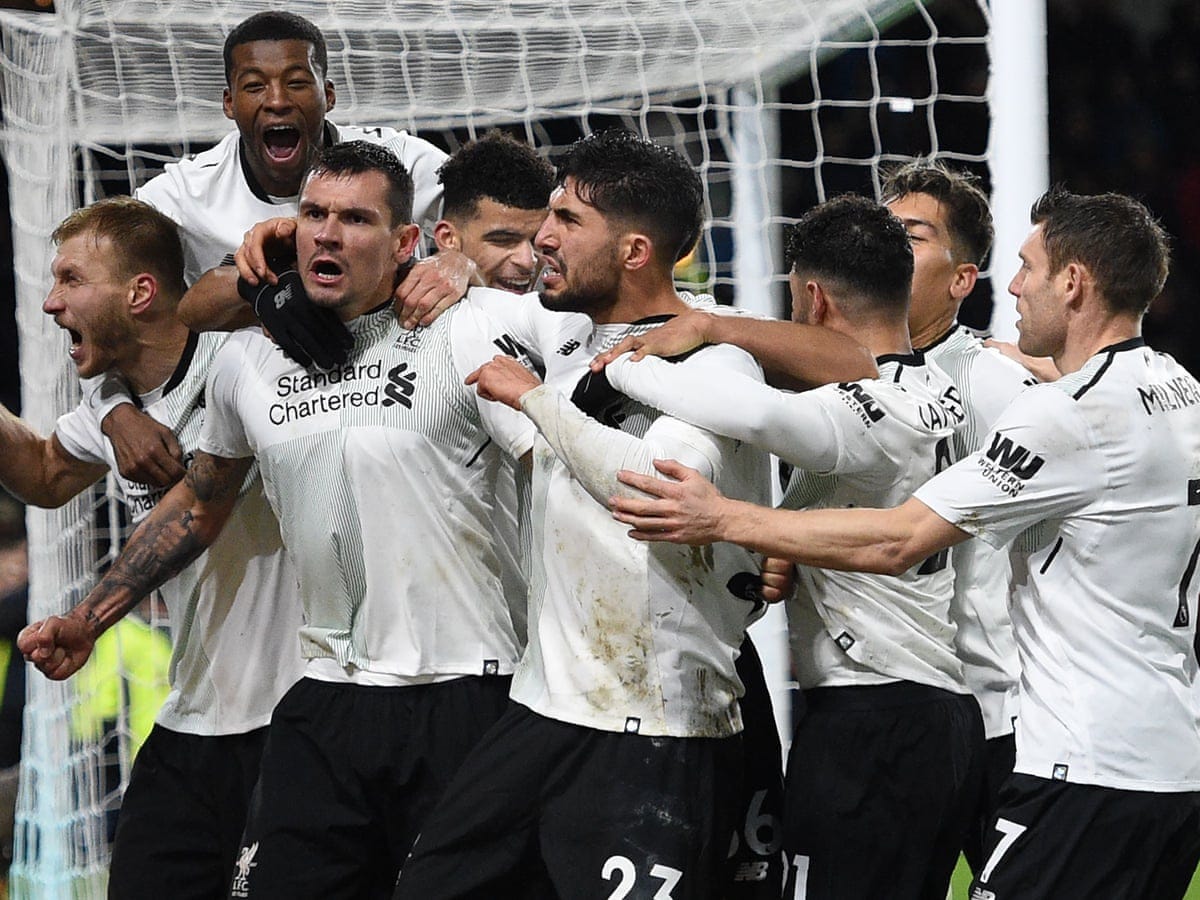 The year is 2016 and we're in the North of England. The weather is still warm but the nights are starting to draw in. Britain has voted to leave the European Union but America has not yet elected Donald Trump. The reigning champions of the Premier League are Leicester City. 2016 was the year when everything we thought we knew about anything got turned upside down.
And this day provided another shocker: Liverpool, all set to really push on in Jürgen Klopp's first full season, just lost 2-0 away to newly promoted Burnley.
This was Liverpool at their flakiest. The "can't beat the shit teams" era. One result seemed to capture everything wrong with those first two years or so under Klopp. At the back, disorganised and easily susceptible to direct counter-attacking football. Going forward, totally bereft of an idea of how to break compact defences down without the space to attack into. This side were capable of sparkling stuff but so lacking in those basic principles that major trophies were never going to come to Anfield.
But then something happened that wasn't supposed to: Liverpool got good. Really good. More than that, they got good specifically at doing the basics required to beat sides like Burnley. From a thorn in their side, the club were able to go to Turf Moor and dismantle the opposition. There was suddenly nothing to worry about when it came to Burnley away. It's quite the turnaround.
---
A note on stats: xG is from Understat (yeah, I know, but other providers don't go back this far) while shots, passes and possession are from WhoScored.
---
Watching that first game from 2016 today feels like it came from another planet. On one hand, it's clearly Klopp's Liverpool. The shape is 4-3-3 and the intent to press in specific moments is obvious. Roberto Firmino leads the line with all the unusual pressing and link up qualities he has for a striker, but he's not flanked by Sadio Mané and Mohamed Salah. New signing Mané missed out that day due to injury, while Salah was starting up his final campaign at Roma. Philippe Coutinho, then seen as Liverpool's star man, started on the left, while the right flank spot was taken up by one Daniel Sturridge. Both are hugely gifted players who should be remembered fondly by Liverpool supporters, but the balance on this day was immediately wrong. Sturridge had lost his burst of acceleration through injuries and was clearly trying to adapt to being more of a creator and technical threat. This would be fine if Coutinho didn't do the same thing on the other flank. Both wide men wanted to come outside, receive the ball to feet, and dictate play. Firmino's instinct was to do the same. None were running into space. None were stretching the play.
This might just work if Liverpool's full backs could make overlapping runs and exploit the space in wide areas. Klopp was already reinventing the full back role with England international Tren... wait, no, it was James Milner. Yep, James Milner. At left back. Milner could have probably been an outstanding full back in the modern game in another life. He was actually quite good on the left in this season eventually. But on this day, every touch he made took too long. He'd arrive at the byline then need to take an age to shift the ball onto his right foot. At which point Burnley were able to get back into a good shape. On the other side, Nathaniel Clyne was doing an entirely dependable job, but that was hardly enough. All the space was given to the full backs, and neither were particularly suited to using it.
Jordan Henderson was playing his second ever game as the deepest player in a midfield three, and looked like it. He would be about to improve significantly in the role, but at this point he seemed to have such a poor understanding of the kind of positions he was now expected to take up. In front of him, Gini Wijnaldum was there in theory, but had one of "those" games where he may as well have not existed.
Adam Lallana completing the trio was probably Liverpool's best performer and typified the approach of this season. Klopp was supposed to bring "heavy metal football" to the Premier League, but his side in 2016/17 were much more about patient possession play than anything we've seen before or after. Lallana and Coutinho were central to the side's cute interchanges and passing triangles that felt downright Cruyffian at times. The shape, a 4-3-3 with a false nine leading the line, directly borrowed from Pep Guardiola's Barcelona, but it missed the central thesis of that manager's positional play: space. In England, the space is increasingly out wide and in front of sides, while Liverpool were cramming in players who could do cute passes in congested areas. It was wrong. It was a side that had no idea how to break down a team like Sean Dyche's Burnley.
Defensively, we all know how poor it was, and in hindsight it was perhaps more about weak individuals than we realised. Burnley have never been simply a deep defending side, pressing at the right moments and sitting back when needed. We saw that with the opening goal. Liverpool tried to play out from Simon Mignolet (lol) and Burnley's strikers Sam Vokes and Andre Gray were excellent, pressing Dejan Lovren and Ragnar Klavan (yeah) instantly to force a turnover and a goal against a totally unsettled Liverpool back line. The second goal was the other side to Burnley: a long ball straight up to the attackers that the Reds just couldn't deal with. I don't think there's a more damning pair of goals for the Liverpool defenders to concede. They couldn't work out from the back with possession play properly, and they couldn't defend long balls properly. A side can make allowances for being poor at one or the other, but you can't be bad at both. As a trio, Lovren and Klavan with Mignolet in goal were bad at both.
The top line stats tell the entire story of the game. 80% possession for Liverpool. More passes from Henderson and Lovren than the entire home side. 26 shots to Burnley's 3. The shot map is... yeah.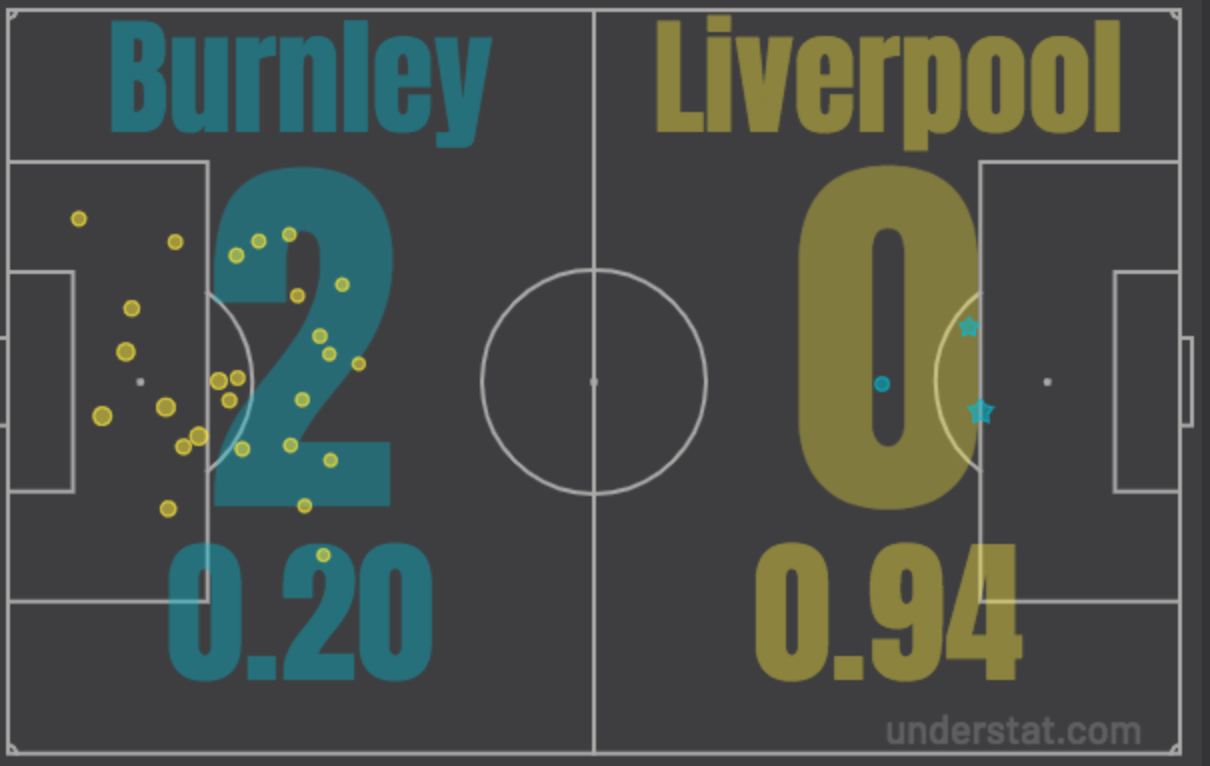 Liverpool had an xG per shot that day of 0.04, but it was worse than that. Understat's model doesn't take player positions into account, and Burnley were consistently getting into a good shape behind the ball. Coutinho was at his infuriating worst, taking potshot after potshot. It was sterile, stupid, pointless domination. Klopp's side absolutely deserved zero points.
---
It's New Year's Day 2018 and Liverpool are at a crossroads. The Reds are fourth in the table owing to a significant improvement from early season troubles and things are looking better. Summer signing Salah hit the ground running, but more exciting was confirming the arrival of Virgil van Dijk. He officially became a Liverpool player that day, making him ineligible for the trip to Turf Moor, but still, Klopp had got his man. Here he was, the man to Sort The Defence.
The less good news was that everyone knew Liverpool's best player was about to head to Barcelona. Without a clear plan for breaking down sides that defend deep, Liverpool so often relied on a moment of individual genius from Coutinho to get the job done. Without him, things would surely be a lot harder. This particular game was during a period in which Klopp decided to go all in on rotation out of nowhere. Lovren and Klavan again started together at the heart of defence. Trent Alexander-Arnold was in the early stages of his emergence and slotted in at right back. Andy Robertson, bizarre as it may seem now, was an unused substitute, with Joe Gomez playing at left back. Emre Can played as the holding midfielder behind Wijnaldum and Lallana (in a rare post-injury appearance). Salah was unavailable and Firmino rested, so Mané was joined in attack by Alex Oxlade-Chamberlain on the left and Dominic Solanke upfront.
The famous Liverpool side that became English, European and World Champions, this was not.
What's surprising watching this game back is how the full backs are used. Gomez is not Robertson, so you don't need me to tell you he wasn't marauding up the left flank and putting crosses in. Instead he did something a Liverpool full back would never do today: tuck in and become a third centre back at times. The Reds would often attack with Lallana drifting to the left while Gomez, Klavan and Lovren formed a back three. It was inelegant, yes, but too much elegance cost Klopp's side last time at Turf Moor. This time was more solid. On the other flank, Alexander-Arnold pushed up, but he wasn't utilised nearly as much as he would be today. Well, for the first hour.
Of course, the breakthrough came when he finally did get involved. The cross wasn't even very good, and took a huge deflection, but it still found Mané in the box, who was able to take a touch and put away a terrific strike. Once it happened, the other players kept feeding the ball to him as the free man. It seemed like Liverpool in that moment stumbled upon the recipe for beating these sides by complete accident. Compact defences leave spaces in the wide areas. Exploit those spaces. Rinse and repeat.
After not quite finding the answers for the first half, Liverpool dominated the game after going ahead, and should have made it two but for an excellent save from Nick Pope. Then Burnley expose the work Liverpool still have to do. Charlie Taylor puts a decent cross into the box, Sam Vokes easily beats Klavan in the air to head it across the face of goal, and Jack Cork puts away a scrappy but easy finish against Mignolet caught miles away. Caught out on the basic job of defending crosses into the box. It's a good thing Van Dijk was about to turn up because there was still much work to do.
Things were changing, though. Only a few months ago, Liverpool would've found a way to panic and throw that game away. Not today. Minutes later came what in hindsight might be an era ending and era beginning goal. Oxlade-Chamberlain floats in a free kick from a deep area. Lovren gets a strong connection to head it across goal, but it's just drifting wide, until Klavan gets enough on it to find the net.
It was everything Liverpool weren't last time at Turf Moor. It was indicative of a Liverpool side looking to find a solution, any solution, and embrace the right blend of pretty football with ugly football. As The Anfield Wrap's Neil Atkinson put it at the time, Klopp's men "beat Burnley in the most perfect way to beat Burnley. They outfought Burnley, they faced down the pissing rain and the pissing referee and pissing Burnley and stood tall. They showed the sort of attitude which you need in the pissing rain and the freezing cold in January."
Liverpool had, broadly speaking, ditched ambitions for intricate Cruyffian football seen the previous year. This was more direct, less Guardiola, but simultaneously better positional play. Liverpool recognised where the space was and exploited it, as any good positional side does. It was a rough draft, but this Liverpool were much more complete than in 2016.
---
When Liverpool next visited Turf Moor right at the end of 2018, the new era was in full swing. 36 points from the first 14 games (a 98 point pace) made the side seem almost untouchable. Again, in a congested December, Klopp made some changes. None of the front three started the encounter, with the German opting for Xherdan Shaqiri and Divock Origi either side of Sturridge. Henderson was the deepest midfielder, with Milner and Naby Keïta in front of him. Alberto Moreno came in for Robertson at left back. Astonishingly, an early knock for Gomez forced him into bringing Alexander-Arnold, the free man last time, on after 23 minutes. But, you know, other than all of that, the team is the team. Plenty of managers would still be scarred by that 2016 defeat away to Burnley and put out a strong team in this fixture, but not Klopp. He had total faith in the side and his methods, knowing that even a rotated team would be too strong for the Clarets.
Burnley attempt to press Liverpool's play out from the back again, but this time it's to no avail. Alisson, Joël Matip and Van Dijk are too good for that nonsense. Beyond that, the first half is pretty dull. Liverpool lacked a bit of the usual incision without the now famous front three, and Burnley are good at keeping things tight. A past Liverpool side would've found a way to concede in a half like this, but not one with such a strong core players and system.
Liverpool actually go behind in the 53rd minute. A corner comes in and confusion between a previously impervious defence opens up a chance for Cork (who surely doesn't score too many goals against teams not named Liverpool). It's one of the extremely rare occasions when you could say Alisson made a serious mistake. Liverpool don't change anything. They just keep working the same sequences and eventually a pocket of space opens up for Milner to work in a shot from moderate distance.
From there, the Reds are able to turn up the heat. Salah and Firmino come on. Again, the space is with Alexander-Arnold, who makes a number of incisive crosses into the area. Again, Liverpool go ahead with a deep free kick worked into a position where someone, this time Firmino, can deliver a tap in. Straight off the training ground. From there, Liverpool have complete control.
The biggest difference between the loss at Burnley and the subsequent wins felt about when the home side can press or sit back. In 2016, they were in full control of this. They pressed in key moments to get the goals, then they sat back once they had the lead. When people talk about "controlling the game", this is a perfect example of doing so unconventionally. But in the subsequent fixtures, Liverpool controlled these situations. Burnley would press at the wrong moments, at times when Klopp's side were well equipped to exploit the space in behind. The final goal right at the death summed this up, as Liverpool had the whole pitch to run into and put together one of the best counter attacking moves of the Klopp era.
---
Then we get to this season and finally see a complete, perfect performance of everything the now great Liverpool side can do well at Turf Moor. The team is actually The Team, with only Matip rather than Gomez the debatable point for Liverpool's "best" eleven. Both full backs were able to exploit the space afforded to them and regularly proved the outlets. The first strike was given as an own goal, but it's not an accident it came from Alexander-Arnold in a crossing position. That's how Liverpool grind these teams down.  Anyone who has watched Liverpool this season already knows that. Once that happens, the space is there for the front three to exploit Burnley's pressing game. There's so little to say about this one just because it was one of the most routine wins of the season.
Liverpool flipped this fixture on its head. Burnley went from being the worst opponent Liverpool could face, so able to get compact and deny the space in behind, to almost the ideal opposition. Through understanding how sides like this occupy space, when they leave it in the wide areas and when they leave it in behind, Klopp totally altered his team's approach. A much better positional game was gradually developed to exploit this not just against Burnley but every week. Add to this improvements in the basic aspects of defending as well as a better mentality and the side improved in just about all aspects of the game.
And that's how Liverpool won the Premier League.