Discover more from Grace on Football
The Premier League and other football (soccer) nonsense.
Over 12,000 subscribers
How Safe Are Europe's Super Clubs?
The hierarchy seems pretty fixed. Is it?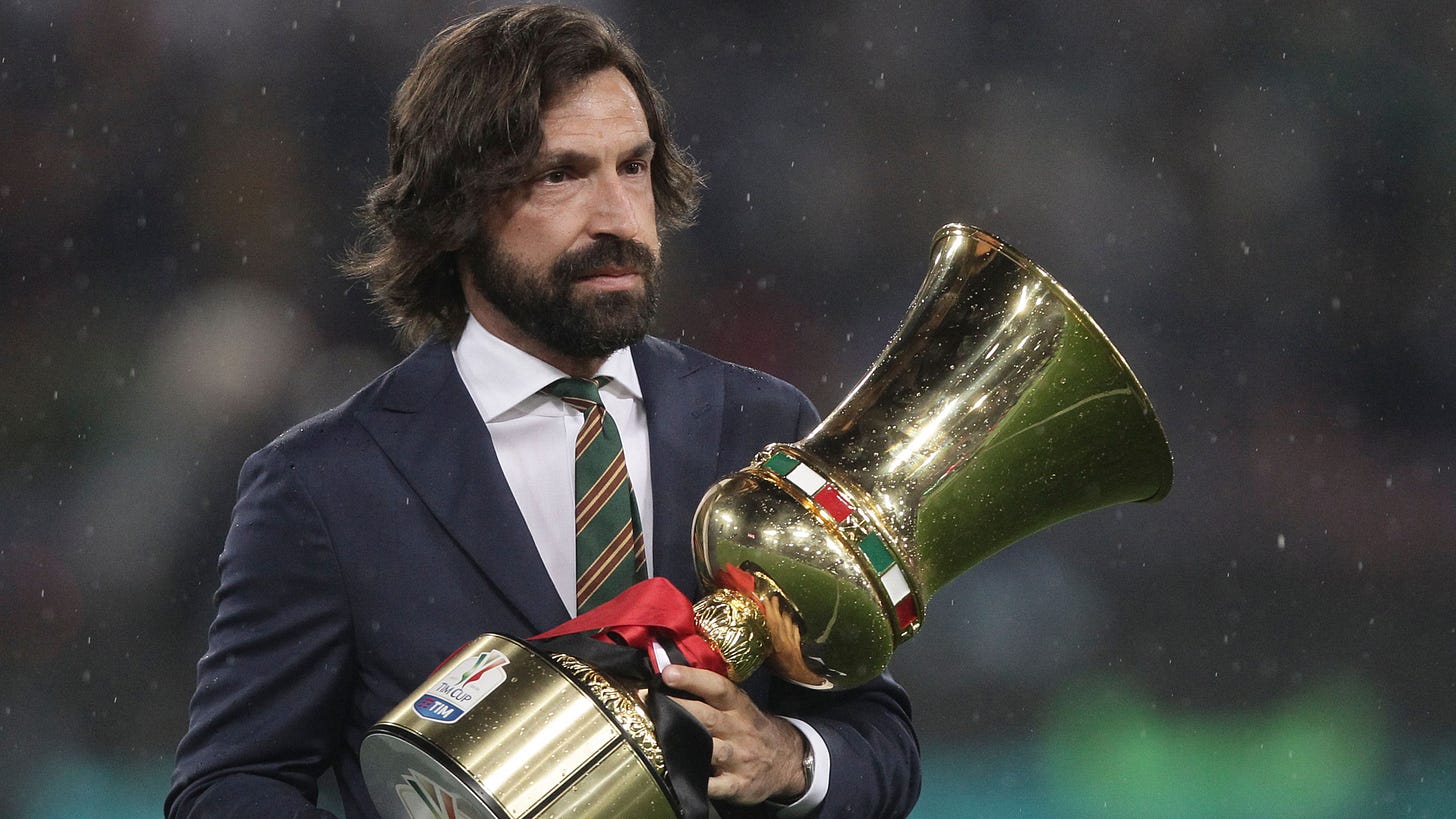 The year is 2011 and Juventus have been going nowhere for a long time now.
The calciopoli scandal of 2006 saw the Old Lady play outside Italy's top division for the first time since Serie A began in its modern format in 1929. They were promoted back up pretty comfortably, romping Serie B, and followed it up with a third placed Serie A finish in 2007/08. After that the club moved one step closer by finishing second the next year and, one would assume, were well on the way to winning the scudetto once more. Except that Juventus finished a disastrous seventh in each of the next two seasons. When you add in the titles stripped by the authorities, it had been eight years since Serie A's most successful club had won the league. This was stagnation. A Liverpool-esque 30 year wait seemed entirely possible.
Juventus turned to popular former player Antonio Conte to at least attempt to turn things around and get the club on the right trajectory. A number of signings were brought in including Arturo Vidal, Stephan Lichtsteiner and Alessandro Matri were brought in, and that's all well and good, but none of this is transformative. Juventus needed a miracle, someone genuinely world class who could galvanise the whole club on and off the pitch. Somehow, they got him for nothing.
After becoming surplus to requirements at Milan, Andrea Pirlo arrived at the Bianconeri.
There are game changing signings, and then there's Pirlo to Juventus. The greatest regista of his generation won Serie A Footballer of the Year for three consecutive years after turning up in Turin. Juventus went eight years without a title before he turned up and won it every year since. No Pirlo, no party, no total dominance of Italian football.
That's how close this glorious era in Juve's history was to not happening. The stars don't quite align and Serie A looks very different today.
It's important to consider this when we look at the hierarchy of Europe's top five leagues. The Premier League has, somehow, remained at least relatively competitive at the top end, but it's bucking the trend. Along with Juventus' nine in a row, we have Bayern securing an eighth consecutive Bundesliga title, while a Covid-curtailed season helped Paris Saint-Germain take home the Ligue 1 trophy in seven of the last eight seasons. Over in Spain, while Barcelona had dominated with eight of the last eleven La Liga titles, this year could mark a new era, as the league was won by plucky underdogs... Real Madrid. It's right that people look at these leagues and ask serious questions about competitiveness.
But the future isn't set in stone. While economic circumstances have entrenched established hierarchies, none of these sides have really dominated historically like this. What if Bayern or Juventus are Blockbuster and there's a Netflix just around the corner? What if things change? What if?
---
Of the top tier clubs in Europe's big leagues, PSG have by far the most secure position in my view. Their obscene financial advantage against the rest of France isn't going away any time soon, but hell, let's say it did. Let's say UEFA starts taking FFP really seriously and infringes on PSG's ability to spend significantly. They still have the best under 23 player on the planet backed up by a frankly astonishing academy, despite their frequent desire to let these players leave. Seriously, it's amazing. Let Julien Laurens of ESPN spell it out:
"Last summer Paris Saint-Germain sold Moussa Diaby (Bayer Leverkusen), Stanley N'Soki (Nice), Christopher Nkunku (RB Leipzig), Timothy Weah (Lille) and Arthur Zagre (AS Monaco) for a combined amount of €54 million.

None of them was older than 21, and all had arrived at the club between the ages of 12 and 15.

A year earlier, it was Jonathan Ikone (Lille), Odsonne Edouard (Celtic) and Yacine Adli (Bordeaux) who were sold all together for just less than €20m. That same summer, Claudio Gomes, one of the most promising talents in PSG's U19 team, was poached by Manchester City after he decided not to sign his first professional contract in Paris.

In 2017, Dan-Axel Zagadou (Borussia Dortmund), Boubakary Soumare (Lille), Fode Ballo-Toure (Lille) and Mahamadou Dembele (FC Salzburg) did the same. No professional contracts, no first-team appearance, no fees, no goodbyes.

And before that, there also were Matteo Guendouzi (Lorient), Kingsley Coman (Juventus), Mike Maignan (Lille), Moussa Dembele (Fulham) and many more. Despite Paris being their hometown, PSG their club and the Parc des Princes their dream, they decided to leave almost as soon as they could."
I mean, damn. Scale the spending down a bit, rely on the academy, and you still have a club dominating Ligue 1. PSG will be absolutely fine. Ici c'est riche.
If we travel about 450 miles east, things look pretty secure for Bayern as well. It's fair to be a little bit underwhelmed by Bayern's evolution since the treble win of 2013. Pep Guardiola's attempt at gene slicing some Dutch/Catalan positional play into the Bayern DNA hit resistance from German football's traditionalists, and Positionsspiel as we might have called it never really took hold. Under Carlo Ancelotti and Niko Kovač, Bayern didn't really have much of a clear identity at all, and Guardiola may as well never have managed the club, it feels.
Hansi Flick has at least started to bring more tactical coherence to the Bavarians. And it's enough when they've done some excellent work reloading the squad for the long term. Leroy Sané (24) now joins Benjamin Pavard (24), Niklas Süle (24), Lucas Hernandez (24), Alphonso Davies (19), Joshua Kimmich (25), Leon Goretzka (25), Michaël Cuisance (19), Kingsley Coman (24, still), Serge Gnabry (25) and some others on the fringes yet to quite break through, ready to replace the old guard. This is how you rebuild an elite but ageing squad.
Spain is in a slightly different position to these other leagues in that it's a true duopoly, with neither side really able to claim they've been the definitive dominant force in the past five years. While Barcelona would point to their usual domestic success (but not this year), Real Madrid would look at the Champions League trophies won under Zinedine Zidane. And it's Madrid who look ok right now. Yes, Zidane is still overly reliant on the core that won him those three Champions League titles and too reluctant to just bomb out talented young players because he doesn't like the cut of their jib or whatever. Their ten most used outfield players have an average age of 28, but that doesn't really tell the whole story. You have the old reliables, guys like Karim Benzema (32), Casemiro (28), Sergio Ramos (34), Raphaël Varane (27), Dani Carvajal (28), Toni Kroos (30), Luka Modrić (34) and Marcelo (30). These players have been through it and won the big medals with Zidane. Then you have the "new" core of players such as Fede Valverde (22), Ferland Mendy (25), Vinícius (20), Rodrygo (19), Éder Militão (22), and next season finally Martin Ødegaard (21). It's not quite Bayern, but it's not bad. I don't think we're going to see Real dominate European football in the 2020s like they did this past decade, but I don't see them going away any time soon.
For Barca, on the other hand, it's really hard to see much of a long term plan. I know this isn't news, but it's still true. Maybe it's a little too easy to count out the Blaugrana. Things looked awful in 2003, then Joan Laporta swept to power in the presidential elections and transformed the club from the inside. That's what needs to happen here. Laporta himself seems to want to do it, but Barca really need fresh ideas and a different direction. I'm not saying they can't do it, but as things stand they're going nowhere fast. Ansu Fati and Riqui Puig look like the first real talents to come out of La Masia for a few years, and there's surely a lot more to come from Frenkie de Jong, but it's kind of on the thin end. Even if Lionel Messi lived forever, I'd expect this team to get worse in a few years. But with Messi on the decline? Jesus. With the presidential elections coming in 2021, the club has to treat this as year zero. Everything should be challenged and questioned. In the long term, they're always going to have huge financial advantages over every club in La Liga not named Real Madrid.
Which brings us to Mr. Pirlo. I have no idea how true this is, but the talk of the town is that Juventus would love to shift Cristiano Ronaldo's wages this summer. It's not happening. Pirlo seemed to be a cost-friendly option, and the market is terrible right now, so the squad is broadly the squad. And honestly, this side hasn't been performing as well as nine league titles in a row would suggest. Football Reference (with data from StatsBomb) seems to think Juve haven't been Italy's best side by expected goals in any of the past three seasons. Understat (with less reliable data, but going further back) estimates this has been true for the past five seasons. Five years of not being the best but winning anyway, at least according to the data. It's reasonable to think Juve have some edges that the numbers aren't showing, from finishing skill to defensive shape to "mentality", but come on, they're on a hell of a hot streak here.
And unlike some other leagues, Juventus are not historically the only team in Italy that matters. Before this current era of dominance, Juve had won 27 Serie A titles. The most, yes, but hardly a million miles away from Milan and Inter on 18 each. In Italian football's mid-90s halcyon days, it was renowned for its competitiveness, with as many as seven teams competing for the Scudetto each season. At the start of the last decade, Juve were intelligent enough to make better decisions than all their rivals and drum up a big lead. It's not unlike Sir Alex Ferguson's Manchester United in the early years of the Premier League.
Juventus do have a financial advantage, but it's one based on recent success more than anything eternal. If Milan, say, won nine Serie A titles in a row, they would have a similar revenue. In the medium term, Juventus need to overhaul their squad and at least some work has been done here. Arthur (24) joins Matthijs de Ligt (21), Rodrigo Bentancur (23), Adrien Rabiot (25) and the returning from injury Merih Demiral (22) next season. Miralem Pjanić (30) and Blaise Matuidi (33) are history. But this is a club that put a lot of eggs into a Ronaldo-shaped basket without that much, collectively, to show for it. He's personally done just fine, but maybe the thing about him is he looks after number one. It's hard to see how much Juventus have progressed with him. In a post-Covid recession, his commercial reach might be dimmed a little while his wages remain high.
It's Italy where the challengers are strong. Inter really have something if Antonio Conte can restrain his inner voice telling him to burn everything down. Milan have gone very young alongside, oh, look, a big name veteran Serie A star with the kind of gravitas and aura to lift everyone off the pitch. Lazio probably aren't going to repeat their xG overperformance of this year, but you never know. It is open in Italy.
The established order has been this way for a little while now, so everyone starts to feel like this is always the way of the world. Things can change faster than you know. Someone is losing their place at the top of their league. That much I am confident of.