Discover more from Grace on Football
The Premier League and other football (soccer) nonsense.
Over 12,000 subscribers
Is Something Happening at Barcelona?
Ronald Koeman is changing things. Will it work?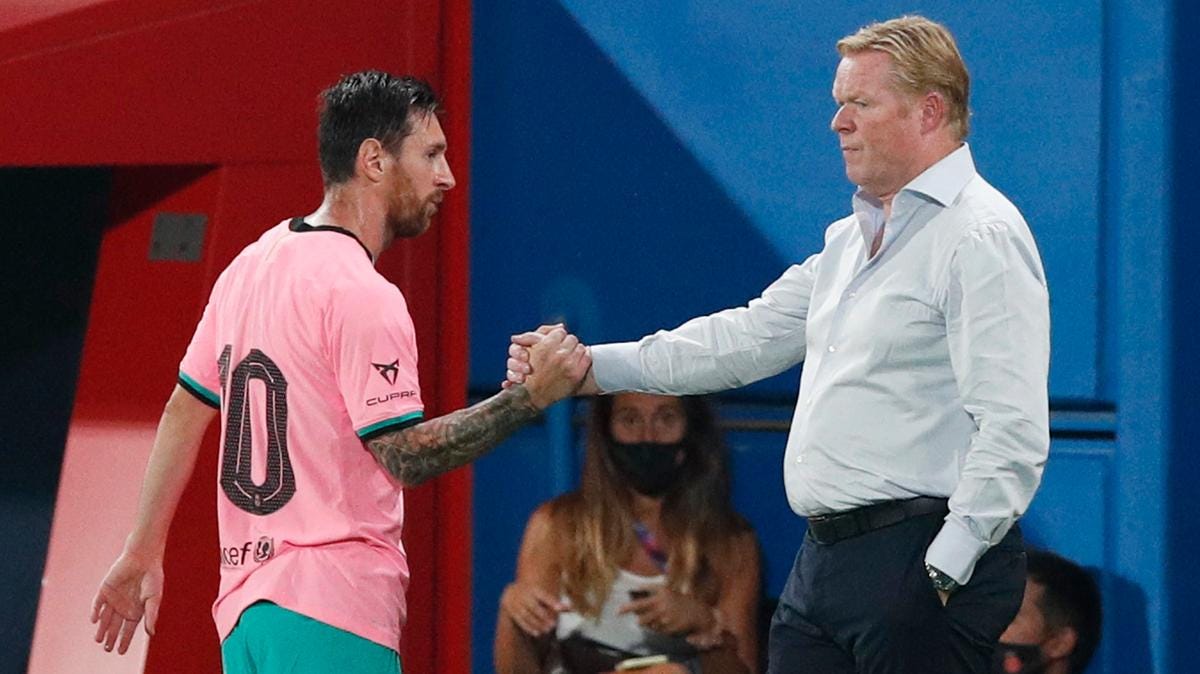 J.J. Abrams, the hugely successful but often resented Hollywood writer-director, has a well worn way of exploring character. He'll present us with a protagonist, but he'll give us two possible versions of who they might be, and ask us to guess which is the "true" character. It applies to everyone from Felicity Porter to Sydney Bristow to Kate Austen to James T. Kirk, but let's take Rey from Star Wars as an example.
On the one hand, Rey is a scavenger girl from nowhere. She's got far in life by learning to fend for herself, because she doesn't belong to anything. Her strength is in her everyman qualities. She's no one special, but she has the guts and brains to achieve great things. But on the other hand, the galaxy called out to her. Everyone seems to be compelled towards her as though she belongs to something grander and greater. Is she Rey from nowhere, or Rey of great destiny? Abrams shoots himself in the foot when he tries to answer this, because he wants us to tease it out ourselves.
I often feel the same way about new Barcelona manager Ronald Koeman.
On the one hand, we have Koeman as the image of Total Football. As one of the most technically gifted ball playing centre backs of his generation, he naturally took to Johan Cruyff in their time at Ajax, so much so that the Dutch manager brought his compatriot to Catalonia specifically as part of a transformational rebuild. If Cruyff built the chapel of FC Barcelona, then there's no doubt Koeman was one of the central pillars. When we think of Dutch football meeting Barcelona, we imagine such technique and guile, such fluidity and artistry. Koeman's playing career embodied all of that. From the moment he entered management, everyone knew his goal was to sit in the Camp Nou dugout. He knows the style, the philosophy and the features of the chapel, precisely because he helped build it. He doesn't just have Barca DNA, he was one of the scientists responsible for splicing the Dutch genes into the club.
On the other hand, we have Koeman the manager up to this point. At his last club job in charge of Everton, he initially saw an improvement in form by moving away from predecessor Roberto Martinez' Catalan flair, and towards a more direct, more physical style of play. The key player in this was new signing Idrissa Gueye, a hard running and tackling defensive midfielder. Things got worse the following year, when heavy investment allowed him to truly build his side and no one could figure out what it was supposed to be. The story was similar at his previous club, Southampton. There, he replaced high pressing, possession-focused advocate Mauricio Pochettino and, dealing with significant squad turnover, maintained good results by advocating a much more direct, more traditionally English, approach.
Koeman has spent his entire career trying to engineer a move back to Barcelona while making almost no effort to show that he's a good fit. I don't really intend this as a criticism. He transformed the atmosphere around the Dutch national team by playing really effective football, and he deserves a lot of credit for a job now set to remain unfinished. Similarly, he went to Southampton when the club felt on the slide, and if he didn't set the right standards every day, it's easy to imagine the club would not be in the Premier League in 2020. That's what Koeman does: he demands the right things from his players and builds a strong atmosphere in the dressing room in order to get commitment on the pitch. He seems to be pretty good at it, too. Even if the football isn't always pleasing to the eye, he's capable of turning around negative attitudes and emphasising traditional football values of hard work and desire.
In a strange way, might that be exactly what Barcelona need?
Quique Setién and Ernesto Valverde were not stupid coaches. The football they played wasn't exactly Pep Guardiola's vision of juego de posición, but how could it be? That style demands 100% effort from every player to coordinate a high pressing system to win the ball back in the blink of an eye. It requires players to follow instructions in possession and wait until exactly the right moment before making a run. Setién and Valverde might not be able to coach it as well as Guardiola, but no one on Earth could coach it at all when the players are disinterested and unwilling to do the work.
Koeman's most obvious skill could be fixing this problem. He has the clout to do it, with his name still carrying some weight in the Catalan capital. He's already changed the dressing room dynamic by getting rid of some of the bigger names, even as Lionel Messi stays for now. Barcelona can't win again until the players start behaving like professionals, and Koeman really does have a track record of instituting this. His knowledge of the club probably helps here, as he knows how power works at Barca.
At the same time, that knowledge of the club means he certainly knows how precarious his position is. He'll be in no doubt that the board who appointed him is deeply unpopular. He also knows that the frontrunner to become the club's next president, Victor Font, has a very clear plan of what he wants to do, and that probably starts by hiring Xavi Hernández to replace Koeman. If things are going well, Font might be reluctant to sack a beloved figure doing a good job, however. But it won't be easy. To stay in the job, Koeman will have to display all the qualities we discussed, but also implement the kind of football he espoused in his playing days. That's the hard bit for him.
So how's he doing with that. Here in the graphic below is his basic lineup so far. With Sergiño Dest arriving from Ajax, we can expect he'll replace Sergi Roberto in due course. Otherwise it's a pretty straightforward and sturdy 4-2-3-1 shape.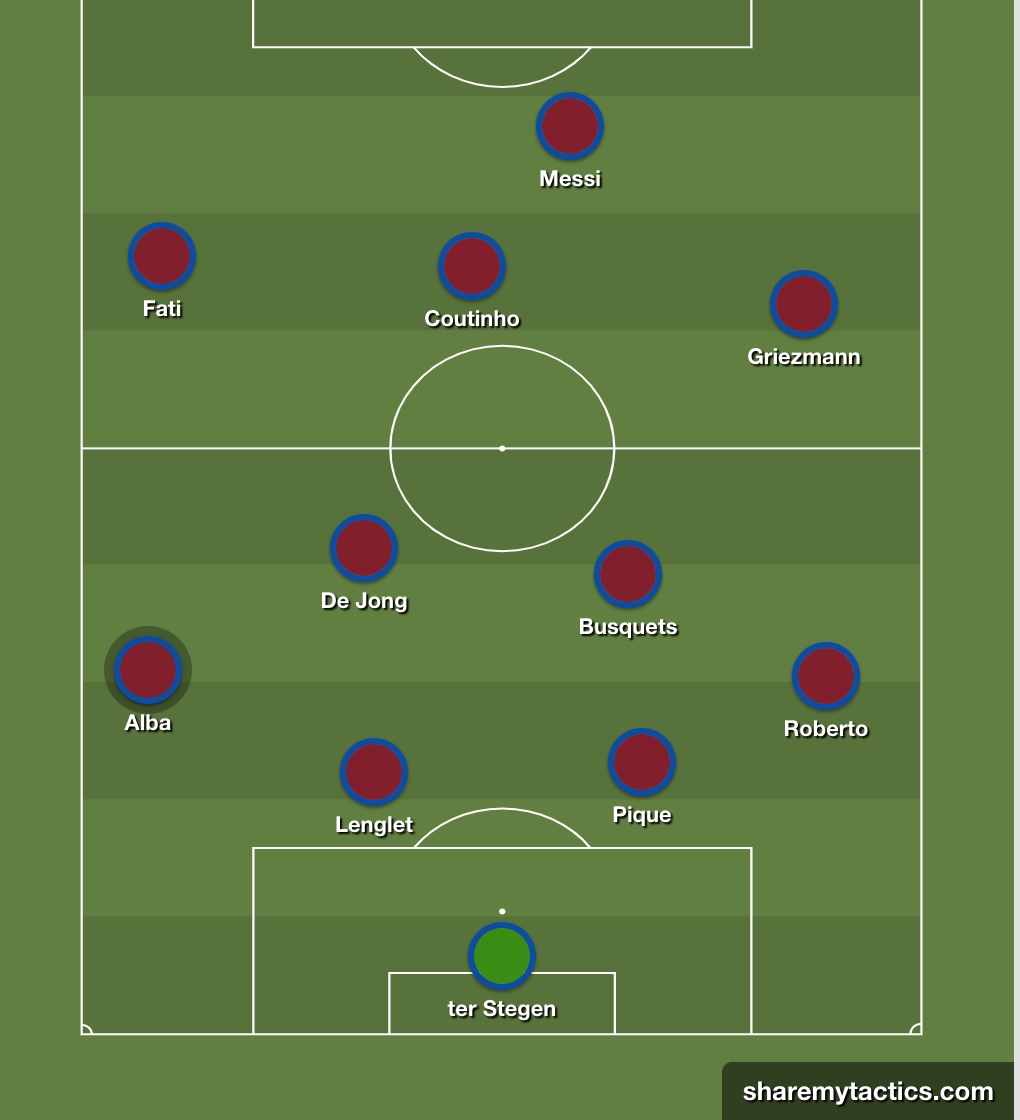 There's a bit of an aversion to 4-2-3-1 from some Barca purists, with 4-3-3 the shape guaranteeing all those nice passing triangles. But it's a perfectly useful shape. Juanma Lillo loves it, and no one could deny his positional play credentials. He even seems to have convinced Guardiola of its merits. The obvious change is that it means a double pivot at the base of midfield, and there are two real benefits for Barcelona here. The first is that it gets Frenkie de Jong in deeper areas, where he can control the game with more of the pitch in front of him. His passing qualities are obvious, as are his skills at evading pressure, which makes him a perfect fit for the slightly more attacking partner here.
The other is that it gives Sergio Busquets a slightly easier job. Cruyff once told Guardiola that the midfielder can be outstanding defensively, provided he is only tasked with covering a small space. Busquets, more Guardiola's obvious successor than any other La Masia product, got the benefits of Pep applying the same lesson as a coach. This was generally about Barca's pressing system being so dominant and structured that Busquets rarely had to vacate his area to clean up messes, and he could just patrol his portion of midfield comfortably, concentrating on his passing and intelligence (and, yes, fouling) rather than mobility. As Barcelona's shape with and without the ball became much more sloppy, Busquets as a single pivot needed to cover a larger and larger space, right when his already limited athleticism was declining. Putting De Jong right alongside him instantly changes this, and he can now work in the kind of smaller space he's more comfortable with.
The downside of this shape is the angles in possession. Barca have tried to build up as usual a number of times, before realising there isn't someone standing just in front of the centre backs at a good angle to receive the ball. The solution to this is probably just to have one of the double pivot drop a little deeper when the side have the ball, which should be pretty easy and I'm confident they'll figure that out in due course.
It's the attacking quartet where I have some concerns. Let's start with what's good. Ansu Fati has really come in hot this season, and he'll surely calm down a bit (three goals from less than one expected goal tends to do that), he still looks like he's most comfortable in that left sided role. Jordi Alba is ageing out of his ability to gallop up and down that flank, and he should probably become more of a ball progressing full back than someone who also makes off the ball runs. So Fati looks ideal to pick up some of that slack.
We can move inside to Philippe Coutinho and, bare with me, but I need to get this rant off my chest. I watched virtually every game the Brazilian played for Liverpool, which is more than I imagine anyone involved in buying him at Barcelona can say, so hopefully I can speak with a little bit of authority:
Coutinho is not a number ten.
He definitely thinks he is. Brazil, like a lot of countries, romanticises the classic artistic number ten, providing silky smooth assists and goals between the lines. Coutinho has all the aspects of that type of player. But it's not the 90s anymore. Everyone put away their Nokia phones, turned off those Spice Girls CDs, got bored of their Tamagotchis and stopped playing languid number tens.
Repeated tactical trends compressed the space available in "zone 14" (the bit of the football pitch central just outside the box), and then coordinated pressing systems gave teams even less time on the ball here. It's the hardest spot on the pitch to work through an intricate pass at this point, which is precisely why no one bothers. Teams that play a true number ten in the modern game tend to use players like Thomas Müller or Dele Alli there: aggressive pressers who interpret space exceptionally well and look to make runs into the box rather than play cute through balls and dribbles. Is Coutinho anything like those two?
Look at his time at Liverpool to understand him properly. His first manager at the club, Brendan Rodgers, loved to constantly change systems and use players in a variety of roles. This meant Coutinho most often played on the left or as a central midfielder. Rodgers' best spell at the club in early 2014 came playing a diamond midfield with Coutinho in a left sided midfield shuttling role and Raheem Sterling, no one's idea of a Michel Platini style trequartista but a much more aggressive player than Coutinho, in the number ten role. Rodgers understood that the tight spaces meant the position didn't really warrant a playmaker, and so rarely used him there.
(Some would argue that his role in the 3-4-3 system in 2014/15 was as a number ten, but I would disagree. He was really starting in a narrow left sided role and coming inside, as he so often did in a red shirt.)
Jurgen Klopp came in and brought much more tactical consistency to the side. He settled on a 4-3-3 shape, but even when he employed a 4-2-3-1, it was still Adam Lallana as the ten and Coutinho cutting in from the left. "He played his favourite position, number ten, with us relatively rarely", explained Klopp last year. "He can play a great eight and a really great left wing because he is as strong as a bear in small spaces, but also absolutely fast enough for large spaces.
"Not since Alessandro del Piero, who fired the balls into the corner from similar positions, have I seen anyone do the same thing so frequently, pulling inward from the left in closing actions."
Klopp, I'd hope you can agree, has a better eye for this sort of thing than most. He really made an effort to build the side around Coutinho, creating space for him to drift inside from the left over and over again. But he never played as a ten. Coutinho's best football for Liverpool was about him ending up in zone 14, but he did this by dribbling inside to create space for him. He, as Klopp said, finished moves there. When he plays as the ten, he can't create that space because he's already there. Instead, what often happens is that he drifts to the left, but he's much less adept at ending sequences in that space. He's playing his Liverpool role backwards. It's much harder for him to do what he does, and I'm not sure there's ever a way to get his complete skillset at the Camp Nou.
A problem, if you could ever call it that, is the way Messi interprets the striker role. Koeman has put him straight upfront, but he's not exactly going to stay there. And nor would you want him to. Messi, along with being Barcelona's best goalscorer since forever, is unquestionably the side's best dominant playmaker, and blah blah blah, Messi is amazing, so why am I telling you all this. Everyone on Earth knows Messi is transcendentally good. Anyway, once he drops deep, the 4-2-3-1 becomes more like a 4-2-4, with him and Coutinho as the central strikers. This just feels wrong. Coutinho is receiving the ball like a goalscorer rather than a creator, and Antoine Griezmann, who would be ideal for the role, is stranded on the right. It's something they will need to work on a little more.
Barca have been good enough so far. Two wins and a draw is nothing to sniff at, even if good finishing has made the football look a little bit more sparkling than it is (8 goals from 5.7 xG, according to Football Reference using data from StatsBomb). It's a little straightforward, and the passing patterns need to improve, but there's a solid base to work from. This at least looks like an actual football team, which is a big improvement on last season.
J.J. Abrams rarely ends his stories. His modus operandi is to create the intrigue, then hand it over to someone else with the task of figuring out where the hell the story is supposed to go. The one time he really had to write a conclusion was The Rise of Skywalker. In attempting to definitively explain who Rey is, he somehow managed to disappoint everyone. Some people are just best off starting things. That's not necessarily a bad thing.
The same might yet be true of Koeman. It seems very likely that Xavi will be the next Barcelona manager. Whether he's going to be any good or not is a question for another day, but it's obvious he'll try to reinstall the strict positional play Barca were famous for under Guardiola. With the side as it was in 2019/20, that would be impossible. A culture change is needed to transform the club before any kind of cohesive tactical system can be viable. If Koeman instills a basic sense of dressing room structure and a sense of normalcy to proceedings, even if he never gets the side playing Cruyffian football, his time at the Camp Nou will have been a success.