Discover more from Grace on Football
The Premier League and other football (soccer) nonsense.
Over 12,000 subscribers
Pep in the Knockouts: Part Four
The Fallen World
Note: this is the conclusion of a four part series on Pep Guardiola's successes and failures in the Champions League. Please read the introduction for more information.
This feature is entirely free, but I can only produce this work with your support, so I've launched a paid tier. You can read more about that here. Please consider subscribing if you can afford it.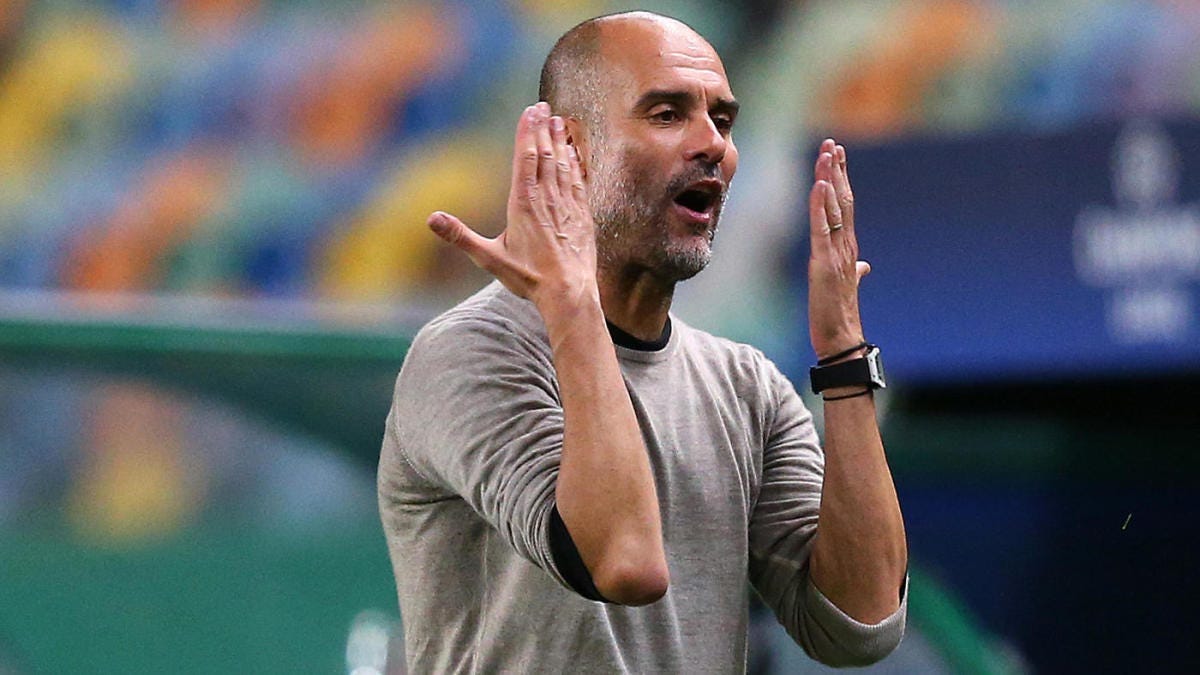 The year is 2020 and here's the state of play: the Earth is dying. Everything is on fire. There's a global pandemic. The human race is collapsing. Everything that could be broken is getting shattered. That includes Manchester City's defence.
Maybe it's because of Aymeric Laporte's serious injury (he had returned for this game). Maybe it's because Rodri took over Fernandinho's role at the base of midfield and, for his positive attributes, he has neither the mobility nor the sense to sniff out danger to clean things up before the centre backs are in trouble. Maybe it's, as Pep Guardiola apparently thinks, that the pressing in the final third had deteriorated, with David Silva apparently a serious culprit. Whatever the reason was, all could agree that City's defence had become significantly more porous.
This probably influenced Guardiola's surprise selection against Lyon in this year's quarter final. Everyone reading this already knows that the competition moved to single leg ties at neutral venues for pandemic reasons, which might have further prompted caution. Lyon's biggest strength was, shocker, fast transitions. The speed of players like Memphis Depay and Maxwell Cornet was always going to be a problem.
Guardiola sprung a surprise, which in itself was not surprising at all. There has been some speculation that this system was secretly designed for the semi final and final, but I'm not convinced. Knowing Pep, he'd just change it again anyway depending on which of the opponents made it through. He went to a three man defence of Fernandinho, Eric Garcia and Laporte, with Rodri and Ilkay Gündoğan sitting in front while Kyle Walker and Joao Cancelo were the wing backs. Kevin De Bruyne and Raheem Sterling both played off Gabriel Jesus. Lyon played their 3-5-2 shape.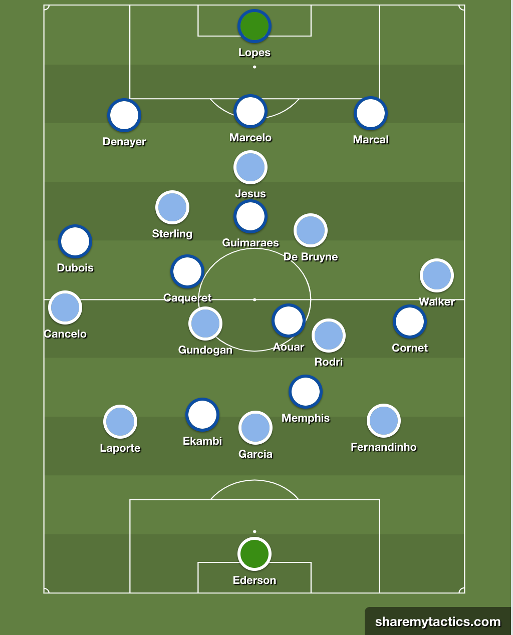 In many ways the system isn't that different to the shape Guardiola usually employs, so let's go through it. City generally start with a back four that becomes a three, as Walker shuffles along to become a third centre back. What's different this time is that it's a permanent back three and, maybe more importantly, Fernandinho is playing the right sided centre back role instead of Walker. Guardiola's own rationale for the selection seems to be that he lacked fast centre backs, so he opted to sit a touch deeper with three of them and protect against the counter.
But here's my question: who is the fastest defender at Man City? It's Walker. If you're concerned about dealing with pace on the counter, I don't know why you'd take the one guy with the recovery pace to deal with it totally out of that situation, and put a 35 year old converted midfielder there instead. I don't understand how this move wouldn't just make the problem worse.
In front of them you have the Rodri/Gündoğan double pivot. There's a lot to be said about this pair, and they're arguably too passive together to really click. But City had been using them like this all season, so there's nothing to see here. What is different is the wide areas. For most of Guardiola's time at the Etihad, he's used the wingers to provide width. For a long time this was about Sterling and Leroy Sané on their natural sides, but more recently he's flipped this, with Sterling on the left and either Riyad Mahrez or Bernardo Silva offering a left footed option from the right. There are certain games where Guardiola opts to start Benjamin Mendy as a conventional attacking left back to provide a left footed crossing threat, so this usually means Sterling drifting inside a little more.
Instead, Guardiola's system here called for the wing backs, Walker and Cancelo, to provide the width. Walker is a good right back, but he's become an increasingly defensive option at City. His speed is a useful asset in the more advanced role, but he's just nowhere near as decisive in the final third as anyone usually playing that right sided role for City. It takes so much attacking impetus out of their play when he pops up there. But that was the better side. Cancelo on the left was playing what might be called "the Mendy role". Mendy's injuries and concentration lapses have made him a less than perfect option, so it makes some sense that Guardiola wouldn't trust him in a game like this. But Cancelo looked visibly uncomfortable trying to use his left foot here. When he would make a simple five yard pass to Gündoğan or Rodri, he'd insist on doing it with his right, making it a much more difficult ball for the central midfielder to control. When he got to the byline, he'd obviously been instructed to cross with his left rather than take an age to shift the ball onto his right, but his weaker foot delivery was nowhere near good enough. City were getting almost nothing from the flanks thanks to this tactical choice.
Guardiola always likes to have two players push up to form attacking midfield roles behind the striker (on this day Jesus). Usually it's been De Bruyne and David Silva pushing up from central midfield, with some other players filling in that sort of spot. But his occasional approach is to have Sterling come inside after starting from the left. This time, Sterling and De Bruyne permanently glued to those spots. They were less hurt by their roles here than City's inability to move the ball forward to them frequently.
The thing is that very few of these roles are that unusual for City players to drift in and out of, but this time they were permanently fixed in them. That really restricted their movement and passing patterns, making it much, much harder to progress the ball out of the centre backs and into the midfield then attack. Just look at the passmap, provided by Between the Posts, to see what I mean. City could not get out.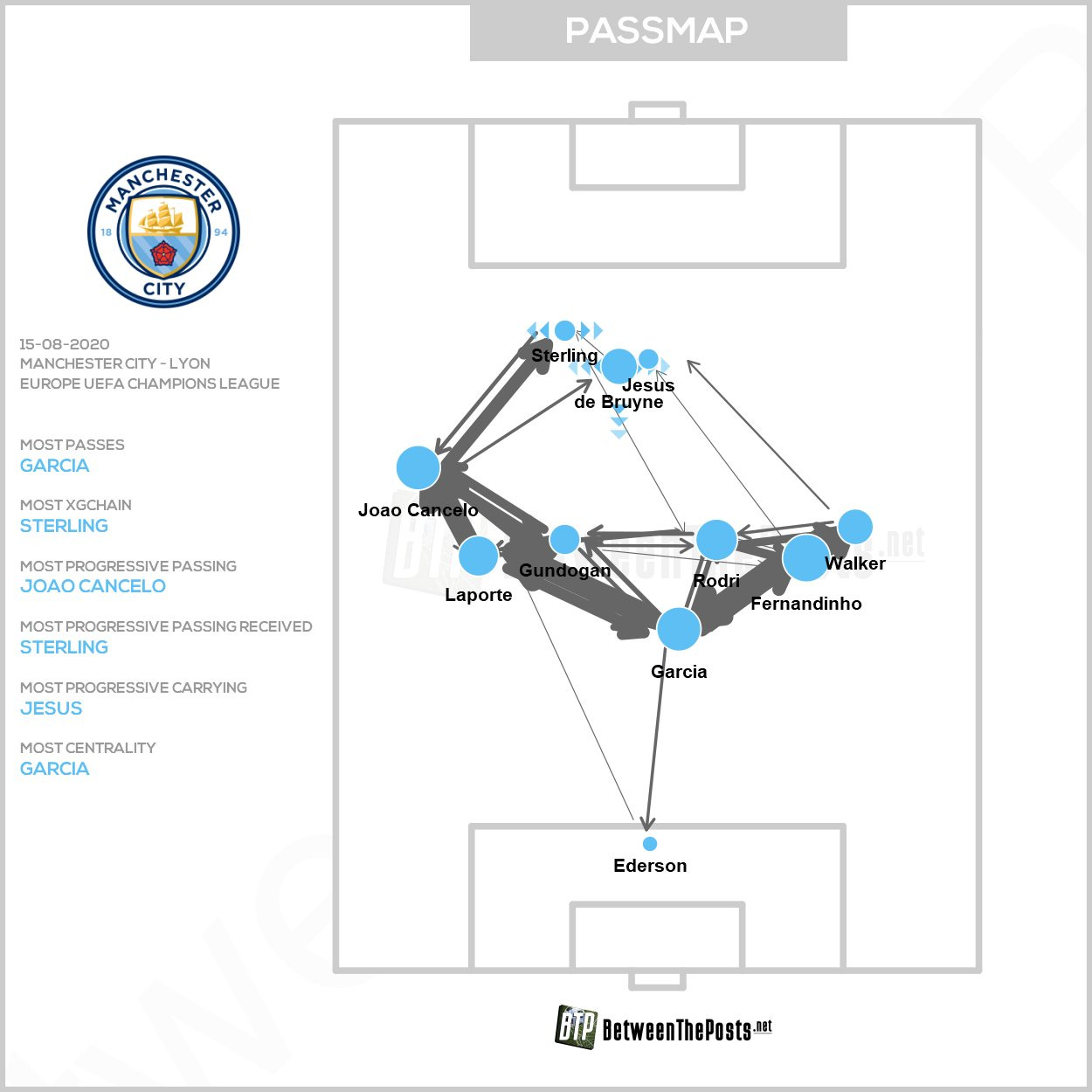 Guardiola rectified this in the 56th minute, bringing on Mahrez for Fernandinho and going back into a normal shape. It was very, very obvious that City instantly could pass the ball at much better angles and work it into dangerous areas much more easily. The side had 5 shots before the second half substitution and 13 afterwards, which is all you need to know. The side had set up completely wrong, but when they switched they showed us the obvious: this is a much, much better football team than Lyon.
Lyon scoring two after De Bruyne's 69th (nice) minute equaliser while City missed numerous good chances can be put firmly in the territory of "shit happens". But come on, Guardiola did not put his team in the best possible position to win this game. FiveThirtyEight's model, which knows nothing of Guardiola's tactical choices, had City as 90% favourites to progress here. That doesn't feel wildly inaccurate here. If Guardiola decides to change everything and he gets it right, how much is he moving that needle to? 95%? 96%? He has to be extremely certain he's right to make a fairly small gain here, and he just can't be.
I've been reluctant to say the O-word, but I'm just going to throw it out there anyway: Pep overthought it against Lyon. He didn't overthink it against Chelsea, Inter, Real Madrid, Chelsea again, Real Madrid again, Barcelona, Atlético Madrid, Monaco or Liverpool. But he overthought it against Spurs and again against Lyon. He just did.
The central issue appears to be thus: Guardiola is terrified of counter attacks. He's been hurt many times before. Fast attacking transitions are the hardest thing for his system to deal with. His teams might be able to suppress this against most opponents, keeping a good shape in possession so that they can't get out, but the very best sides at it will always find a way.
"The great strength of this playing style is the ability to dominate weaker opponents in an extreme manner", claimed Thomas Müller. "Against weaker opponents, Guardiola's teams are significantly stronger than others are against the same calibre of opponents because his side's total control over the game prevents random opposition goals from happening".
When you're using such a dominant positional play style and you have better players, you can force choke opponents pretty effectively. When your players are really well structured in possession, even if you give it away in the final third, your opponents just can't get out. Total control. All they can do is punt it long, but you're pressing them as they do this, so the quality of the ball will be poor. When it really works, there's nothing to be done about it.
He never really had an answer for this at Barcelona. But against Real Madrid in 2014 (in the first leg, the less said about the second the better), against Barcelona in 2015 and Liverpool in 2018 particularly, there was a plan: increase midfield control. If you can add extra dominance in midfield, the thinking goes, you can control the ball throughout the game and you'll still be able to force choke them, even if you lose some attacking threat to fit more into midfield. But that never actually seems to work for Guardiola. What instead tends to happen is that the fast transition teams don't really try to contest midfield and create counter attacks just as easily as they would've done anyway. Sometimes even more easily when Guardiola has changed his defensive structure.
Against Tottenham and Lyon, he opted for a different approach. He instead sat deeper at times, getting more players behind the ball and defending counters in a conventional way. But that didn't work either. He's trying to suddenly switch his players to a different mode of defending after years of pressing high, and there's a limit on how effective that will be. This really might sum up his biggest issue.
I keep coming back to an anecdote in Pep Confidential about Guardiola's first season at Barcelona, and specifically how he used Messi so well, that accidentally sums up the problem. Pep is sitting in his office at 10pm the night before facing Real Madird. After watching a lot of footage, he decides to call up his talisman and asks Messi (who should really be getting a solid eight hours' sleep the night before a big game, but I digress) to come straight to his office:
"Tomorrow in Madrid I want you to start on the wing as usual", Guardiola told a young Messi, "but the minute I give you a sign I want you to move away from the midfielders and into the space I just showed you. It's the same thing we did last September in Gijón".
The night before the biggest game of the season, Guardiola completely changed his entire tactical plan, and it worked. Barcelona won 6-1, and Messi went on to reinvent the false nine role because of that late change. It's Guardiola's most famous last minute switch, but of course the player deserves a great deal of credit. Messi, being the greatest player of all time and all, was intelligent enough to be able to completely change his role at the drop of a hat without so much as a single training session working on it.
Guardiola, too, was a player of such intellect. Messi might be miles ahead of his former manager in virtually every other footballing attribute, but for brains they're surely neck and neck. One can imagine Cruyff asking a young Guardiola to totally change what was planned knowing that the Catalan would knock it out of the park. He was that kind of footballer.
It's an old cliche to question whether managers can "coach below their level". But intelligence might be an area where Guardiola struggles with it. He asks many players like Fernandinho, Walker, Schweinsteiger and Rafinha to suddenly change everything that was planned. A lot of them can do it because footballers at the highest level aren't dumb. But this is an extremely high level intellect request, and some just can't seem to do it. Some will inevitably get confused about what they're asked to do, especially when Guardiola is communicating it to them in a second language.
So we have two problems: there is a weakness in his system when playing these sorts of games, and his attempts to correct it do not solve the problem and might actually confuse his players. And this is maybe the sad part: I don't think he's going to fix it. That doesn't mean he can't win another Champions League title if things go right one year. But I do not think he's going to fundamentally reshape his problems in these games.
Ultimately no system in football is complete. Everything has its flaws. As time goes on and certain elements dominate, teams will more and more look to exploit those flaws. And such, unless he really, truly does the work to rethink some elements of his system, will Guardiola keep facing these problems in the Champions League knockout stages. There's an opening in the Death Star thermal exhaust port. Teams are going to keep firing at it.
Thanks for reading! If you enjoyed this, please consider subscribing!