Discover more from Grace on Football
The Premier League and other football (soccer) nonsense.
Over 12,000 subscribers
Pep in the Knockouts: Part One
The Barcelona Years
Note: this is part one of a four part series on Pep Guardiola's successes and failures in the Champions League. Please read the introduction for more information.
This feature is entirely free, but I can only produce this work with your support, so I've launched a paid tier. You can read more about that here. Please consider subscribing if you can afford it.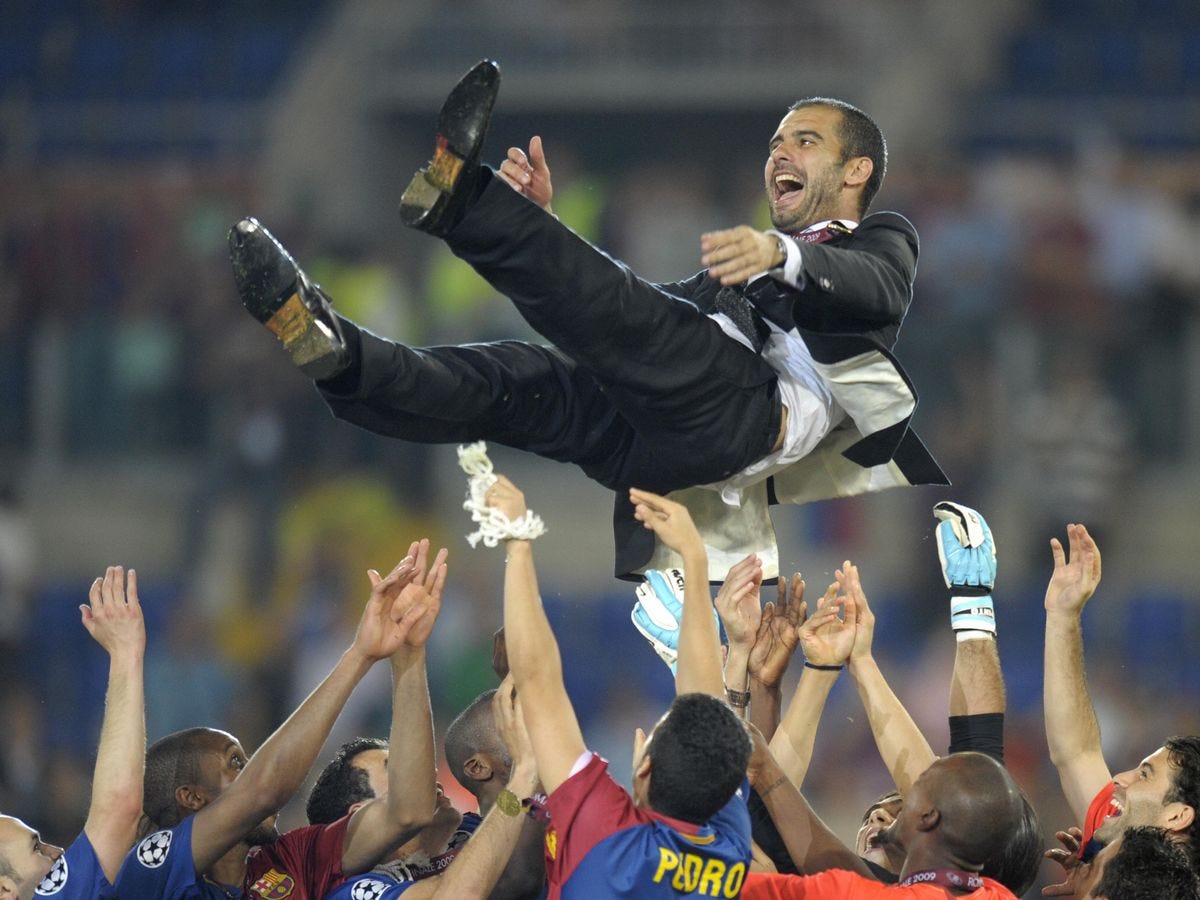 The year is 2009 and the world is a strange place. The previous year's financial crisis plunged western economies into a painful recession. Lady Gaga is dominating the charts with hit after hit from her first album. In Britain, the New Labour project is crumbling under Gordon Brown. But there's still some optimism in the air. Barack Obama was just a few months into his first term as US President, bringing with him all the promise of hope and change (I'll let you decide how well he actually did on those counts). There's hope at Barcelona as well, as the prodigal son returns and plays a scintillating style of football blowing everyone away.
Well, apart from Chelsea, that is.
Did Chelsea represent the toughest test Pep Guardiola had faced in his short managerial career? Barca came out of the Champions League group stages that year overcoming Sporting, Shakhtar and Basel. In the knockout stage, they had beaten a Lyon side that failed to win Ligue 1 after seven consecutive titles, then a Bayern team under Jürgen Klinsmann's brief disastrous reign. The draw had been kind to Guardiola so far, but this was different. Chelsea started the season slowly under coach Luiz Felipe Scolari, who made such a mess of things to get himself sacked in February. But things had picked up significantly under Guus Hiddink, winning 12 out of 16 games by then including very tricky European ties against Juventus and Liverpool. The Premier League had been dominating European football for several years at that point, and this Chelsea team were good. But more than that, they were tough, full of experienced leaders and wily defenders who could make games a nightmare. The opposite of Guardiola's youthful, exuberant Barcelona.
Surprisingly it was Hiddink rather than Guardiola who brought the lineup surprises in the first leg. Petr Čech was in goal, with John Terry partnered by Alex rather than Ricardo Carvalho at centre half. José Bosingwa moved to left back to replace the unavailable Ashley Cole with Branislav Ivanović on the opposite side. Neither had any interest in crossing the halfway line. It's midfield where things get funky. John Obi Mikel was the deepest midfielder, but Michael Ballack stayed very close to him. Michael Essien was technically on the right, but tucked in so narrow and deep as to barely move from his usual role. Frank Lampard was, I guess you could say, playing as a ten, but he was really a third central midfielder to muddy things up some more. Florent Malouda played much higher on the left, while Didier Drogba of course led the line.
In response, Guardiola played... his team. Rafael Márquez started instead of Carles Puyol, presumably with his extra height there to better deal with Drogba. But come on, starting a bigger centre back against a target man is hardly reinventing football. Otherwise it was exactly the famous treble winning team you remember. Here's a graphic to show you what it looked like.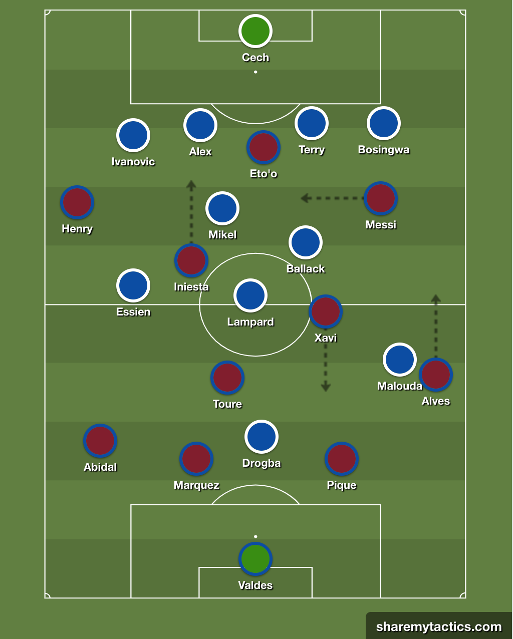 Chelsea were very, very compact in this first leg, offering no space either in midfield or behind the defence, and Barcelona didn't really have an answer. There was no room where he normally had the ball, so Xavi dropped deeper and deeper to pick out a pass, but nothing was ever really on. Lionel Messi, at age 21 merely the probable best player in the world rather than the greatest ever to play the sport, kept coming inside looking for a pocket of space, but none were there. Thierry Henry and Samuel Eto'o had no room to run in behind. Dani Alves was usually the free man, but he largely just put crosses in that were dealt with easily by Terry and Alex. Andrés Iniesta, the player most adept in tight spaces, had his moments, but hardly one of his finest nights.
It wasn't good, and it would be tempting to say that Barca got away with one at 0-0, but that would be unfair. They dictated the game for 90 minutes, and though they could never penetrate, Chelsea offered close to nothing going forward. Their buildup play consisted of Cech lumping it up to Drogba. The Ivorian might be the best striker I've ever seen at holding the ball up from goal kicks, but you have to then get players around him. Chelsea were so reluctant to break out of their compact shape that he was isolated and they thus created very little. If you can't remember anything about this first leg, that's because it was a terrible game.
It's funny, considering we're talking about the same teams and largely the same players. But if the first leg at the Camp Nou was a very Catalan, if drab, sort of game, then the second at Stamford Bridge was extremely English. Chelsea played a more conventional 4-3-3 this time with Nicolas Anelka on the right. They were still generally in their own half, but with much more of a counter attack on if they had the ball.
And what of our man Josep? Fate forced his hand in some ways. Both Puyol and Marquez were out, so Yaya Touré had to drop in alongside Gerard Pique (yes, the same Yaya Touré who scored all those goals for Man City). But that's just one of those things that can happen. Thierry Henry was also injured, so that's a straight swap for any of Pedro, Bojan or Alexander Hleb, right? Think again. Iniesta moved into the forward line with Seydou Keita joining the midfield. That happens from time to time, with the intricate lock picker starting on the left rather than drifting out there. But this time, he was on the right. Eto'o was moved to the "Henry role" on the left. Messi was playing is back then occasional false nine role.
Oh, he's at it alright.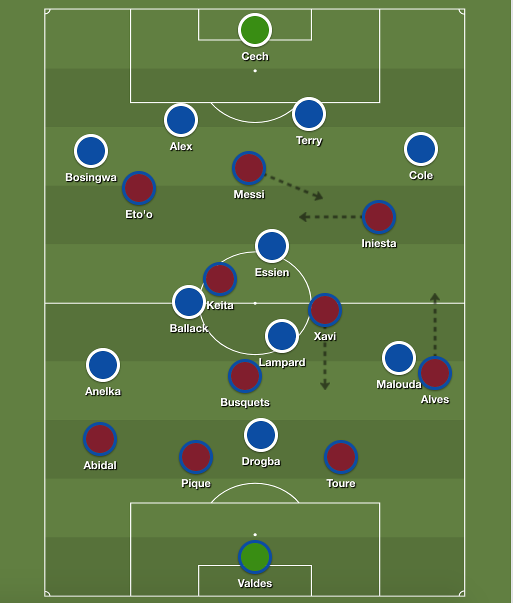 I assume the plan was for Messi to drop into space and drag the slow centre backs out of position. Normally they would do this with Eto'o then on the right, but a returning Cole at left back has the recovery runs to deal with such a threat, whereas Bosingwa at right back might not. But it didn't really work. Terry and Alex were disciplined, and Guardiola quickly switched to a more natural set up of Messi on the right, Iniesta left and Eto'o leading the line. It didn't really work, whatever the plan was. This leg was more open than the first, but again Barca struggled to cause real damage despite having so much possession. Iniesta's stoppage time strike was their first shot on target at Stamford Bridge. Chelsea played an excellent deep block over these two legs and really should have gone through. Guardiola made minor tweaks rather than wholesale changes, but it didn't really provide much of an answer to break Chelsea down. He, let's put it bluntly, blagged a result here.
The final against Manchester United, as these things sometimes are, was a much more simple affair. As ruthless as he could be, Sir Alex Ferguson was still too much of a football romantic to play a Champions League final the way Chelsea did in their semi against Barca. United were always going to try and assert their own game of attacking with speed built around Cristiano Ronaldo (back when his clashes with Messi felt rare enough to be exciting rather than the most tedious thing in football). Guardiola would have a chance to let his side dominate much better. The back four was makeshift, with both Alves and Eric Abidal out. Puyol shifted over to right back, Touré again partnered Pique in the middle, and a 35 year old Sylvinho played on the left. That's obviously going to stifle such an intricate machine like Barcelona's possession play. Without Alves on the overlap, Messi again played as a false nine rather than on the right. But other than that, Barca just... played their normal game. It wasn't really that dominant, with Man Utd having decent spells of possession. But Barca's good moments were much better than United's, and that's what counted. Guardiola won the Champions League deservedly, and no one on Earth doubted his ability to win at this stage. That was that, for now.
Twelve months fly by. Avatar becomes the highest grossing film of all time. Conservative America has such an existential crisis over the image of a Black man in the White House that they become convinced the most capitalist country on Earth desperately needs radical Ayn Rand libertarianism in the name of the constitution or whatever, but it's Definitely Not About Racism. I'm about to fuck up my A-Levels and thus ruin my life for a few years. It's all happening.
Guardiola has changed things. The two legged affair against Chelsea, in which Barca scraped through but really deserved to lose, prompted a rethink. This team had so much control throughout the pitch, and the football could absolutely devastate everyone in La Liga. But when such a high quality European opponent played a deep block and marked zonally, Barca didn't have an answer. It was all in front of Chelsea and there was nothing Barca really had to pull them out of their shape. They needed a different kind of weapon. Someone who could offer a threat in the air and hold the ball up, but still had footwork outstanding enough to bring the little guys into play.
Enter Zlatan Ibrahimović. The Swede would've been the ideal option against Chelsea, forcing Terry and Alex to commit and opening up pockets for Messi and everyone else to operate in. The problem is that by the time the Champions League semi finals came around again, it was clear the deal hadn't really worked out. Ibrahimović's central role frustrated Messi and, given the choice of alienating either the Swede or the Argentine, Guardiola knew there was only one decision to make. Still, the opponent this time was José Mourinho's Inter, an outstanding side at defending deep. This was the game he was bought for. He had to start to allow Barca to do their thing.
Barca played what had become their secondary system by now, at least in part presumably to accommodate both star attackers. Ibrahimović was the striker, while Messi kind of drifted around him and dropped deep, effectively playing the false nine role but alongside someone else. Xavi played in a genuine double pivot alongside Sergio Busquets, while Keita played a narrow left sided role (Iniesta missed out on both legs through injury). Pedro played on the right. You could squint and call it a 4-4-2.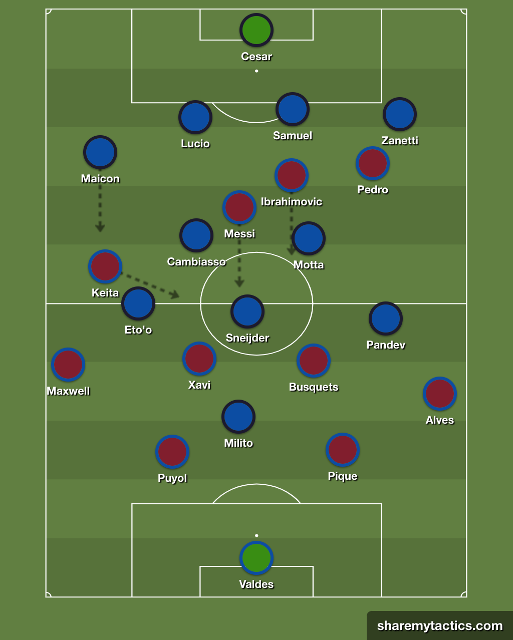 The problem, really, was Ibrahimović's lack of positional discipline. When he wasn't receiving the ball, he would drop deep, as would Messi. Keita pinched in from his wide role. Of the front six, five players were all coming towards the central midfield role with only Pedro having an interest in running the other way. It was too congested. The spacing was all wrong. It was open to a slightly different approach, because Barca wouldn't be able to offer much of anything in attacking transitions.
Here's where it gets into game theory. Mourinho guessed right that Ibrahimović would start, despite his recent absences in La Liga, and thus Barca would only have one runner in their forward line. As such, a deep defending "Mourinho masterclass" game would not work. And besides, Inter had to score at some point in this tie, right?
Everyone remembers the second leg as a classic "park the bus" performance. Mourinho's argument is always that this was perfectly reasonable because they attacked in the first leg and scored three goals. Is he right? Absolutely. Inter played more of a mid block and pressed a lot in key moments to force attacking transitions. They kept winning the ball back and just killing Barca on fast breaks. Barca, in return, created some excellent chances in possession. It's a shame the first leg isn't so well remembered, as it was a terrifically entertaining 90 minutes. The xG (in a less accurate model without big chances) was 1.32 to 1.07 in Barca's favour, and that seems within the bounds of fairness to me. It felt like a very even encounter that either side could've won on the night. In this reality, that side happened to be Inter.
Even with an away goal against you, 3-1 is a hell of a lead if you're Mourinho. All you need to do is not concede two, and you're Mourinho, so you know you can coach a good defensive performance. Guardiola this time guesses right that Inter will park the bus and again starts Ibrahimović upfront to deal with a deep block. This time it's the classic 4-3-3, with Messi in his old right wing role and Pedro on the left. Abidal was injured and the surprise is Gabriel Milito at left back. With Alves pushing so high to overlap Messi, Guardiola's left back at this stage was usually more conservative, so for this Milito made some sense over Maxwell. And besides, Inter's right flank of Maicon and Eto'o (swapped for Ibrahimović) posed real dangers on paper.
Mourinho could not have played it better. He certainly parked the bus. But he parked it just slightly out of its parking space. Inter really did defend deep a lot, but they were not so deep that they gave up any territorial dominance. They were keen to stay out of their own box, getting close enough to Ibrahimović that Barca couldn't really use him much in the air. At the same time, they were compact and deep enough that everything was in front of Barcelona. Pedro, someone whose entire game is about running into space to receive passes from all those lovely technicians, had it all in front of him and had to deliver quality balls he's just not capable of. Messi was constantly dribbling into a crowd of Inter players and no passing options. If the first leg was all about Inter's attacking transitions, then the second was just about the best performance out of possession you will see from any side ever.
The obvious mistake in both legs was starting Ibrahimović. It feels so trite to say this move didn't work out, but he was shockingly poor in the second leg especially. Messi's desire to come inside meant that he had to move out to the right often, which just totally nullifies the point of having him there. Guardiola didn't bring in a focal point, or an "inverted pivot" as he claimed. He brought in someone who wanted to be in the same spaces as Messi all the time. The knock on effect was that, in selling Eto'o and Henry's decline, the side was desperately short of quality off ball runners. His attacking subs in this game were Bojan and Jeffren. In the obsession with Ibrahimović, he totally unbalanced the rest of his attack.
The more basic model says Barca created 4.12 xG, but this seems astonishingly high to me. Inter had so many bodies in the way at all times, and so little of Barca's chances really penetrated. Look, things could've easily gone differently in the first leg, but Guardiola did not put his side in the best possible chance to advance. This one is at least partially on him.
Inter, of course, went on to win the final and lift the European Cup, leading Mourinho to taking the vacant job at nowhere other than Real Madrid. When plotting how to dethrone Barcelona domestically, it was clear that Champions League win was on his mind. Inter's real strength was in deep defending. As Mourinho explained years later, "in Inter, I had my best team in a defensive low block. [With] people like Materazzi, Samuel, Lúcio [and] Córdoba in the low block, you can be there for five hours and you don't concede a goal". He's talking about the kind of performance we saw at the Camp Nou in 2010. But the performance at the San Siro, as we've established, was all about attacking transitions. As Guardiola would later learn, Spanish sides are not as used to defending fast attacking transitions as teams in some other countries. That Mourinho happened to be inheriting perhaps the best player in history at counter attacking into space probably helped. The side he built was all about fast balls over the top (most reliably from Xabi Alonso) for Cristiano Ronaldo and co to run onto. As he would go on to put it, "we killed everybody in offensive transitions".
Well, not quite everybody. Real won ten of their first twelve games and sat atop La Liga, one point ahead of Barcelona, in late November. The first clasico of the season was upon us, this time at the Camp Nou, and Mourinho was managing Real Madrid this time. Questions had been raised about the suitability of his football for such a historic club, but if they could go to Barcelona and produce an exciting counter attacking performance, all doubts would vanish. Mourinho went for the "San Siro approach"... and it was a disaster. That 5-0 still reverberates as one of the most famous Barcelona wins in history. In a strange way, you almost sense Mourinho was quite happy about this. Next time he faced Barca, he had full licence to do it his way.
April 2011 saw an astonishing run of four consecutive games in what was undoubtedly then the biggest fixture in the world. First came the reverse league fixture at the Santiago Bernabéu. Real needed three points, so if any of these fixtures saw an attacking approach from Mourinho, it would be this one. Instead, he played hard man centre back Pepe as a third central midfielder, approached the match negatively, and picked up a score draw. Next up came the Copa del Rey final. Call me a traditionalist, but cup finals are there to be won, so I don't think we can criticise him much for deciding to keep things tight and nicking it with a 103rd minute Ronaldo goal. It's not good to watch, but it works.
Then came the two Champions League matches. The first leg was an appalling game defined by two things. The first was the behaviour of everyone on the pitch and in the dugouts to ensure that this was less a footballing contest than one of unpleasant behaviour. Real were the instigators, yes, but Barca gave it as well as took it. The second was Mourinho's tactical approach. As I'm sure you've guessed, his side were very negative and would've certainly taken a 0-0. Pepe started in midfield again with Alonso and Lassana Diarra. These players pushed quite high, but very much as a defensive tactic. When Barcelona's centre backs had the ball, one of Real's midfielders would push right up as a striker alongside Ronaldo (here playing through the middle) to block off passing options into midfield. That was really Real's entire plan: to defend high, but not really press as such, and to shut off passing lanes.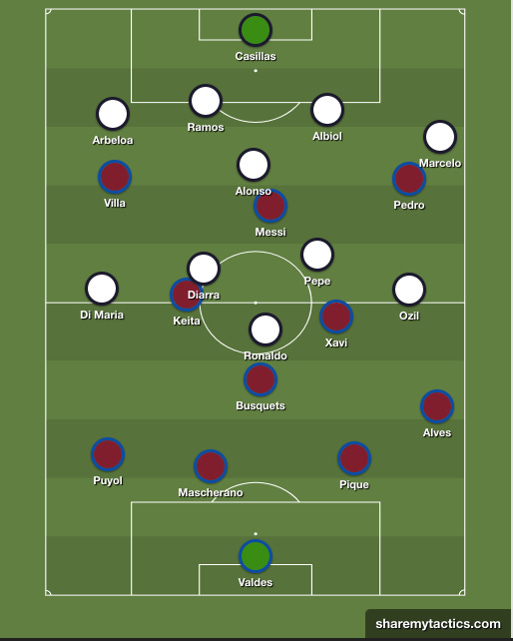 Guardiola had to use Puyol at left back, while Iniesta was again injured and Keita started in his place. Otherwise, the team was basically the team. Messi played his now usual false nine role. Pedro and David Villa (the type of forward they should've signed in 2010, though a little on the old side) played a little wider than usual to find space against a compact defence, but nothing too drastic. This was Barca playing the Barca way.
Real's plan to shut down Barcelona's passing options really was effective for an hour, and Guardiola didn't have an answer. Mourinho had legitimately "figured them out" and there just wasn't any effective passing into dangerous areas at the Bernabéu from Barca. Then the nonsense happens. Pepe gets himself sent off (whether deserved or not, I don't really care) and Mourinho is sent to the stands for his petty outbursts. At eleven men, Real's approach required complete concentration. At ten? Forget about it. With a little more space, Messi provides the magic to see a 2-0 away win. Guardiola can't take much credit here. It was all about the sending off and the best player in the world bailing his side out. That can happen.
The second leg at the Camp Nou has this myth about it as the game Mourinho didn't even want to win despite his side needing two goals. In his controversial but gripping book The Special One, based largely on things told to him by members of the Madrid squad, Diego Torres states that Mourinho accepted his side could not go through and instead simply wanted to avoid a humiliation, ensuring that he could blame the defeat on the referees. To be honest, I just can't really see that in the game itself. Mourinho's (well, technically his assistant Aitor Karanka, but come on, it was José) two big changes from the first leg were to bring in Kaká and Gonzalo Higuaín. That's not playing for a 0-0.
Real actually press fairly high in the first ten minutes to try and force attacking transitions before dropping off a bit. But the issue here isn't really tactical approach at all, that was basically fine. The issue is that Real were terrible. Mourinho needed full concentration from his players, pressing in the right moments and dropping in at the right moments, but he didn't remotely get it. Real's players were switched off and disinterested. The shot count in the first half was 8-0 in Barca's favour. The second was a little more even, but only one side could claim to have played well on the night. Even by mOuRiNhO mAsTeRcLaSs standards, Real just didn't defend well at all. Or attack well at all. They just had nothing.
Guardiola just played what was his strongest side in their best system over both legs and it paid off. Everyone can point to this one as a "See? THIS is what he should do!" moment. The truth is that without Pepe's red card and Messi's individual brilliance, the whole tie looks completely different. Guardiola just about did enough this time.
The final was again versus Manchester United. Ferguson, one of the few people to consider himself a friend of both Guardiola and Mourinho, was again too much of a footballing romantic not to play his own game. Which was incredibly naive against a Barca side much stronger than two years earlier. The trophies might say otherwise, but the 2011 vintage offered a level of control in games never before seen and yet to appear since. Ferguson somehow thought a central midfield of Michael Carrick and Ryan Giggs (both fine footballers, but wrong for the occasion) would not get played off the park against Busquets, Xavi, Iniesta and Messi dropping deep to overload the area. Barca effectively had a four vs two man advantage in the middle of the park, and their four were the most technically gifted quartet you'll ever see. It's not like it was much of a departure, but Guardiola correctly and easily overloaded central midfield to win the game. The scoreline was 3-1, but in truth this was as dominant a display you'll see almost anywhere, let alone a Champions League final.
Never one to stand still, Guardiola opted to inject quite a bit more directness into his side in summer 2011. Reasonable people can debate how much he really wanted Cesc Fàbregas, but the lifelong culé was exactly the kind of maverick off the ball runner Guardiola needed in that moment (the problems came in the subsequent years). Alexis Sanchez provided the same thing in a different position. With Busquets, Xavi and Iniesta all providing an astonishing level of control, Fàbregas and Sanchez would bring the chaos (Messi can of course do both).
"The facts of the matter are that we won four titles that year and were playing better than ever", Guardiola claims in Martí Perarnau's Pep Confidential. This is his one year in the Camp Nou dugout that did not deliver a league title, so it's reasonable to think the significant tactical changes in this final season were a mistake. It's reasonable to think that a move to various different systems rather than the 4-3-3 ruined Barcelona's balance, and this decline led to Guardiola's decision to leave the club in 2012. This, he would tell you, is nonsense. "We were playing brilliantly", he said. Watching the games, I can't help but agree.
Chelsea were again the opponents this time, but we weren't quite talking about the force of three years earlier. On the eve of the 2009 clash, elo ratings had Chelsea as Europe's fourth best team, one place behind Barcelona. And before the 2012 matchup? Eighth, while Barca were seen as the continent's best. But some things don't change. Chelsea again sacked their manager promising to change the style of football in favour of a safer pair of hands and a back to basics approach.
This time, Roberto Di Matteo was in the Chelsea hot seat, and he wasn't exactly reinventing the wheel. In both legs, Chelsea sat deep, playing a 4-3-3 system where both wingers were really wide midfielders, and looked to hit it long to Drogba. The important difference from Hiddink's side was that Di Matteo was actually willing to let his midfielders make forward runs in support of the striker, as well as letting Drogba run in behind in addition to holding the ball up. Chelsea played in attacking transitions over both legs and did create some good chances that they were able to put away. Again, Barca were vulnerable to a well constructed counter attack in specific moments. But being willing to do that does cost you some in defensive solidity. For Chelsea, it cost a lot.
Other than perhaps his own family, there isn't anyone who has been more important to Guardiola since 2008 than Manuel Estiarte. Considered the greatest water polo player of his generation, Estiarte has since become Guardiola's "guardian angel", assisting him at all three clubs the manager has coached. Unsurprisingly, he seems to know a thing or two about football at this point. Estiarte believes that the first half against Chelsea in London ranks up there as the best football this Barcelona side ever played. It doesn't quite reach number one for Guardiola, but nonetheless, "the performance against Chelsea was fabulous".
Staunch traditionalists are probably horrified by this notion. A game of football that his team lost 1-0 is considered better than countless wins. But once again, watching the game back, I agree with Guardiola. His side set up in what was essentially the "traditional" 4-3-3 shape with Messi as a false nine. The key, as has been clear in the past, is ensuring there are two runners to go beyond Messi, conventionally either side of him. Barca don't quite do that here. Sanchez plays on the right, yes, and fills exactly the kind of role Henry, Pedro and Villa have done in years past. But on the other flank, we have Iniesta, who always comes towards the ball and wants it to feet. What we have instead is Fàbregas playing in central midfield, but looking to constantly make forward runs past Messi and straight down the gut of Chelsea's defence. Once that happens, Iniesta comes inside to fill his midfield spot and partner Xavi and Busquets as usual.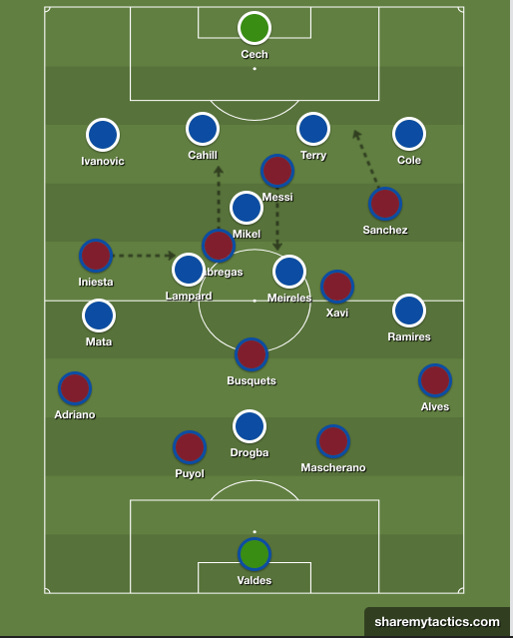 It's absolutely devastating. Chelsea just have no idea how to track Fàbregas' runs, and some of the combination play between him, Messi and Sanchez is just out of this world. This is the perfect example of great positional play: individuals interchanging positions at key moments, but always with clear structure and a plan for someone else to fill the vacated space. I know it sounds strange to say this in a game Barca didn't score, but I'd recommend digging out the highlights for this game because some of the football is fabulous.
But the scoreline is not a measure of how good the interchanging between a team's forwards is. It's about how many times you kick the ball into the goal, and Barcelona did that zero times. Meanwhile, they get caught on a counter attack, and Chelsea score a goal. Barca got football'd. But claiming this was in any way a less than great performance is an extreme case of outcome bias. Guardiola legitimately created the perfect set up to break down Chelsea's deep block over and over again, with some abysmal finishing costing the Catalans. It happens. This is why we're so addicted to football.
But one-nil down in the away leg meant Barcelona were far from out of it.
"I made a mistake that day", Guardiola said of the second game, the 2-2 draw at the Camp Nou that wasn't enough to see his side through. "I've gone over it a thousand times in my mind. I told the players to cross the ball into the area but I didn't get across to them that I wasn't looking for them to score on the volley, but to win the second ball or the rebound and — pam! — score that way. I didn't manage to get them to understand the exact instructions. I reckon that if I'd got that across properly we'd have won and been in the final".
One could argue that if the players didn't understand a sudden tactical change properly, the issue was less about communicating what you wanted but that you decided to change it in the first place, but we'll get to that later.
Guardiola switched to a back three this time, which wasn't unusual for him by now. Iniesta again played from the left, once more coming inside when Fàbregas makes forward runs. The tactical changes, part of Guardiola's stated crossing strategy, needed both a winger who can stretch things on the right and a more direct striker than Messi (who played just behind). If David Villa hadn't broken his leg the past December, he would've been ideal to lead the line with Sanchez playing wide. As it was, Villa wasn't there, so Sanchez had to start upfront. The wide crossing role was given to Isaac Cuenca, who had a dreadful game that effectively signalled the end of his Barcelona career. Every time he was given time and space on the ball, it was very obvious he didn't have the quality to put in a good delivery.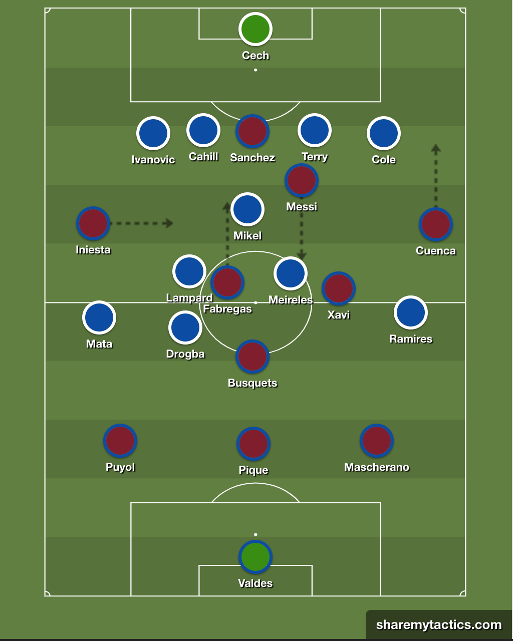 Again, Barca were vulnerable to counter attacks and, yes, as Pep points out, the crossing strategy didn't work both due to players not understanding the request and Cuenca's poor game. Commentator Gary Neville claimed during the game that he "[thinks] Chelsea will be happy if Barcelona resort to playing crosses into their box", which is a pretty brutal if accidental criticism of Guardiola's own plan.
But I'm being hyper-critical here. Barcelona were outstanding in this contest, creating wonderful chances that they somehow missed in comical fashion. Messi scores his penalty and it's a different story. The xG has it at 6.49 to 1.64 in Barca's favour, and this is the stronger model with big chances. While I felt that the data didn't tell the story against Inter, it absolutely does here. Barcelona just totally dominated Chelsea for 95% of this tie, but the vulnerability to counter attacks was once again real. It's not about the long ball, to be clear. It's about well worked moves of fast transitions.
Could they have been better? Yes. But you can always be better. This really was a fine Barcelona performance that sees them through the vast majority of the time. As it was, we said goodbye to this special team under a one off manager at the semi final stage.
Want to know what happens to Guardiola at Bayern? Read on for part two right here!