Discover more from Grace on Football
The Premier League and other football (soccer) nonsense.
Over 12,000 subscribers
Pep in the Knockouts: Part Two
Die Bayern
Note: this is part two of a four part series on Pep Guardiola's successes and failures in the Champions League. Please read the introduction for more information.
This feature is entirely free, but I can only produce this work with your support, so I've launched a paid tier. You can read more about that here. Please consider subscribing if you can afford it.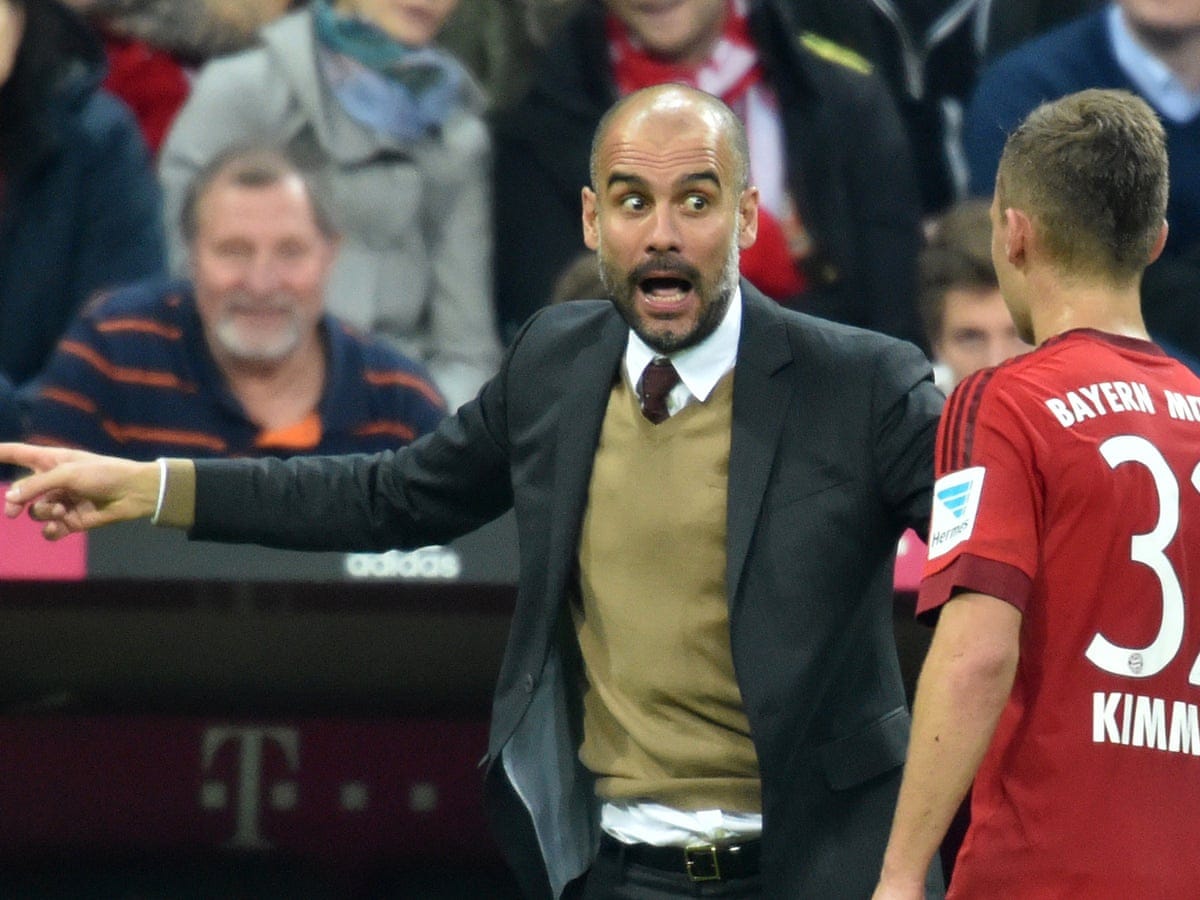 "I got it wrong, man. I got it totally wrong. It's a monumental fuck up. A total mess. The biggest fuck up of my life as a coach".
In the summer of 2012, Pep Guardiola was exhausted in more ways than one. He was physically and mentally drained, having poured everything into one of the most intense jobs in football. And he had exhausted his tactical ideas, using up just about every good plan he had with these specific players in that environment. He needed a break, and he needed to think about what came next. He was welcomed on his sabbatical to New York. Like everyone there, he was someone else before, searching for a sound he hadn't heard before.
After some pondering, that sound he hadn't heard before was the roar of the Bavarian crowds at the Allianz Arena. He came to be challenged with different ideas, and on that front he can't complain.
The theme of Guardiola's two Champions League defeats with Barcelona were about counter attacks. And yet, no one could claim that team were bad in defensive transitions. Far from it: their ability to press high and regain the ball so quickly was one of their most heralded qualities. You simply couldn't string a series of passes together against Barca. And that made it the perfect approach for La Liga. Most Spanish sides won the ball back and looked for a more patient build up, which is exactly when Guardiola's side pounced. Then, when they did the same, their technical ability and structure in possession was far too good for anyone to take it off them.
Germany is different. Teams regain the ball and immediately look to launch fast counters. Good ones. The Bundesliga is surely the fastest tempo league in Europe and if you can't defend the counter in Germany, you're not winning anything.
This is the problem that consumed Guardiola in his early months at Bayern. "Every team in Germany is capable of mounting a counter attack before you've had the chance to even breathe", he told his new players in that period. The new tactical concepts Guardiola discovered at Bayern, such as the use of full backs as auxiliary midfielders, were all to protect against counters without having to sacrifice his positional play principles. Stopping the counters became an obsession. It could happen on occasion in the Champions League at Barcelona, but that was merely a rare annoyance. It could not happen with regularity in Germany.
And it hadn't happened. Bayern crushed the Bundesliga in 2013/14, showing that an evolved form of positional play really can defeat German style counter pressing at will. The title was won in March and that was that. It really was that, though. After winning 19 consecutive league games to get it done astonishingly early, the side then drew against Hoffenheim before losing to Borussia Dortmund and Augsburg. A win over Eintracht Braunschweig before the semi-final regained a little bit of pride but, lads, it's Braunschweig.
Things had also been happening a thousand miles South West in the Spanish capital. After his now customary third season implosion, Real Madrid sacked Mourinho and brought in the much calmer Carlo Ancelotti. Madrid president Florentino Pérez had made the slightly bizarre squad building decision to sell Mesut Özil in order to fund Gareth Bale, but Ancelotti, ever the man to adapt to whatever situation he finds himself in, could make it work. With Bale, Cristiano Ronaldo, Ángel Di María and Karim Benzema as his star attackers, the blueprint was obvious: fast direct, dynamic and, yes, counter-attacking.
He inherited a squad accustomed to defending deep comfortably, so that's what he did. It should be noted Ancelotti's Real Madrid were overall much more "attacking" than Mourinho's but, as ever in his career, he maintained the existing principles in place, this time defending deep and launching fast attacking transitions.
It could be especially effective in big games where they'd have to defend more anyway, and this was no exception. Madrid's default system was a compact 4-4-2 that became a 4-3-3 in possession, but their approach against Bayern was to let the opposition have the ball most of the time anyway. And when they did get it, they looked to launch straight into fast transitions, so there wasn't exactly a rigid structure in that phase.
Guardiola, meanwhile, always seemed to have an embarrassment of riches at Bayern. Something he lacked at this stage, though, was the kind of pivote he could really trust both in and out of possession like Sergio Busquets, so Philipp Lahm spent most of 13/14 playing the role instead. Toni Kroos complimented him in what might be once termed the "Xavi role" (which we would later consider his best position, but at this point he usually played higher up). The big "surprise" move was that Bastian Schweinsteiger started instead of Thomas Müller in a sort of number ten role, presumably to over more midfield solidity and to more intelligently press Alonso and Luka Modrić when they tried to launch counters (Müller, for all his application and in-game intelligence, tends to play on instinct more than to specific instructions). Knowing he'd be facing a deep and narrow block, Guardiola wanted to stretch the play and move the ball from side to side in an attempt to move those two banks of four a bit. This meant starting both Franck Ribéry and Arjen Robben while instructing them to hug the touchline. Mario Mandžukić started as the lone striker.
In terms of match patterns, this one served up exactly what you'd expect. Bayern dominated the ball and look to work it into good areas, while Real sat deep and launched fast counters. Bayern lost the first leg at the Bernabéu 1-0, and it's easy to say that they "controlled the game", but they really didn't. Bayern took 18 chances with a fairly pitiful xG per shot of 0.06. While Bayern faced a lot of blistering counter attacks in the Bundesliga, deep defences are less frequent in Germany's top flight, with mid-block counter-pressing systems more common. Guardiola had a clear strategy to stretch the play and shift the ball from side to side, and it was a common occurrence to see Kroos and Lahm pinging balls right out to the flanks. This is the right thing against such sides, but it's only half the solution. Once you've shifted those banks of four a bit, you need runners crashing into the box with the right timing, making it very difficult for defenders to pick them up. Guardiola would later perfect this at Manchester City. But here, Schweinsteiger as the ten and the wingers pinned wide meant that Mandžukić was the only man generally in the box. Against Chelsea, he had the runners but not the width. Against Real Madrid, he had the width but not the runners. It was so, so sterile.
And then there's the other side. One one hand, Real Madrid were at this time by far the best team in the world at launching fast counters. On the other hand, when you've spent your whole season worrying about stopping them, you'd hope to be a bit better than this. The truth is that in terms of shape, Bayern should've been fine in defending the transitions. They got enough men behind the ball in the right spaces to shut down these situations, but the concentration consistently seemed shockingly poor for this level. Some kind of mental fatigue seemed to set into the players after winning the title. Bayern aren't the only team to do this, with Liverpool looking similarly out of sorts after winning the league this year. But you can't switch off when you've still got so much to play for.
And then, to top it all off, Guardiola himself switched off. It's worth mentioning that factors much bigger and more important than football took hold. Tito Vilanova, Guardiola's assistant then successor at Barcelona, tragically passed away at age 45 between these two legs. It's only natural that Guardiola did not have total focus on the job in hand in this moment. Were this not the exact season defining game he'd spend all season working towards, it would've surely been best for Guardiola to take a few days off and get his head right before returning to work. But that didn't happen.
The narrative around this tie is that Bayern moved to a possession model under Guardiola after playing more direct football under Jupp Heynckes, and this is why that was a mistake. I understand why that seems obvious on the face of things, but the more I think about it, the less it makes sense. Real Madrid were going to sit deep and counter regardless of how Bayern set up because that's just what they did in big games. They did it against Atlético Madrid, the least possession-based top side in the world. To beat a counter attacking side, you don't need to become more counter attacking. If you are paper and the opposition is scissors, the solution is not to become scissors. You need rock.
I know this doesn't work because, contrary to popular belief, it's what Bayern did in the second leg.
Pep Confidential is very explicit about what Guardiola's original plan for this game looked like. It was to be a back three system with a specific emphasis on defending those counter attacks that caused Bayern trouble in the first leg. The book is at times difficult to understand in these sorts of passaged. Martí Perarnau mentions the differences between the way tactics are discussed in Spanish and German, but then having the book translated into a third language with its own football vocabulary seems to create more problems. Or maybe I'm just very stupid for not being able to figure it out. But to the best of my knowledge, it would've been something like this: Javi Martínez in the middle of a back three, Lahm and David Alaba taking up those weird converted central midfield roles to block counter attacks, two creative midfielders ahead, then Mario Götze and Robben flanking Mandžukić.
"Dome [Torrent], don't let me change my mind. This is the only way to go".
Whoops.
Guardiola didn't play this way and instead did what everyone always tells him to do. He decided not to overthink it. The players told him they were most comfortable in a genuine 4-2-3-1 shape with Ribéry and Robben either side of Müller, Kroos and Schweinsteiger as the double pivot, and Lahm at right back. So that's what he did. Maybe if Guardiola had been in another frame of mind, he would've been more forceful and stuck to his guns. We will never know.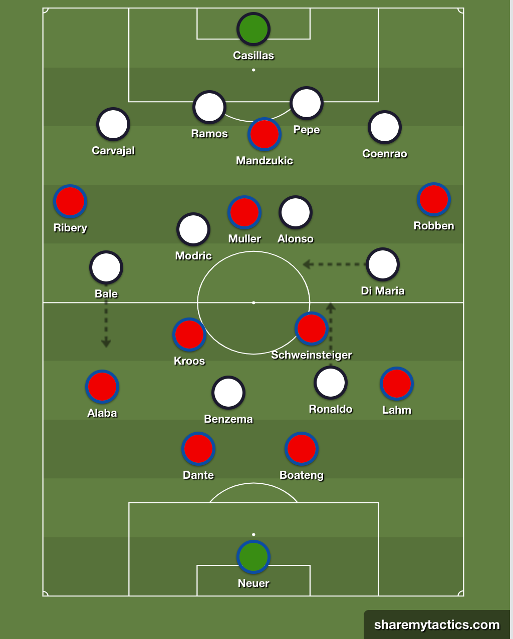 Both full backs pushed up rather than coming inside, and neither Schweinsteiger nor Kroos played as a real "holding midfielder". This meant that Bayern totally lacked their usual superiority in the middle of the park and had very little protection when defending counters. A returning Bale added even more pace on the break for Real, and Bayern just didn't have any strategy to deal with it. At all. But whenever Bayern won the ball back, Real sprinted back into their compact shape to defend the counters properly. Which meant the home side just circulated the ball around midfield, doing both exactly what Guardiola's critics accuse him of wanting and exactly what he didn't ask for. We get a perfect illustration of why the solution to beating a side that sits deep and counters isn't to do that yourself: they can get back into a good shape that specifically helps them stop those fast breaks. You have to dominate the ball to break them. Guardiola, somehow, astonishingly, missed this.
With Real getting men behind the ball across the tie, Bayern just produced a string of terrible shots. The map below tells the whole story: nothing that would really hurt Ancelotti's team.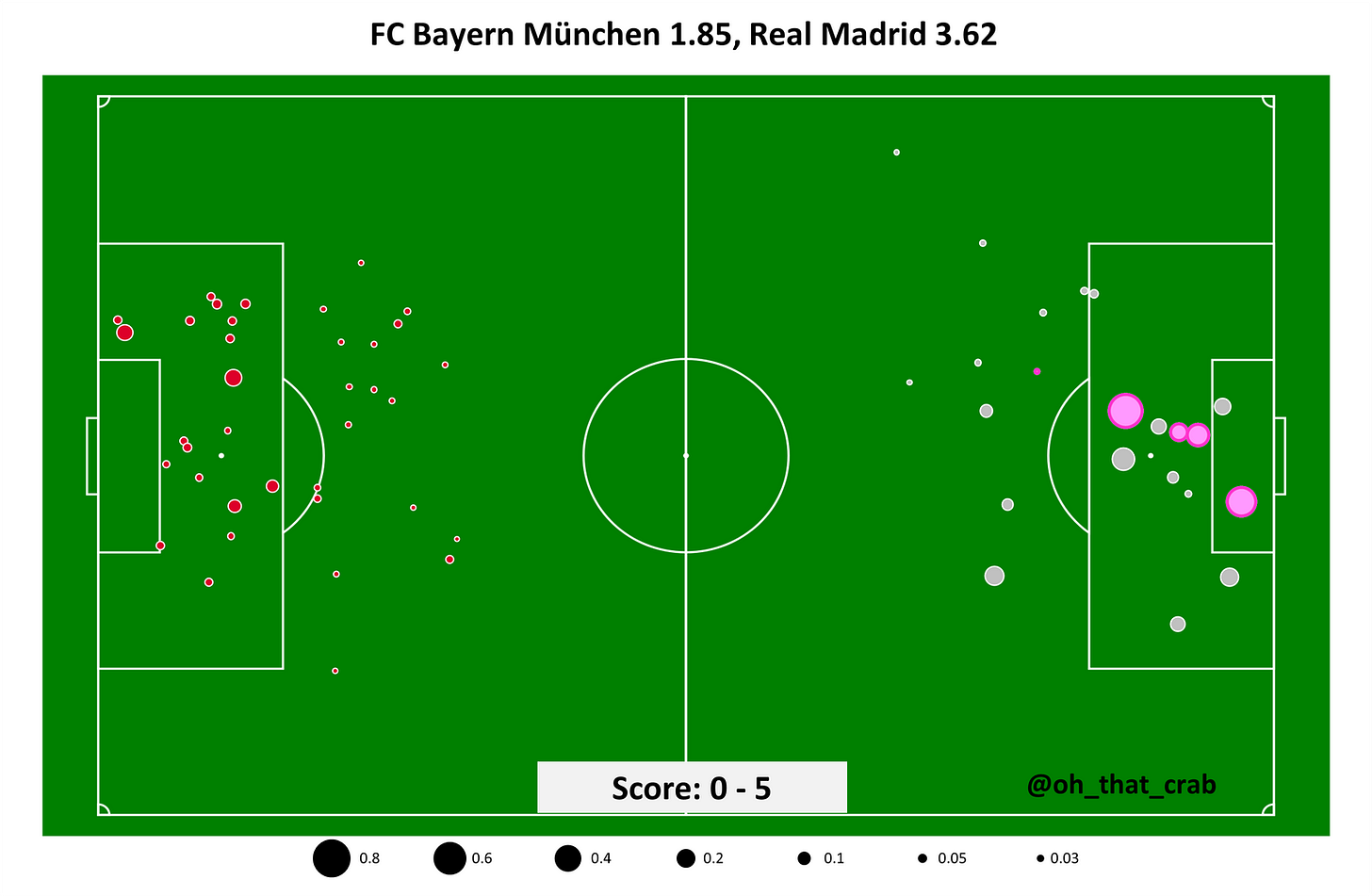 Bayern had defended set pieces well all season, conceding a total of three goals from that phase of play all year. Somehow, they manage to let Ronaldo score a free kick. But it's the problem that sums up the whole tie for Bayern. Everyone in the wall jumps and Ronaldo just puts it straight underneath their feet. There's often a degree of "shit happens" with set piece goals, but to start conceding them the exact moment in the season when your concentration dips feels more than coincidental.
Bayern bring on Martínez at half time to add midfield solidity and it works, but the whole thing is meaningless at that point. If you only start playing when you're 4-0 down on aggregate, that's almost more embarrassing. Guardiola did get it wrong, yes. He got it wrong subtly in the first leg, and very obviously in the second. If he stuck to his original plan at the Allianz, would that have been enough? I'm less than convinced. They'd still be 1-0 down, and they'd still be prone to lapses of concentration. The system was wrong, but the mental switch off after winning the title was still the biggest issue for Bayern.
It sometimes feels like a funny punchline that Guardiola's three Champions League defeats at Bayern were to La Liga sides, as though Spanish football had developed and he was still preaching the old model. But that ignores the identities of the managers he faced. In 2014, it was Ancelotti, the poster boy for Italian tactical flexibility. Had he inherited a side where the biggest stars were Modrić and Isco rather than Ronaldo and Bale, he'd have played more of a stereotypically Spanish passing game. In 2016, Diego Simeone used an approach from the more defensive, hard working school of Argentine football. But 2015 was the one that really did it. That was the one that surely hurt him the most. It was also the one that, ideally, would never have existed.
In another world, a better world, Luis Enrique's treble winning Barcelona team doesn't happen. In that reality, Vilanova never gets stricken with cancer and successfully manages at the Camp Nou for several years. He maintains the principles of Guardiola's post-Cruyffian positional play while adding his own quirks until, say, 2016. At which point club legend Enrique takes over and does broadly the same thing. Barcelona's recent decline comes down to a lot of terrible decisions at board level, but I do wonder how much this tragedy blowing up the succession plan plays its part.
In the cold and cruel world we have, Vilanova steps down for health reasons after one year in summer 2013. Tata Martino arrives in his place, seemingly because Messi likes him, along with a big shiny new signing in Neymar. It doesn't really work, and the balance of the side is never quite right. Barcelona sack him and then do the two things they always do in a crisis: hire a beloved former player, and sign a big star. Enrique didn't impress in his season in charge of Roma, while Luis Suárez often occupied the same kinds of spaces as Messi at Liverpool. It doesn't seem very well thought out.
And yet it just works. It took a little while to find the right format for the front three, but everyone settles on Messi to the right, Suárez as a genuine nine, and Neymar coming from the left. But what's more important is the knock on effect. With three explosive forwards, Enrique opts to get the ball to them more quickly, and tones down some of the patient positional play a bit. The more industrious Ivan Rakitić replaces Xavi. It's not to everyone's taste, but it's faster. It's more transition-focused. It's less Guardiola.
Bayern, on the other hand, were becoming more Guardiola. Medhi Benatia's arrival allowed the Catalan the option of playing a back three even without Martínez. Kroos' departure was a significant blow, but replacing him with Alonso finally gave Guardiola the true pivote he had lacked. Robert Lewandowski on a free would've been a no brainer for Bayern under any manager, but for Guardiola he offered significantly improved link up play over Mandžukić as well as conventional striker qualities. In some ways, Lewandowski really was the "inverted pivot" Ibrahimovic was supposed to be.
The first thing to note about what Guardiola did in this game is that he was dealing with some tough injuries. Lewandowski just about made it in time, but Alaba, Robben and Ribéry did not. Martínez was only ready to make the bench You can never quite be sure with Pep, but it seems likely that most if not all would've started. Barcelona, on the other hand, didn't have any injuries, so Enrique just picked his best team and that was that.
In his four years at the Camp Nou, Guardiola had seen just about every possible approach to nullify Barcelona. Most didn't work. The occasional ones that did were often of the "put eleven men behind the ball" approach that Guardiola would never play himself. Unsurprisingly, one approach that seemed to genuinely get to him that he really admired was from one of his idols, Marcelo Bielsa. As anyone even vaguely aware of the then Athletic Bilbao manager would expect, it involved a lot of pressing. But it specifically involved a man marking job, shutting down everyone particularly in midfield. A young Ander Herrera man marked Xavi out of the game. Most complex pressing systems are zonal in nature these days, but this was a true man to man job.
It seems as though Guardiola decided that, were he in the same position, this is how he would approach things. But more extreme. Whereas Bielsa always leaves himself a spare player in this approach, Guardiola went man for man across the pitch. Every Barcelona outfield player had a Bayern man on him. The sweeper really was Manuel Neuer this time. It obviously shifted a little bit in possession, but without the ball it looked something like this.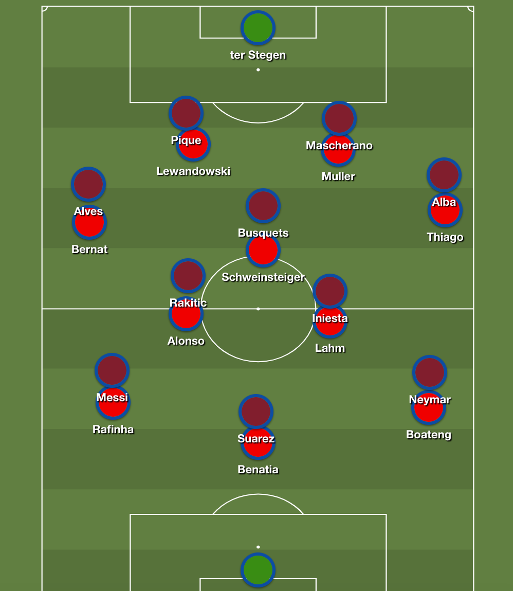 Here's the thing: he might well have found the perfect plan for beating his Barcelona. But that wasn't the team he was facing. Bielsa's approach pressed Xavi out of the game, but Xavi sat on the bench until the 82nd minute on this night. You can disrupt Barcelona's build up play, but Enrique's Barca were a side that could hit it long to three amazing strikers instead. And once they do this, they're three against three. It's suicide. Guardiola recognised this after all of fifteen minutes and changed things. "Messi and Suárez knew what we were up to and began to outmanoeuvre us so I was forced to switch back to a four-man defence", Guardiola explained in Perarnau's second book, Pep Guardiola: The Evolution. "Forced" is not the word I would use here. In what must have been a bit of a scramble considering the players on the pitch, Guardiola moved to a broad 4-4-2 diamond shape with Schweinsteiger as the most advanced midfielder behind Müller and Lewandowski.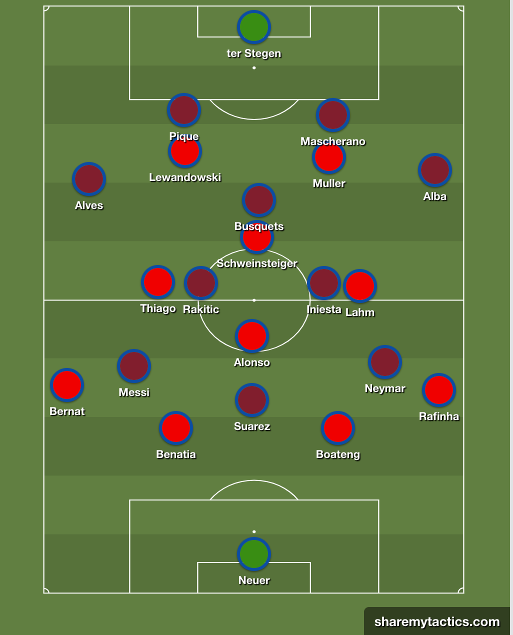 Bayern pressed fairly high and had a numerical advantage in midfield. Both sides were interested in controlling the ball and winning it back quickly, which meant that neither were really able to do it. In some ways Bayern ended up with what might be a fairly normal tactic away at the Camp Nou of muddying up midfield to prevent the home side from playing their normal game.
With no one really able to play the nice passing football they wanted, and both pressing high with space in behind, the game was about who could then launch better transitions if they avoided the midfield game. Leaving this aspect vulnerable was exactly the right tactic from Enrique because his side was facing a Bayern team with Schweinsteiger as a number ten behind Müller and Lewandowski. All excellent players, of course, but none renowned for breakneck speed running into space. Bayern, conversely, were going to be defending transitions against Messi, Suárez and Neymar. While leaving them space to attack into. With midfield a score draw, it became a contest of who had the most dynamic forward line, and you don't need me to tell you who won there.
Perarnau's second book claims that Bayern lost this game "not because of Pep's tactical decisions, but as a result of Messi's clinical finishing and the visitors' loss of tactical discipline in the dying minutes". I don't know if this is something he inferred from Guardiola or just his own opinion, but I don't really buy it. Yes, Messi can take the game away from you at any moment. You can do everything right and then he just delivers something amazing to kill you. But the way to deal with this isn't to shrug and say "ah well, what are you gonna do?". You have to at least attempt to deny him the freedom to do what he does. Giving him all the space isn't going to work.
Bayern were also wrong in possession. The initial system choice had Thiago as a right wing back presumably to track Alba. But he's not someone really comfortable receiving the ball in wide areas with space to run into. I imagine he felt it was better to track the opponents this way round, but surely it would've made more sense in terms of the attack to have Lahm on the right and Thiago in the middle. When he made the switch, he had four passing midfielders in a diamond all looking to clog things up and almost no one to switch it to. I know Guardiola is convinced he needs superiority in central areas and that's very hard to to against Barcelona, but he had players technically as good as their midfield. Get one of them off for Götze at half time.
"If you don't have possession against Barcelona it is difficult", Guardiola claimed, "and our plan was to monopolise the ball and make them run, but we were not dominant enough". That is traditionally true, but Enrique's Barca were the most varied in history, even if they lacked the control of his era. Guardiola placed so much emphasis on winning the game in midfield. Barcelona won it in the boxes.
The funny thing about the second leg is that if it took place just a few years later, it would be all set up for a Bayern comeback. Repeated Barcelona humiliations in the Champions League have now trained us to expect such things. But not just yet. This was a Barcelona side with quality that extended far beyond Messi, with fitter and hungrier players. This was a Barcelona team set up to win.
Guardiola, perhaps from a shortage of options or just because he believed it was the right approach, used the same starting eleven as the first leg. It was a diamond shape again, with the ill-fitting Schweinsteiger once more as a ten (of all the tactical choices Guardiola has made in his career, this is the one I understand the least). Bayern were deeper this time, and they did a much better job of isolating the space Messi, Suárez and Neymar could operate in. It was a really professional performance that came far too late. Bayern dominated a close-ran game this time, but when it all goes wrong in the first leg, that feels a bit pointless. It feels harsh to say that Guardiola "got it wrong" this time when he was simply coming up against better players, but he didn't exactly get it right. What's astonishing about the xG map below is how many of Barca's excellent chances come late in the first leg. No one can have too many complaints about the result here.
Since Guardiola left the country in 2012, who has been the best manager in La Liga? It's an extremely easy question to answer: Simeone, of course.
The Argentine's Atlético Madrid side have been so consistent and solid while regenerating the squad a number of times that it's easy to forget who was there at any given moment. So here's a reminder of the 2015/16 vintage as they played the first leg of their semi-final against Bayern at the Vicente Calderón. Jan Oblak was in goal during his first season as a regular starter. Diego Godin was injured, so Stefan Savić and Jose Giménez were partnered at the heart of defence, with Juanfran and Filipe Luis either side. The lineup on this day was particularly Simeone-esque, with both Saúl Ñiguez on the right side of midfield and Koke on the left, while Augusto Fernandez made a relatively rare start alongside Gabi in central midfield. Up top, Antoine Griezmann played just off Fernando Torres. There were some personnel questions, but everyone on Earth knew how they were going to play: 4-4-2, compact, solid. They were and are the definition of "a nightmare to play against".
Guardiola, meanwhile, had changed things up a bit. It had already been announced by now that he was leaving for Manchester City in the summer, but Bayern had tried hard to keep him and retooled the squad to his liking with much more dynamism. Arturo Vidal replaced Schweinsteiger as someone much more box to box than any midfielder Guardiola ever worked with before. With the frequent Ribéry and Robben absences clearly frustrating him, Douglas Costa and Kingsley Coman arrived as pacy wide players unusually suited to playing on their natural footed sides. With the full backs focused on joining the central midfield, these were true wide men who stayed on the flanks and could really stretch the play. Both started here as Lewandowski led the line. Vidal and Thiago were in central midfield with Alonso as the pivot. Guardiola's use of centre backs got really weird at this time, and today Martínez was partnered by Alaba, with Bernat thus playing the inverted left back role. Lahm was of course at right back.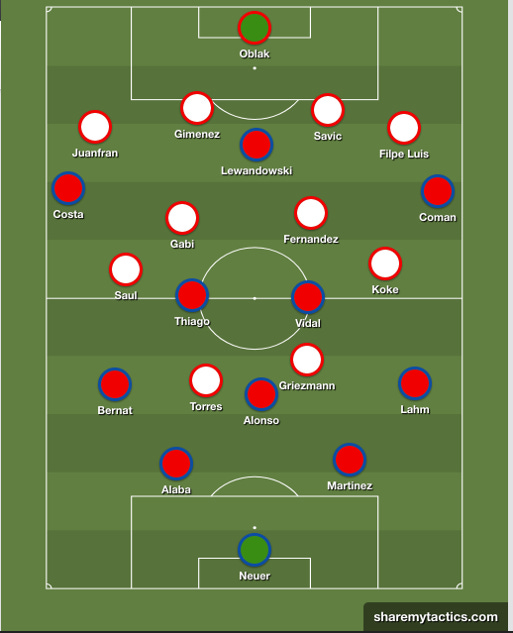 The first ten minutes of this game were either not what you'd expect at all or exactly what you'd expect, depending on your view of Atléti. Simeone's side pressed quite aggressively from the off, closing down Bayern's centre backs and forcing them to punt long balls into the channels rather than their usual elegant build up play. They played aggressively with the ball, two, getting it straight to the attackers and taking five shots in this period to Bayern's zero. This is really dominant, exciting football. To cap it all off, Saúl scored an outstanding individual goal, drifting past a number of Bayern players and applying a great finish to make it 1-0 already. There was 80+ minutes to go, but Simeone already had exactly the score he wanted.
I think you can imagine what happened after that.
Atléti retreating into a deep block could hardly be a surprise to Guardiola. And he had obviously planned for it, using the wingers very wide to stretch the play and easily switch the ball from side to side quickly. If the aim was to unsettle those two banks of for, though, then the strategy was a definite failure. Most of Bayern's balls were aimed towards Costa on the left rather than Coman on the right, perhaps due to a perceived weakness in Atléti, or maybe the then 25 year old Brazilian was just more trusted than the still 19 year old Frenchman. Either way, Simeone's players were effective at shifting over to that side quickly and swarming Costa with red and white shirts without leaving themselves too open on the other side. Similarly, they kept closing down the main long passers towards Costa (Alonso and the centre backs) enough that he didn't receive the ball with enough quality. Though it happened less often, Coman on the other side was broadly the same story.
Bayern constantly shifted the ball from side to side and gave it to the wingers, who were then completely isolated against Atléti's deep block and didn't have a way of working it into the box. This passmap, posted by 11tegen11 at the time (now of Between The Posts), illustrates the problem. Everything was built around getting the ball wide, but once it was there, Bayern had no way of getting through. Bayern's xG per shot of 0.06 is exactly how Simeone drew it up.
The second leg saw Guardiola make some important tweaks. Ribéry replaced Coman and started on the left, while Costa moved over to the right. This was a much more "conventional" modern set up with the wingers on the sides of their weaker feet and the full backs staying wide on the overlap. This meant that Bayern wouldn't have their usual structure for defending against counters, but that was a risk Guardiola seemed willing to take to provide overloads on the flanks instead of leaving the wingers isolated. Müller came in for Thiago, providing even more movement and runs into the box in place of an additional passer. Simeone did his thing.
Guardiola's approach had the desired effect. Bayern were much better at shifting the ball into dangerous areas and creating good chances, but Atléti still posed an effective problem much of the time. The xG for this game, if you remove the two penalties (one for each side, both missed), was 2.49 for Bayern against Atléti's 0.65, but there are some reasons I don't think that's quite an accurate reflection of what happened.
The first is game state. Bayern came into this match a goal down and needing to score at least one in normal time, or two to avoid extra time and penalties. Atléti are traditionally capable of attacking when they need to, but they only even attempt to score when they absolutely need to. When they're a goal up, they're not going to play this any way other than digging deep. In the first half-hour, Atléti took two shots, but both were Gabi blasting it from miles outside the box. They did nothing to actually hurt Bayern, and why should they? Of course, then the equaliser comes from an Alonso free kick, and now they need something. The one really good chance they create in this period is practically lab built for an Opta-based xG model to struggle to quantify: Griezmann gets through one v one, with no defenders around, on the edge of the box.
They knew they might need one away goal, but trusted themselves enough that they wouldn't need two. So they created one extraordinarily good chance, got a single penalty, and that generally proves enough for a side this good defensively.
Bayern on the other hand just hit their opponents with attempt after attempt throughout. Should this have been enough? Realistically, yes. Their xG per shot of 0.08 is probably a little higher by the numbers than in reality due to how deep Atléti were and how many bodies they put behind the ball. The Burnley effect, as it were. But they took 32 of them, and damn that's a lot of shots. Especially late on, there's an easy world where Guardiola's player's get a late winner.
But nonetheless it doesn't quite feel like a huge injustice happened here. "If you take the 180 minutes of both games", Bayern's then technical director Michael Reschke put it, "you'll see that for about 160 minutes, we were the better team; at times, extremely dominant as well. Unbelievable, the kind of chances we missed in Munich only in the last five minutes". Though a little less punchy, Müller agrees, believing that "against Atlético, the coaching and the performance were good enough to go through". Having watched the games back, I would say that Müller is broadly right but Reschke is wide of the mark. Bayern did create plenty, and slightly better finishing would've certainly seen them to the final, but their dominance in both boxes was not nearly as total as it was across the rest of the pitch. Bayern certainly weren't as strong here as Barcelona were against Chelsea in 2012, for example, and their defeat isn't a huge injustice. They got Burnley'd. They could've been better.
Up next, of course, comes Manchester City. Read on for part three here!