Discover more from Grace on Football
The Premier League and other football (soccer) nonsense.
Over 12,000 subscribers
Premier League Previews: The Wednesday Players
Arsenal, Aston Villa, Manchester City and Sheffield United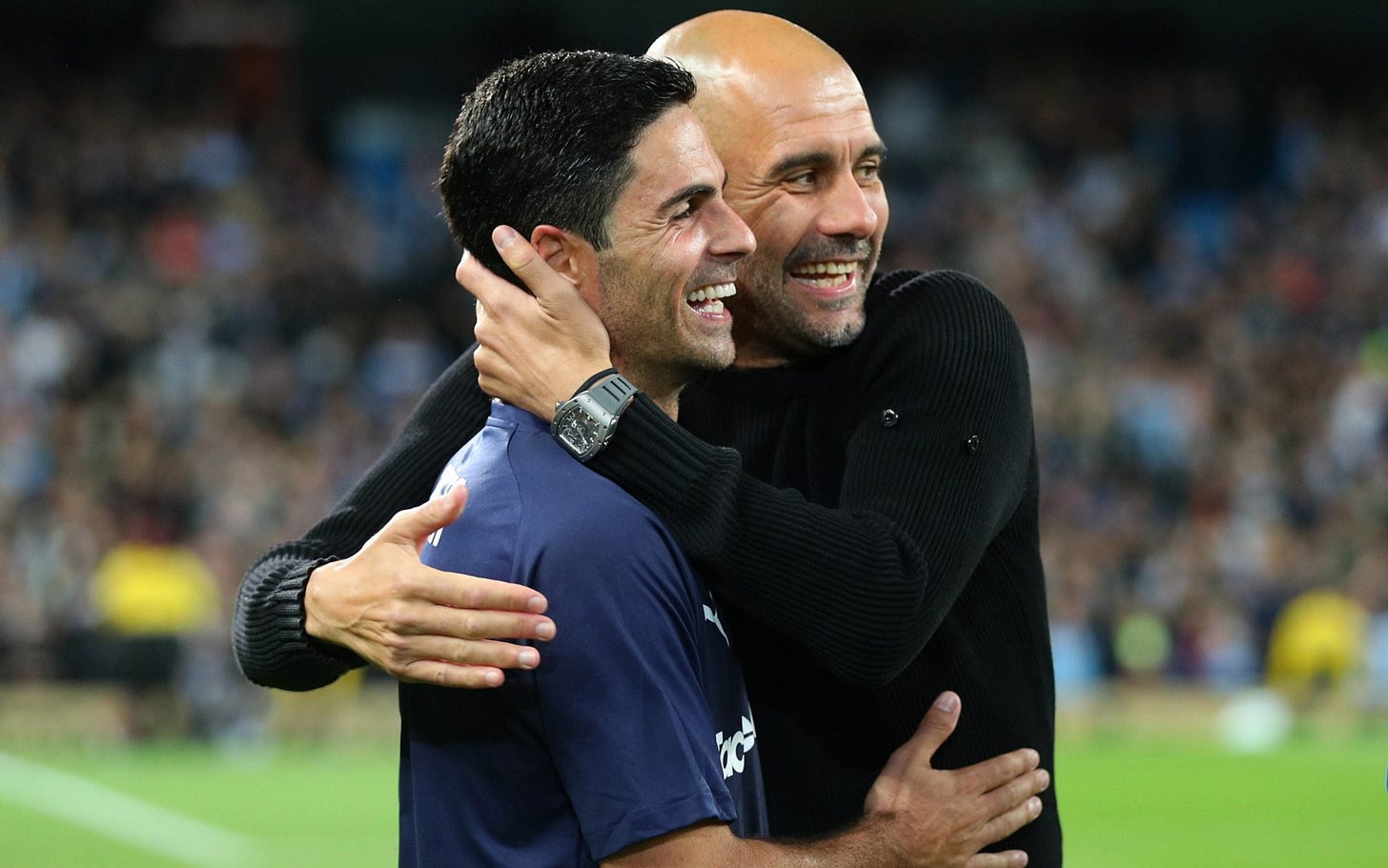 It's back! Wednesday is the big return of the Premier League, with Aston Villa vs Sheffield United and Manchester City vs Arsenal bringing us into this post-Covid world. Let's not waste too much time and get on with the team previews, shall we?
---
A note on the stats: xG shot counts, progressive passes and passes into the box are from Football Reference using data from StatsBomb, while PPDA is from Understat.
---
Arsenal
How were they doing before the crisis? Not great, but that's fine?
Mikel Arteta clocked in a nice round ten league games before football suddenly stopped. With four wins in the bag and a solid 1.7 points per game, in pure results it looks fine, and more than fine when you consider three of those victories came in the last three matches. The expected goals put a bit of a dent in this, as Arsenal have a negative xG difference per game of -0.16. The numbers have been bad for quite a long time, flirting with a neutral xG difference, but come on, Arsenal should not be conceding more good chances than they create. The big issue under Unai Emery was the shot counts and this hasn't changed much. Arsenal have taken 100 shots under Arteta and conceded 126. However you cut it, they're just not very good, and not even in a particularly distinctive way.
But does that particularly matter? The Arteta project is a reboot. The point of his first season in charge, at least before the world turned to shit, was supposed to be to evaluate the squad he had and begin to introduce his long term ideas about football. Short term results aren't the objective here. In terms of what he's trying to build, the assumption is something Guardiola-esque, but we really don't know at this point. Arsenal are allowing the opposition about one fewer pass before they attempt to win the ball back, which does suggest a little bit more of a high press, but we're talking small differences here. Whatever Arteta's Arsenal end up being, success or failure, it'll be a far cry from what we're seeing right now. Just starting to show an idea of what it will eventually look like would be a success.
One to watch: Mesut Özil. Yeah. It looked like renaissance was on before football stopped. After becoming an afterthought under Emery, the former Germany international has symbolised Arteta's potential to restore Arsenal to the kind of aesthetically pleasing football the club made their own for so long under Wenger. Özil leads Arsenal in "progressive" passes per 90 and sits behind only Dani Ceballos in passes into the box. If Arsenal are going to be a team that can play delightful stuff around the penalty area again, Özil is going to be at the heart of it.
Update: so, err, looks like this one isn't going to pan out. Lol. My bad.
---
Aston Villa
How were they doing before the crisis? Thisisfine.gif
I'm not someone who follows the Championship closely, but Dean Smith's Brentford sides had a reputation of being hot and cold. He's transferred that to Villa in the Premier League, as a solid enough first half of the season unravelled, losing the last four games on the bounce. Villa are 19th, and if they were hoping the numbers painted a better picture, it's bad news there. The Villains have the worst xG difference of any side in the league and look fortunate to find themselves only two points adrift. The closest thing to good news is that while their xG conceded is the worst in the league, their attacking numbers are "merely" the third worst in the division. Yes, it is that bad.
But this is a reset. With only two points in it, Villa have every chance of staying up. Their remaining fixtures include games against Chelsea, Liverpool, Man Utd and Arsenal, but there are also some perfectly winnable matches in there, especially if some sides really dial it down in empty grounds with nothing to play for. Typically you'd want to see a team in Villa's position get organised and keep things tight at the back, but that's not really what Smith does. The good news is that John McGinn looks to be fit again, and his weirdly specialist dribbling ability and lack of passing kind of holds things together in midfield more than it should. The formula for Villa's survival is probably a series of chaotic, flakey games in which they produce enough going forward to get it done.
One to watch: Jack Grealish. Sometimes you don't need to overthink this. He's Villa's best in terms of progressive passes per 90, passes into the box per 90, and second in xG+xG assisted per 90. If I supported Villa, he'd be the one thing that made me look forward to watching my team every week.
---
Manchester City
How were they doing before the crisis? Well, they're not going to win the league.
It's a weird one for Man City. You look at the xG and they're miles ahead of Liverpool. Their xG difference per game of +1.40 is only a stone's throw away from last year's +1.48, and a big long game of stone skimming away from Liverpool's +0.93. But... you've seen the league table. Being 25 points off the pace has to be seen as a failure internally. Maybe xG is missing some stuff here, maybe not. They have been conceding more extremely dangerous chances, and while it works most of the time, teams have been able to break the press just that little bit more frequently. The thing about high pressing systems is that you never, ever, ever want teams to break your press. All that open space for them without your defenders in any kind of a good shape. Anyway, the difference between this year and last still almost certainly not as big as the table suggests, but hey, that's football for you.
So what's the point, from City's perspective, of playing these games out? It's probably an experiment as much as anything. Guardiola surely wants to tactically freshen up the side next season as he so often loves to do, and this is a chance to really work on some new ideas. He's brought in Juanma Lillo, someone he's long admired as a real tactical innovator, as his new assistant. You don't hire Juanma Lillo to put the cones out. Guardiola obviously feels like he needs new voices to bring forward a remodeled City side, and we'll see the beginning of it in the next few months.
One to watch: Phil Foden. You have to think he'll finally get some real minutes now there's not a lot for City to play for. He's, you know, good at football (image nicked from a StatsBomb article I have almost no memory of writing just before the lockdown).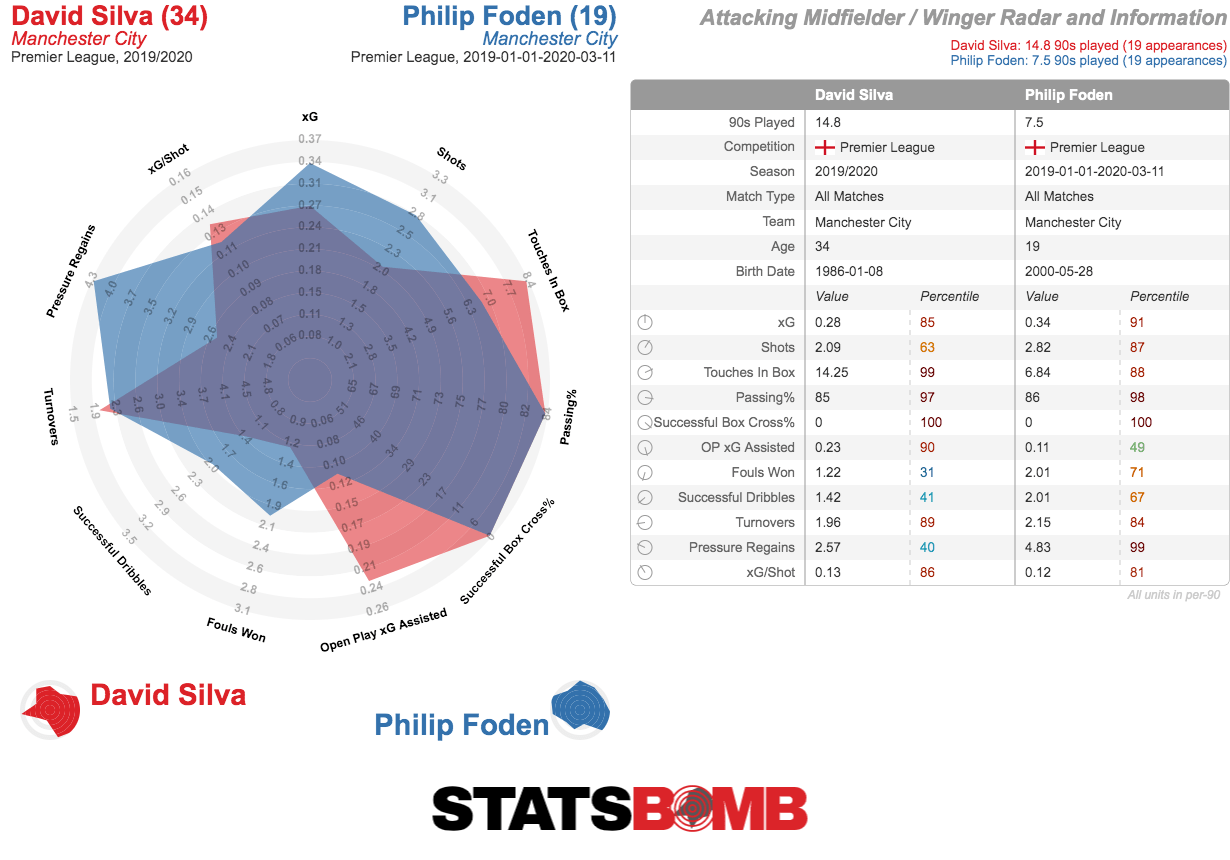 ---
Sheffield United
How were they doing before the crisis? About as well as anyone could have hoped and then some.
Other than perhaps Liverpool, I can't imagine any set of Premier League fans are more excited to watch their team again than Sheffield United. It's looked like a miracle season, but in truth it really isn't. The numbers behind it are rock solid. As I wrote back in December, 
"The first thing that comes to mind in a football analytics context is finishing, with the assumption that a side scoring more and/or conceding fewer than their expected goals suggests they are "overperforming". Impressively, Sheffield United are only a touch better than one would expect on the defensive side and exactly where they "should" be in attack. The signs are good here for Chris Wilder's team.

Another curiosity is how many draws Sheffield United have. Most of the seven came in pretty tight games with close run xG, so the Blades can't really say they are too hard done by. But "overperforming" teams tend to see the high variance swings go their way, and turn a few of them into wins, adding more points even if they gain a few losses in the process. Unless you're a terrible team expecting to lose most games, which Sheffield United aren't, draws are not your friends when trying to overperform."
Sheffield United are simply a good Premier League team. It's not much more complicated than that. As many other sides (*ahem* Villa) seem reliant on individuals and look generally chaotic, Chris Wilder has shown the long obvious benefits of cohesion and everyone following a clear tactical idea. It's as evident at Sheffield United as it is at Liverpool and Manchester City.
With no other concerns, the Blades could really look at these remaining games as a chance ot make a run at Europa League qualification. People will say this has consequences of more fixture congestion next year, but come on, live a little. If they can better integrate Sander Berge while they're at it, then there are really no negatives for the club at all.
One to watch: David McGoldrick. 5.6 expected goals without finding the net. Will he keep going? Will he break his duck? Will he end up with some ridiculous amount of xG without scoring a single goal? I can't wait to find out.
---
Trans rights are under attack in the United Kingdom, with the government following the tone of every newspaper from the Daily Mail to The Guardian in wanting to make it harder for trans people to exist in the country. Gendered Intelligence, a national trans-led charity improving the lives of trans and non-binary people in the UK, is today urging people to write to the Prime Minister to oppose rolling back trans rights. They have a form and template online that I would encourage you to fill out if you live in the UK.
Furthermore, this is not a charity with a large budget. If you have any money to spare, I would ask that you please consider donating to Gendered Intelligence.