Discover more from Grace on Football
The Premier League and other football (soccer) nonsense.
Over 12,000 subscribers
So Who's Playing in Europe Next Season?
Let's investigate the state of play.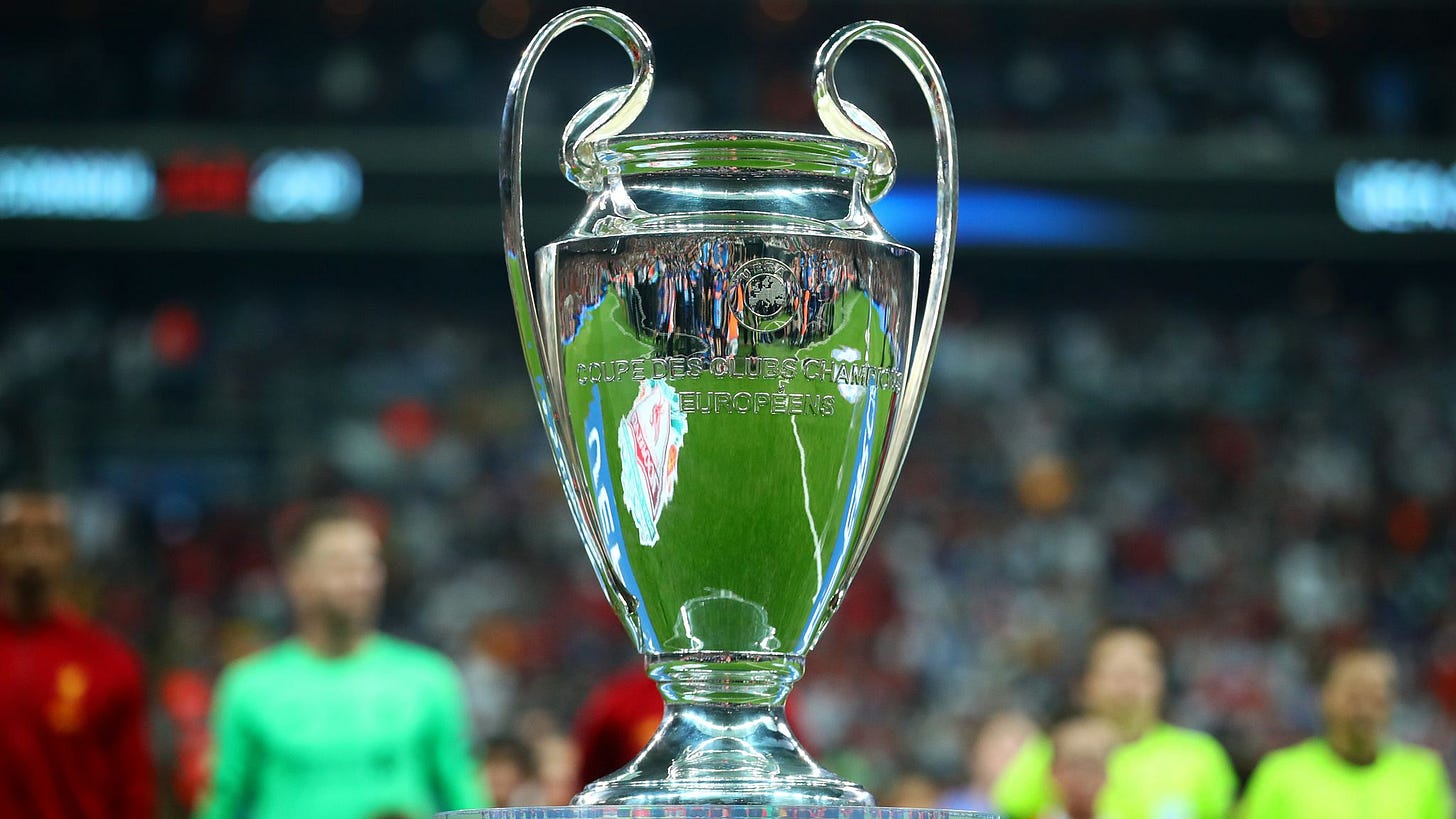 So, the Premier League is back and it threw up a mix of entirely predictable and somewhat surprising results. No change there, then. Liverpool all but have the title in the bag, so the only real question at the top end of the table is the Champions League and Europa League spots.
It's a weird one since the CAS hearing could mean that fifth place gets a Champions League spot. So then sixth gets the Europa League, as well as seventh since Man City won the Carabao Cup. And if a side already in a European spot gets its hands on The FA Cup, then we're talking about eighth place going to Europe. That's quite an opportunity. Let's dig into the standings, shall we?
---
Liverpool
The Reds are mathematically certain to play in the Champions League next year. Job done. Next.
Outlook: ✅
---
Manchester City
Well, Pep seems to think they will be there. Guardiola was insistent after his side's 5-0 win over Burnley that this takes them closer to certain Champions League qualification. The Court of Arbitration for Sport might see things differently. It's obviously nothing to do with football performance and I have basically no idea how CAS will see it, but the decision impacts every team on this list bar Liverpool. It's a weird thread to have hanging over the season.
Outlook: it's in the hands of the Gods.
---
Leicester City
Leicester are getting ever closer to finishing in the Champions League spots. FiveThirtyEight's model gives them a 94% chance of doing it, though this is on the assumption that Man City will be kicked out. The concern is that the Foxes have been kind of blah for a while. I wrote about this a little back in February that they just couldn't kick on after Christmas, but many felt the issue was a lack of Wilfried Ndidi. There aren't many defensive midfielders in England's top flight able to really hold things together like the Nigeria international can, so it made sense that things would look shaky without him. Well, Ndidi's back, and they still put in two sloppy performances on the bounce. Brendan Rodgers seems to be overthinking things again, going with a funky 3-4-2-1ish system against Brighton when his usual selection would've been more effective. If he can just hold it together, Leicester should get over the line.
Outlook: looking like Champions League football at the King Power again.
---
Chelsea
Weird season. No way around it. Chelsea have played some really good football at times, promoted youth in exactly the way everyone wanted them to, have a big pile of cash with which they're improving the side, and they're still only a toss up to play in the Champions League. This season "feels" better than last for the Blues in every way but results.
The next game is against Man City, who seem to have come back in exactly that kind of "holy shit" form they often have at their best. They do have a little bit of a points cushion where they'd still be in a good spot if they lost, but jesus, it'd be a huge step forward if they won. If City's ban is upheld, you can consider Chelsea a very good bet for Champions League football next season. If not, it's a toss up as to which tournament they go into.
Outlook: pretty good, but CAS could throw a spanner in the works.
---
Manchester United
It's funny how things can turn around. Back in December, United were the dullest team around. A midfield of Scott McTominay and Andreas Pereira would let games pass them by, offering very little forward passing options and basically just feeling like a solid upper midtable team, not Manchester United. Then Bruno Fernandes turns up. Make no doubt that Fernandes is not the complete player. Every time he touches the ball, he takes a risk. But man is that exactly what Ole Gunnar Solskjaer's side needed.
And now Paul Pogba is back in the mix. This actually looks quite interesting if they can find the right balance. I haven't been this high on Man Utd in years. They make it as long as CAS uphold the ban, I think. If not, it's a toss up.
Outlook: better than I expected.
---
Wolverhampton Wanderers
Wolves turned over West Ham pretty comfortably but lads, it's West Ham. They're on the same number of points as Man Utd and have probably played the better football over the season, but I just don't see the same upside here. The fixtures don't look too bad, but Wolves' best football has always been as a compact side able to use their various attacking talents on the break. This could become a problem for them if they become an established "big side", as opponents allow them to have possession more often and they can't play on the counter. But that's a problem for another day. Wolves, I suspect, will have to make do with another year of Europa League football.
Outlook: keep those Thursday nights open, Wolves fans.
---
Tottenham Hotspur
They beat West Ham! Jose's at the wheel! HARRY KANE SCORED A GOAL AGAINST WEST HAM! (Ok, ok, I said I wouldn't write about him until the end of the season.) I mean West Ham aren't very good, which is an emerging theme in this newsletter, and Spurs were good enough to beat them. That's three points. Tottenham have two actual football matches against Sheffield United and Everton next, which will require a much higher level of performance. I've still yet to see signs that Mourinho has particularly evolved things since before the break, and Spurs were just kind of ambling on before then. More of that and it's probably Europa League town.
Outlook: Tottenham Hotspur, welcome back to the medium time.
---
Sheffield United
Did Sheffield United deserve to beat Aston Villa? Yes.
Did Sheffield United play at all well against Aston Villa? No.
Did Sheffield United play at all well against Newcastle? No.
We may have a problem.
The Blades have been outstanding all season. If there's a better drilled team in the Premier League than Chris Wilder's side, I haven't seen them. The closest competitor could be Liverpool. And, like Liverpool, they've looked well off their usual rhythms and structure upon returning. Playing behind closed doors was always likely to benefit teams with the more talented players, so it's not a shock to see United finding it a little more difficult. But it does feel as though teams that relied heavily on organisation and tactical cohesion are a little more slack right now, and that hits the Blades just as hard. They're going to have to sharpen up if the season isn't to slide.
Outlook: not as good as it was.
---
Crystal Palace
Wait, Crystal Palace are in ninth? Jesus. I mean Roy Hodgson will do his thing and all but damn, great going there. Good for you, Palace. In my head I initially thought I'd be talking about another team at this point on the list, but they're not even above Palace, so they can't seriously expect to be here. But I do want to talk about them eventually. So next week will be a deep dive into that club you've all probably figured out. Don't miss it!