Discover more from Grace on Football
The Premier League and other football (soccer) nonsense.
Over 12,000 subscribers
Transfer Quick Hit: Ferran Torres
Let's take a look at what Man City have got.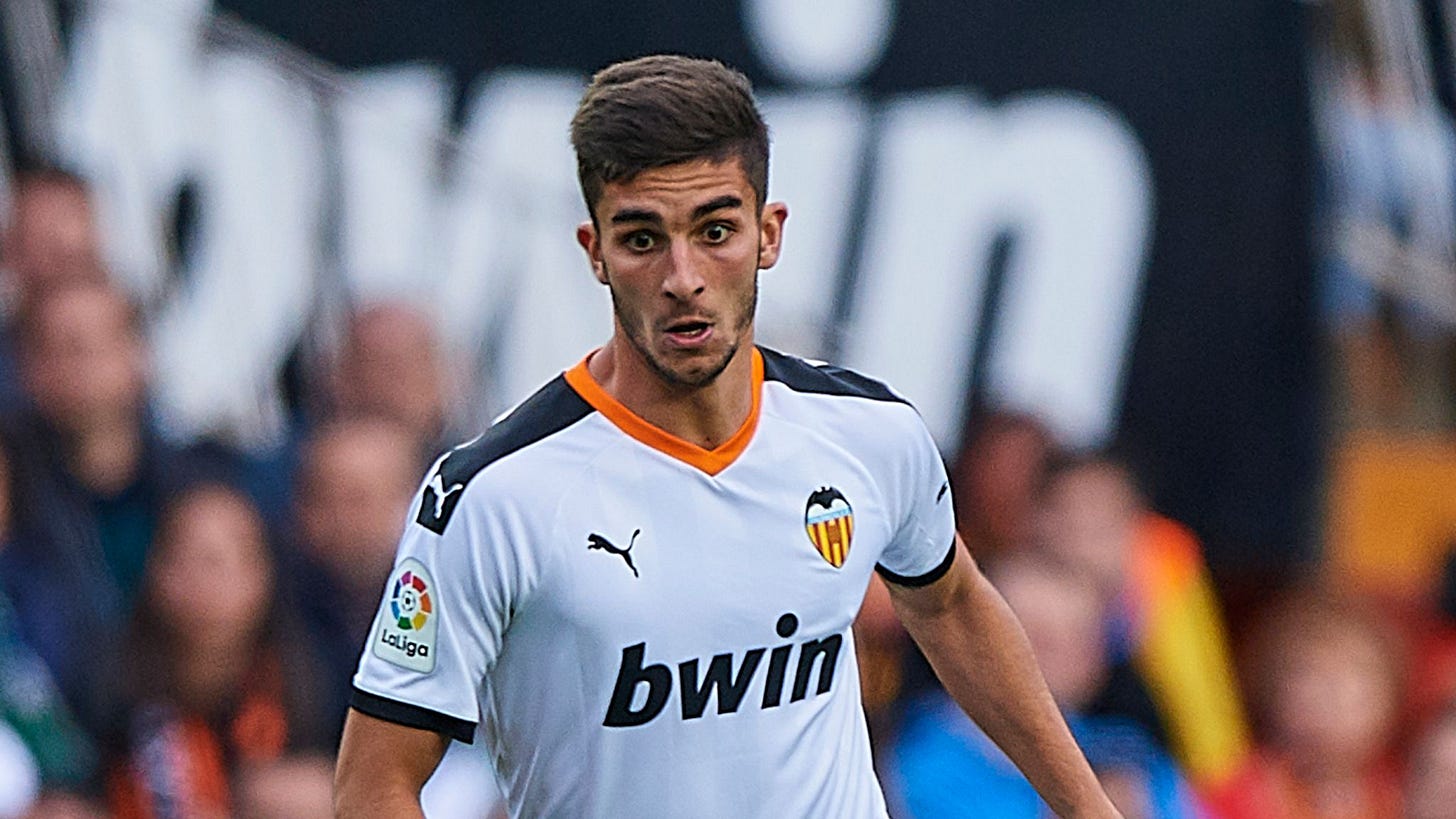 Welcome to the first transfer quick hit, a feature I'm going to do while the window is open looking at high profile moves. It's not going to be as in depth as some of my other newsletters, but should hopefully give you a sense of what we might expect to see from this player through the lens of the numbers.
---
Stats are from Football Reference using data provided by StatsBomb.
---
Ferran Torres is on his way from Valencia to Manchester City. The reported fee is €25 million, which could end up as high as €37m if all add ons are triggered. So we're looking at anywhere between £22-34m ultimately, and probably much closer to the latter number if he ends up being the player they want him to be.
And what player do they want him to be? He's 20 years old, so they're not buying him as a short term fix. He's someone who they hope can be a key performer at the Etihad for the next decade.
That makes the headline numbers a lot easier to contextualise. 4 goals and 5 assists last season isn't exactly setting the world alight, but it's a more than reasonable level of production for a 20 year old in one of Europe's toughest leagues. Taking a more in depth view with his Football Slices chart, we see that those headline goal and assist figures are a fair summation of his season overall.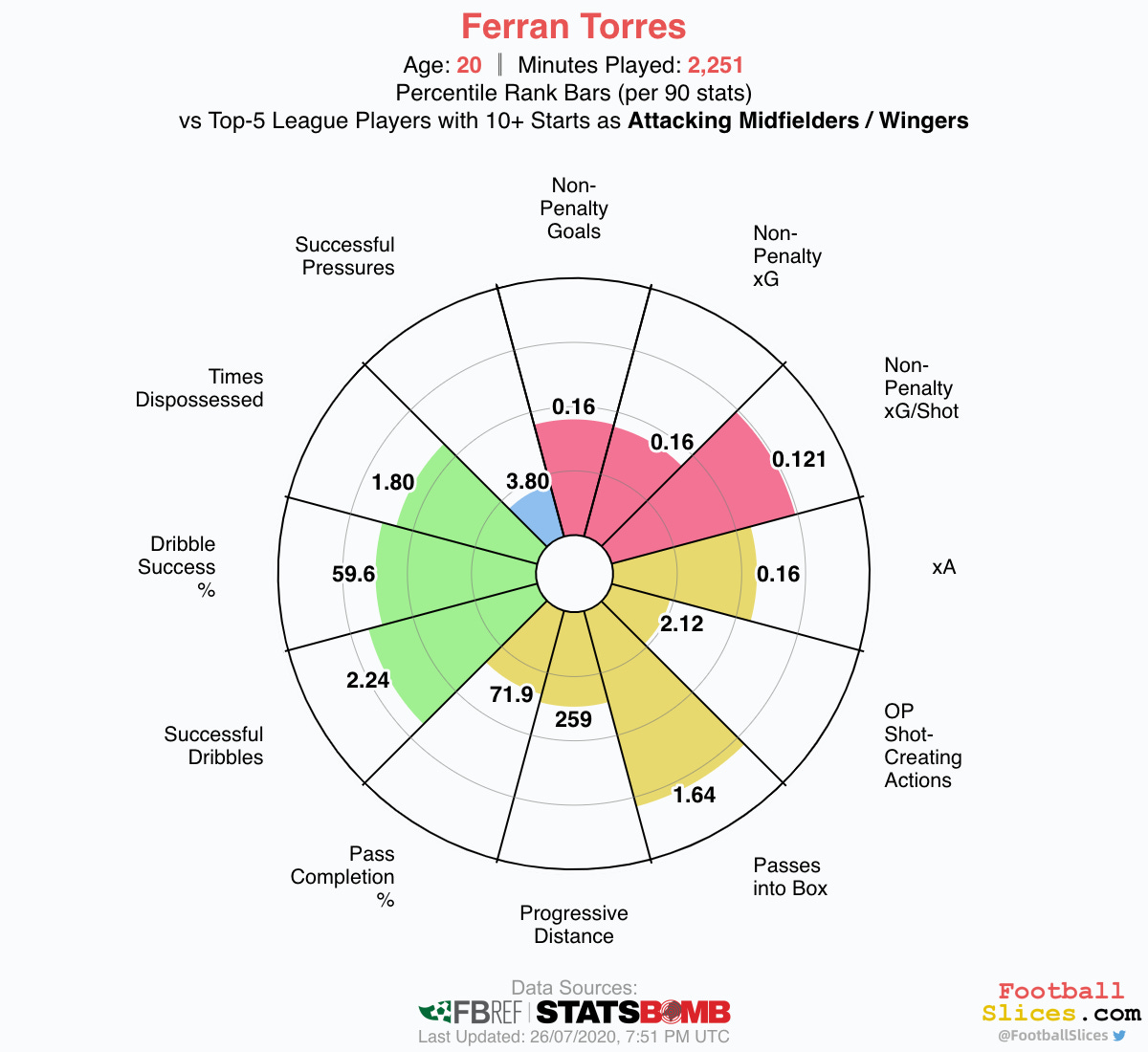 Torres is solid at a lot of things without excelling at one single attribute. He doesn't take a lot of shots, but the ones he does get tend to be good enough to make up for it. He's a decent dribbler and acceptable creative passer. He looks to be someone Pep Guardiola could just plug in and expect a solid performance from, but I don't think he'll deliver more than that in the short term.
Guardiola recently said that Phil Foden was "not a winger-winger but he can play [out wide]". Torres is a "winger-winger". You can never be quite sure with Pep, but I'd imagine he's someone who will play out wide, on either flank, pretty much exclusively. That marks him as different to the aforementioned Foden and Bernardo Silva. But what kind of winger is he? Let's compare him to the two City standouts in the role. In both cases, we're talking about older players at a much stronger team, so of course their numbers will be bigger overall, so just worry about the shape more than the quantities. First up is Riyad Mahrez.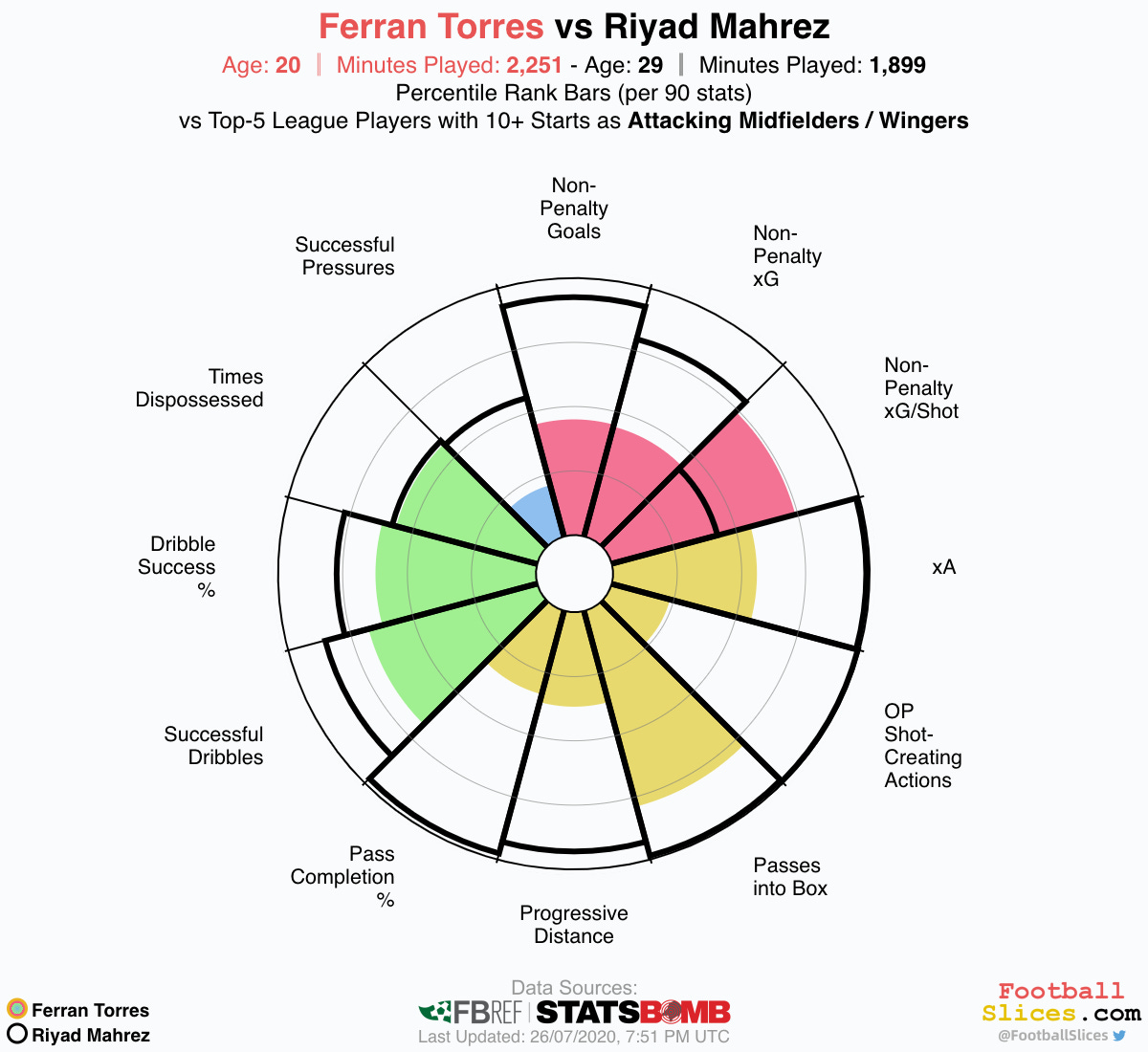 It's obvious that the former Leicester City man is much more of a creative passer than Torres, who finds himself (3.60) sharing the burden with fellow Valencia winger Goncalo Guedes (3.62). Mahrez played more progressive passes per 90 (6.81) than his City wide berth rivals Bernardo Silva (4.96), Foden (3.70) and Raheem Sterling (3.29). He likes a shot (3.38 per 90) a lot more than Torres (1.32), but any given Mahrez shot is about 22% less likely to go in, so it takes him a lot of those strikes from range to score a goal. Mahrez, of course, is left footed, and that's one of his biggest sources of value to City. Torres is very much a righty, so no use there.
Now let's take a look at him against Sterling, City's other "winger-winger". Again, we're just looking for the overall shape of the numbers rather than how big they are.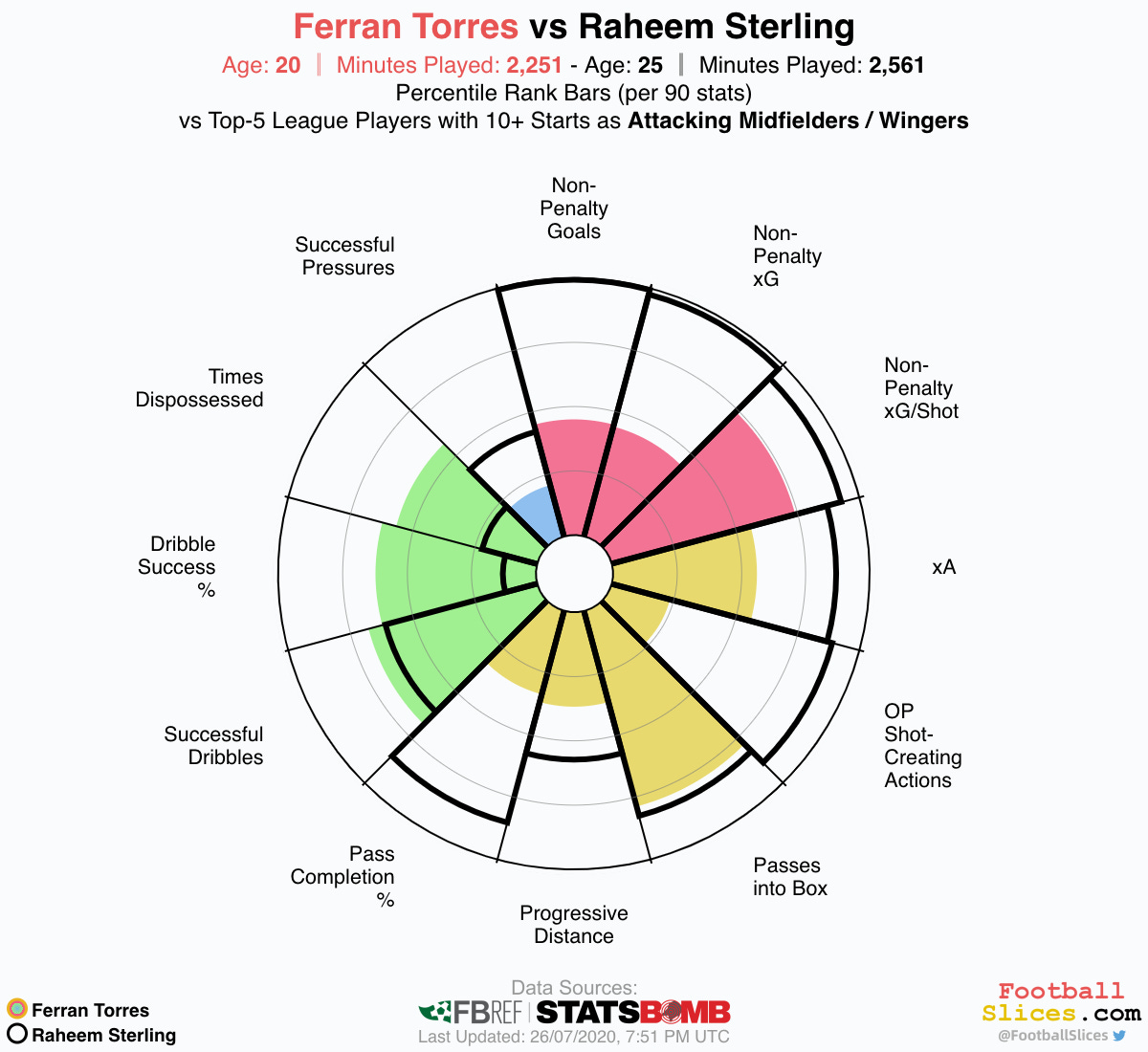 Again, there are differences, but this feels like much more of a natural overlap to me. Sterling takes more shots and puts up bigger creative metrics, but a lot of that comes from the system and players as well as simply experience. There's no reason to think Torres won't add more of that. He's a nicer dribbler and loses the ball less frequently, so that's a plus. Torres has officially become known as the "Leroy Sane replacement", but to my mind he's much more in the mould of Sterling. He's less likely to surprise you, but he should be able to tactically fit into the system much better and contribute exactly as Guardiola wants.
And ultimately, for that price, it's hard not to like a deal for a 20 year old with 71 appearances in La Liga.