Discover more from Grace on Football
The Premier League and other football (soccer) nonsense.
Over 12,000 subscribers
Wait, Do We Have a Champions League Race Again?
Talk about a turnaround.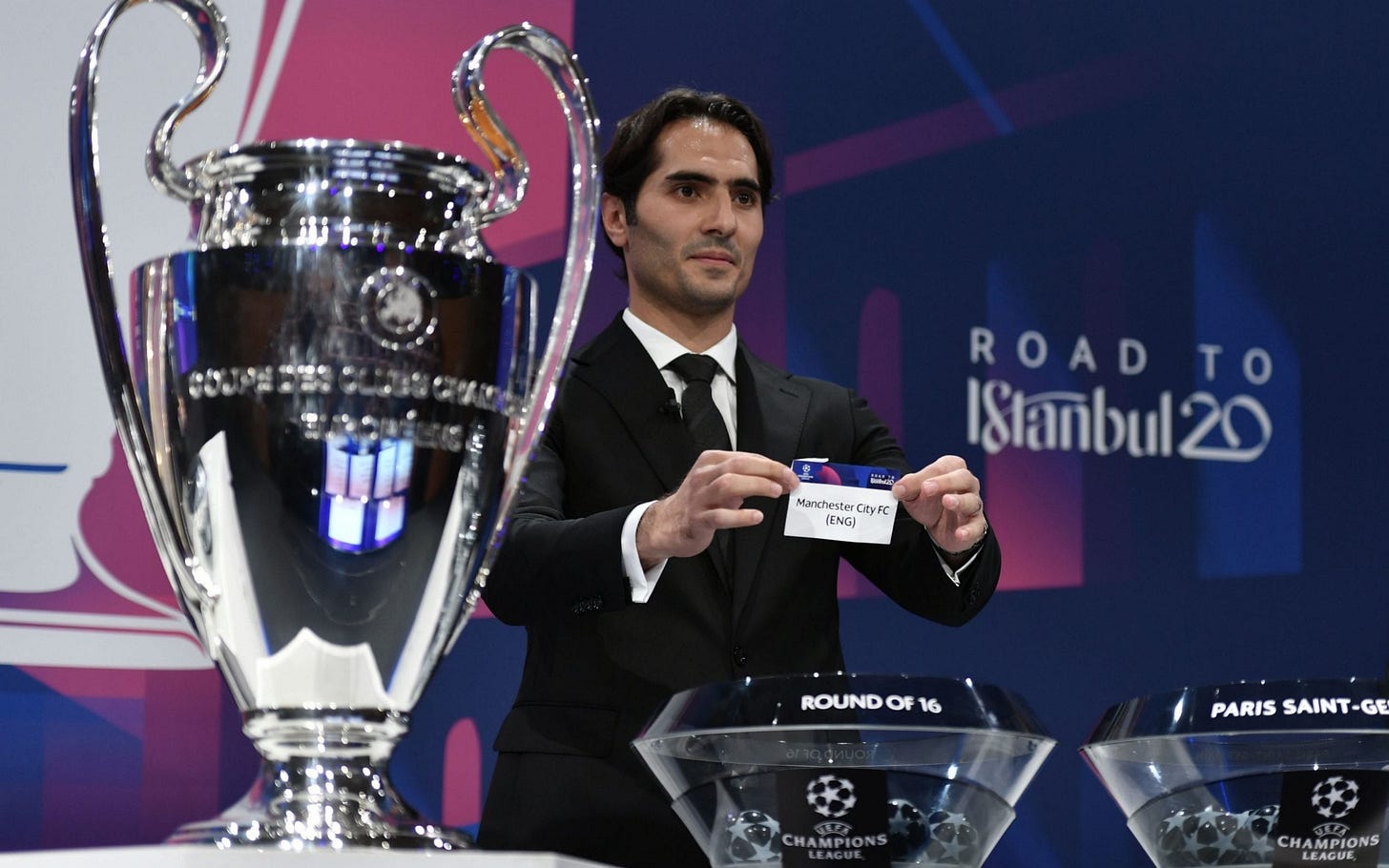 It all looked done. Finished. Over. Finito. Liverpool won the league, but we all knew that was happening ages ago. Manchester City's ban meant that the remaining three Champions League places were destined for Leicester City, Manchester United and Chelsea. It was over. Boring. See you all next year.
Then a few things happened. Man City got their European ban overturned by the Court of Arbitration for Sport (I'm not going to write about whether that's correct or not, because there are a billion other articles on the subject and I don't know what I'm on about). Suddenly there were only two spaces left to be fought over by three teams. All three of whom have dropped points in the past week. We're seeing a spark of life.
So what happens in the final week and a half of the Premier League season? Let's take a look.
---
Note: expected goals are from Football Reference with data provided by StatsBomb.
---
Liverpool are, quite obviously, in. The CAS ruling means that Man City fans can be mathematically sure of booing the Champions League anthem next season as soon as fans are allowed back into stadiums. So we can ignore those two today and move on.
Third most secure are still, somehow, Chelsea. FiveThirtyEight's predictions model gives them an 81% probability of qualifying, which struck me as high, but the bookies are even more confident, ranging from implied probabilities of 84-89% of the Blues sitting at Europe's top table next campaign. A win against Liverpool next week would swing things hugely in their favour, and Liverpool's party football since winning the league gives them a good shot at doing it. In the four games since the first title in 30 years, the Reds have conceded 6.6 expected goals including 2.4 against Brighton. Brighton! Chelsea can get a result here. The final day against Wolves will definitely be tough, but it might not take a win to secure a top four finish by then.
That's because Leicester look in a right state. In the calendar year 2020, Brendan Rodgers' side have taken just 17 points from 15 games, with the restart period looking no better at all, the Foxes winning just one game in the post-lockdown era. Our good friend xG doesn't offer much solace. But you know what, Leicester fans. Don't blame Rodgers. Don't blame the players. Blame me for cursing you in December.
"Leicester had the rub of the green in the early going this season, picking up a number of good results above and beyond their underlying performances. But recent games have seen a different trend. A number of xG dominant wins have caused a fairly dramatic turnaround on their trendlines. This is the form the Foxes need to put up a title challenge."
That, err, did not happen. An xG difference per game in 2020 of +0.29 isn't much different to what they were doing before, but it's nowhere near enough for their aspirations at the turn of the year. In the short term, Leicester need a result against Sheffield United, who have won three of their last four games. Then they need a result against Jose Mourinho who, you may remember, has spoiled Brendan Rodgers' season in the past.
Then they need a result against Manchester United. Who looked to have been quite good recently before they just didn't quite put a game against Southampton to bed. Still, the "Bruno era" table (since Fernandes made his debut on 1st February) has United top with 25 points from 11 games (as of writing this on Wednesday). But are they all that? They've scored 25 goals in this period from 17.7 xG, while conceding just six from an xG of 9.9. Sometimes you can get a bit of extra juice in one direction, and I'd almost be inclined to say that United were overloading the attack based on their style of play if they were merely scoring more than expected. But beating the numbers at both ends usually just means you're running hot. Regardless, the Red Devils' xG difference per 90 of +0.62 is more than solid enough to merit a top four spot. United should be in, provided they do the business in two winnable games against Crystal Palace and West Ham, and they'll be in deservedly.
There's a real chance in the next few years that Chelsea and Man Utd consolidate these spots. Both clubs have the metrics and the money to do so. We could be looking at the Premier League in a few years as a "top four" once again rather than a "top six", considering the dual messes in North London. Astonishingly, it might be Wolves who most have something to say about this, but they're a few years away. As it is, Leicester might again be the only team to really try and puncture the bubble in a period of sustained success.