Discover more from Grace on Football
The Premier League and other football (soccer) nonsense.
Over 12,000 subscribers
Wait, Who's Actually Going to Win the Champions League?
It's back.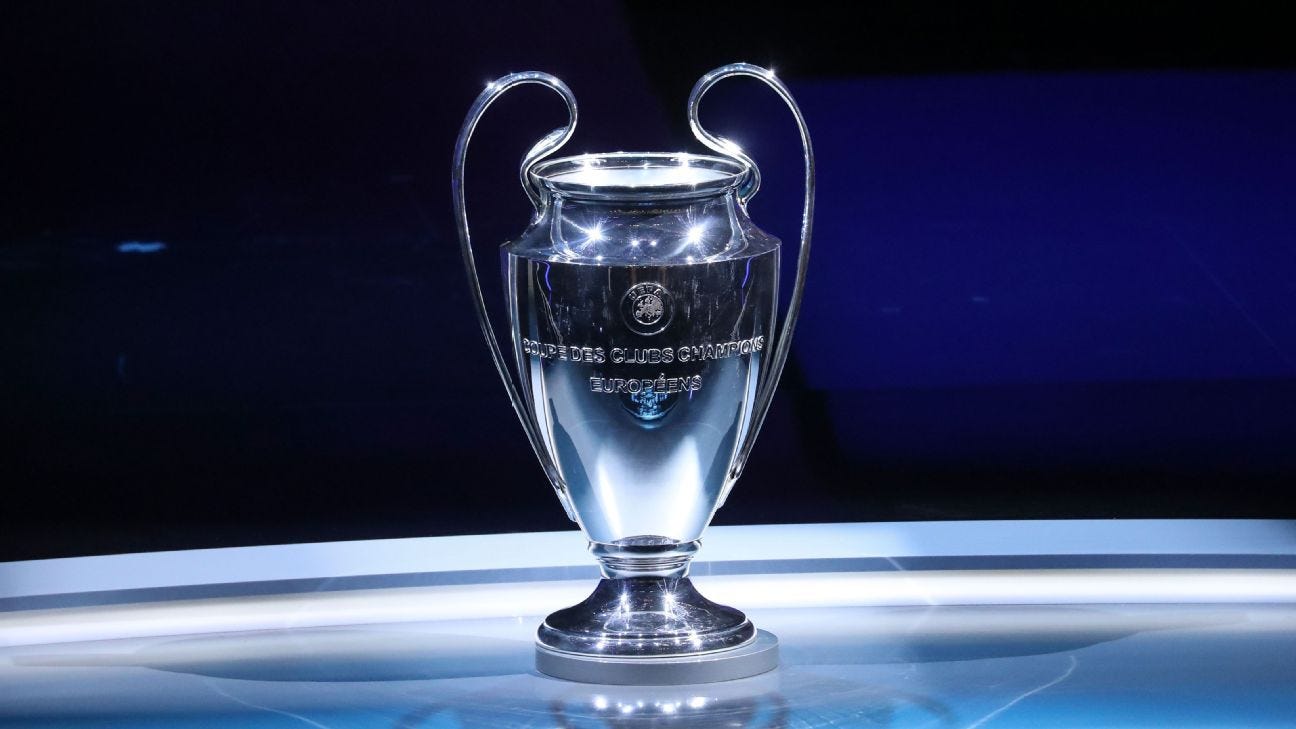 Every year, almost without fail, the Champions League knockout stages produce the highest quality football I watch. Ok, people can reasonably argue that winning a domestic title is "harder" due to the requisite endurance, but in terms of quality individual games, this competition is the best to watch.
And it's arguably even better than ever this year. A pure one off game knockout format is about the most delightful thing to watch in football. It might throw up more upsets and it will certainly produce more drama over ninety minutes. This should be exactly what we want to see.
But who's actually going to win the damn thing? I've ranked the contenders from least to most likely.
---
A note on stats: expected goals are from Football Reference using data from StatsBomb. The defensive activity graphics are from Twenty3 Sport using data from Wyscout.
---
12. Chelsea
Chelsea are not going to win the Champions League. They need to go to the Allianz Arena and turn around a 3-0 deficit before they can then compete against teams mostly better than they are. It would be the greatest upset of all time, but come on.
---
11. Lyon
Man, that early end to the Ligue 1 season could really hurt the French sides here. Lyon "finished" a very disappointing seventh in the table, but expected goals has their back, as their xG difference of +11.4 was bettered only by Paris Saint-Germain. It was bettered by a lot, granted. They're going into the second leg at Juventus with a 1-0 lead so maybe I'm being a little harsh, but I'm just not sold this Lyon has the quality of previous years. Who also didn't do much in the Champions League.
---
10. Napoli
Another side somehow still in this competition despite being miles away from anything of note in the league. Napoli have seemingly improved under Gennaro Gattuso, with the players reportedly much happier under the decorated former midfielder and the first trophy won in six years with the Coppa Italia. He's tightened things up at the back, too, with Napoli conceding just 0.9 xG per game in Serie A since the restart. Napoli are a pretty solid outfit. The problem is they're behind by away goals in a tie against a Barcelona team that can be flaky, yes, but still have the best player in the world and go through as it is anyway. Even if they make it, they're looking at Bayern in the next round, then one of Real Madrid, Man City, Juventus or Lyon. It's a big ask.
---
9. RB Leipzig
No Timo, no party? Leipzig really are good, and maybe I'm just being spooked by what Atletico could do in a one off game. But we're talking about Patrik Schick leading the line and not offering anything like the kind of mobility and guile of Timo Werner. We're talking about the best relatively low block defensive side in the world against a team from a league where they almost never face such opponents. They've mostly played well since the restart against lesser opponents, but notably not so well against Dortmund and Hoffenheim (a game they won, but still). This is the decision here I'm most hesitant on, but let's roll with it.
---
8. Barcelona
Zzzzzzzzzzzzzzzzz.
Look, I could tell you about how they're nowhere near as good as they should be, and it's true. I could tell you about how it's all just Lionel Messi alongside a whole lot of shit and it's true. I could tell you that Riqui Puig looks pretty exciting and it's true. It's all true. A billion words are written about Barcelona every day and they're all true, even the ones that are blatant lies.
But, Mr. Campbell, who cares?
Maybe Barca somehow pull a rabbit out of a hat here. Maybe Messi does his thing and that's enough to grind out these games and win the Champions League. Maybe nothing matters except having the best player ever to play the sport. Maybe it'll just work. But it won't matter. We'd gain nothing other than a few cool moments of Messi doing stuff. Barcelona might be a winning team here (they probably won't, hence the placement), but they won't matter. They won't be a protagonist in reshaping football.
Xavi Hernández once said that "to go down in the history [of football] you must do different things". Well, Xavi, it's a good job you're probably up next, because this crew of cast offs and has beens plus Messi isn't offering us anything worthwhile to the evolution of football. I just... don't care about Barcelona.
---
7. Paris Saint-Germain
I don't know, man. They played their first competitive game in absolutely ages with the Coupe de France final and just about won despite not playing particularly well. Kylian Mbappé is out against Atalanta, but this might actually help Thomas Tuchel pick a sensible eleven instead of letting out his inner Tim Sherwood and cramming all his attackers in there. With or without the Frenchman, this is Tuchel and Neymar's PSG. They're not going to be able to do this by any means other than playing exciting football that's kind of sloppy in some ways. And they're playing a team that's better at exciting football than them.
---
6. Juventus
I wonder if this is the moment when Juve regret replacing Max Allegri with Maurizio Sarri. Yes, they won the title under the former Napoli and Chelsea manager. Yes, if "winning isn't important, it's the only thing" then job done for Sarri so far. But wasn't he supposed to bring something more to the club? This is the second job in a row where the passing patterns have looked more pedestrian than they did at Napoli and one has to wonder if he simply walked into the ideal players in Campania. So much about his time at Juventus feels like a repeat of the Stamford Bridge year, taking a club that prides itself on results through traditional defending qualities and trying to move to a possession based style while getting stuck somewhere in the middle. Juventus have enough talent in the right areas to be in with a shout, but this team doesn't sit right with me.
---
5. Real Madrid
After five seasons, three Champions League wins, two La Liga titles and two other managers in the middle, this is, finally, Zinedine Zidane's Real Madrid.
Let me explain a little. The side under Zidane's first spell in charge was Cristiano Ronaldo's team. They didn't press from the front too much because Ronaldo didn't do that. They took a ton of shots from everywhere because that's what Ronaldo does. Almost every tactical choice was made to accentuate Ronaldo's strengths and hide his weaknesses.
This time, with no Ronaldo and Zidane the first Real Madrid manager in forever with actual power, he's built the team he wants. For all his association with Spain and France, Zidane's most important education came from his years in Italy, and that's the kind of side he's built. This is a team that's unpleasant to play against, that increasingly relies on combative midfielders and a weird mid-block pressing style. Take a look with some graphics. Here are Madrid's defensive actions in 2017/18, the final year with Ronaldo.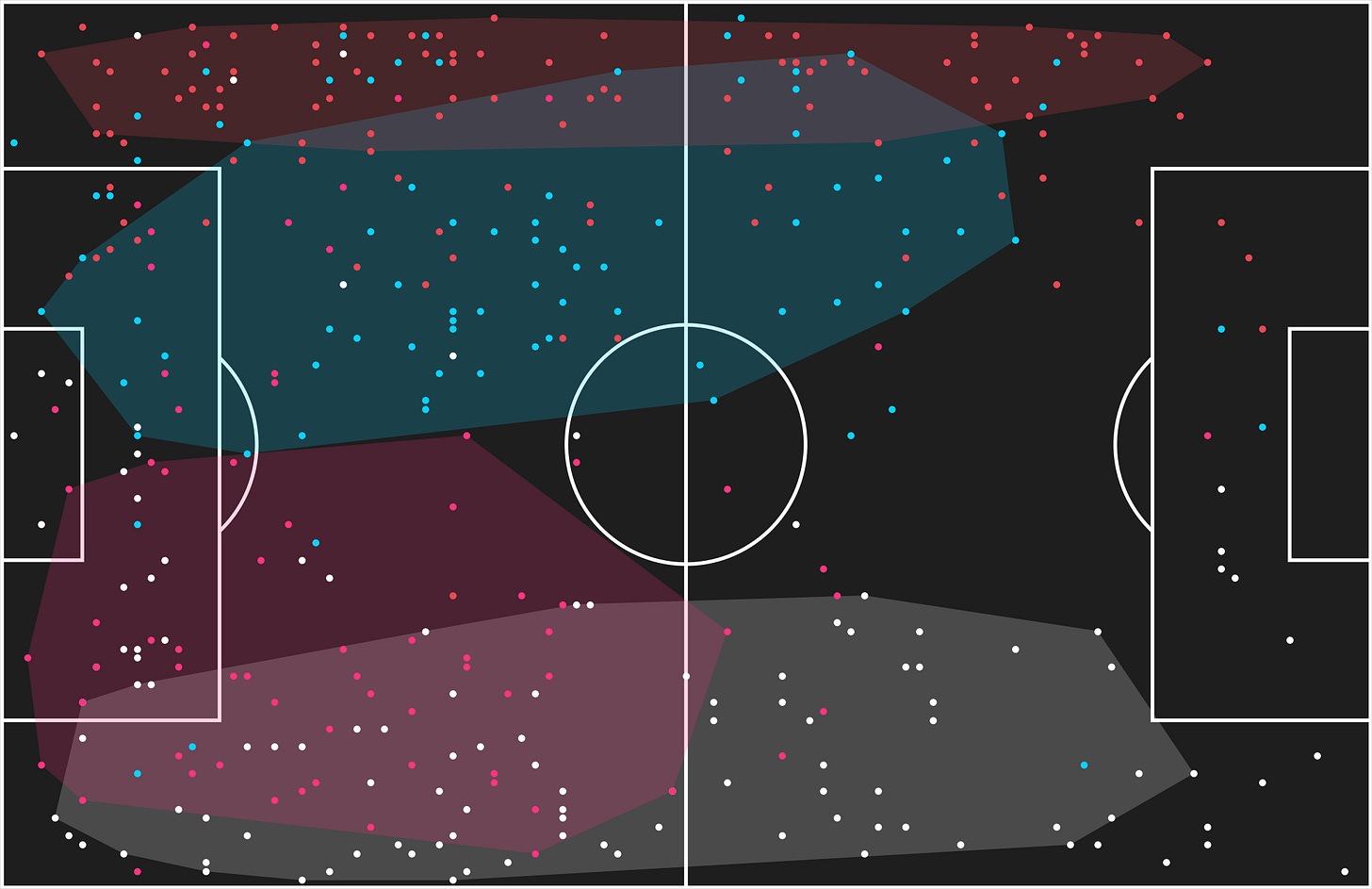 And here are their defensive actions this season.
The shape of the thing hasn't changed, but they're more active in terms of how they defend, looking to be much more aggressive without the ball but in deeper areas rather than with a high pressing system. This might be the ideal formula in tournament football, and I'd be tempted to place them right near the top but for the fact that they're a goal down against Manchester City. This isn't the right formula for a side that needs to go and score two at the Etihad. Do that and they're golden, but it's a big ask.
---
4. Atalanta
There are two kinds of people watching the Champions League knockout stages here. The first are those who support a club still in the competition. They want their team to win and, ultimately, don't really care about much else. That's more than absolutely fine. It's how it should be.
The rest of us are supporting Atalanta.
Josip Iličić will not be available, but Gian Piero Gasperini's side will do the same thing regardless of who's in the team. It's delightful. Atalanta aren't just the underdogs, they're also the team that play the most entertaining football. Maybe I'm putting heart over head here, but in my book they're moderate favourites over PSG and then capable of doing it against Atletico Madrid or RB Leipzig. I want to believe.
---
3. Atlético Madrid
There was a lot of, in my view, nonsense written during the first half of the season about Diego Simeone's side having a poor year. By most metrics this Atléti were as strong as ever and the results are now starting to show that. You know what they do and how they play. It doesn't really matter which players they have, they're going to do their thing. The performance in the round of 16 was as good as I've seen any team play against Liverpool in recent years and there's absolutely no reason why they can't work the same magic against RB Leipzig, either PSG or Atalanta, then whoever they face in the final.
---
2. Manchester City
No more second legs! Pep Guardiola has been saved! Or we'll see, anyway.
Since the restart, Man City have been a little hot and cold. Yes, they've looked very comfortable in a number of games, dismantling opponents either inferior to them or perhaps not really that switched on (Liverpool). But questionable performances against Arsenal and Chelsea, in which they dominated for long periods but were easily exposed on the occasions those sides broke the press, show up the same shortcomings. We know Guardiola always wants his teams to win the ball back very quickly after losing it, but that's an ideal. If City don't win it back straight away, they're frustratingly easy to break open. It doesn't happen too often, which is why they're so high up here and should be favourites against either Barcelona or Napoli as long as they make it past Real Madrid, but they need to be better out of possession than they have been in big games recently if they want to win this thing.
---
1. Bayern Munich
I mean, duh. Things are broadly working for Bayern since Hansi Flick replaced Niko Kovac. After the side tactically regressed a lot under Kovač and Carlo Ancelotti, Flick has at least reinstalled the core principles of positional play. It's not exactly the Ajax/Barcelona ideal, but the central tenets of properly understanding space are applied once more. If we're talking in pure old fashioned terms, Bayern have the "know how" and "experience", with plenty of "winners" in the side. They should certainly be able to outdo either Napoli or Barcelona, and if it's the latter, it wouldn't shock me that much to see another result akin to the 7-0 thrashing over two legs from 2013.
Some of these sides are very good in certain phases of the play, but struggle in transition or when they have to break down a side in possession. Bayern feel like the most complete side here, the only ones likely to be strong at all points in a game. For that, they're the team to beat here.