Discover more from Grace on Football
The Premier League and other football (soccer) nonsense.
Over 12,000 subscribers
Where Do Arsenal Go From Here?
A look into what Arteta might build at the Emirates.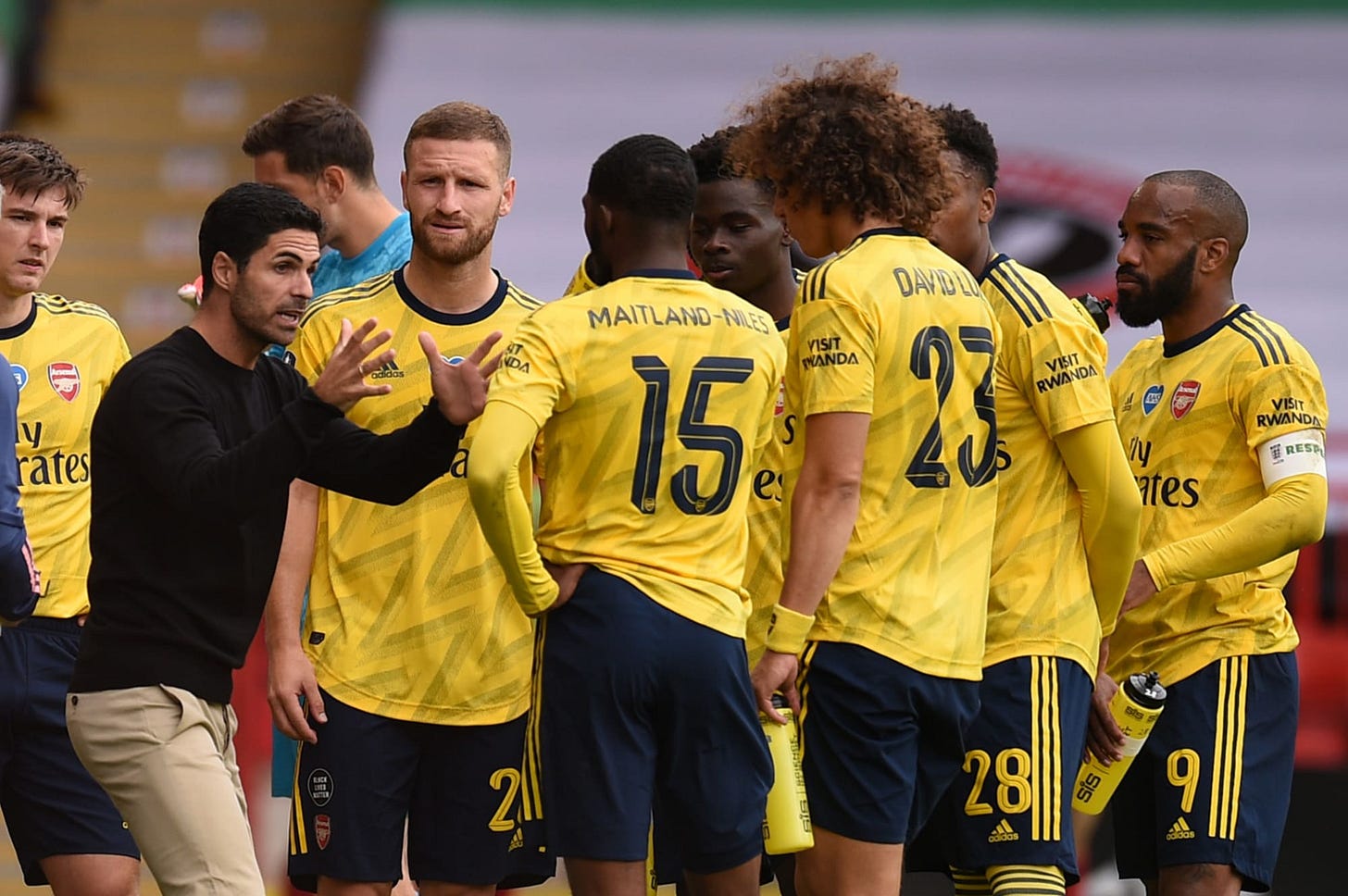 Arsenal are up against it for the remainder of the season. Noted Arsenal fan and football data guy Scott Willis estimates Mikel Arteta's side have only a 30% chance of making the Europa League spots, and that's assuming they go all the way to eighth place. They could always go and win the FA Cup, but their semi-final is against Manchester City who, well, tend to be a bit better than them. Arsenal are going to need to really pull together and get some big results to secure a Europa League place, if you think that's even a thing worth attaining.
But this newsletter isn't about that. It's not really about Arsenal's season, because this year has been accepted as basically a write off. It doesn't matter. Liverpool finished eighth in Jürgen Klopp's first season, and look at them now. Of the Reds' most frequently used eleven this campaign, only Jordan Henderson and Roberto Firmino played real minutes in Klopp's first year in charge. It's a bold target, but that has to be the model Arsenal and Arteta look towards. Can they get there? What will it take? Let's dig into it a little.
---
A note on stats: expected goals, pressures and progressive passes are from Football Reference with data from StatsBomb, while PPDA is from Understat.
---
It's worth pointing out that Arsenal are not starting from a high bar here. At all. In attack, their expected goals created is tenth best in the Premier League. Defensively, the xG conceded puts them 14th. We're talking about a side with a midtable attack and a below average defence here. It's been a rough, rough season, but you didn't really need me to tell you that. What you perhaps didn't know is that these numbers are almost identical before and after Arteta's arrival. Under Unai Emery and Freddie Ljungberg, Arsenal had an xG difference per game of 0.15 and since then it is -0.21. The defence is down a tick while the attack is pretty much exactly the same. Arteta wasn't brought in for short term change, and he certainly hasn't delivered it.
The question, then, is whether he's introducing his ideas about football. It's a qualitative, rather than quantitative, evaluation. We think the idea is something in the Pep Guardiola mould. As much as Arteta enjoyed his time under Arsène Wenger, and as clear as it is that David Moyes and Alex McLeish are footballing revolutionaries, nobody is hiring any of their assistants to manage Arsenal. Even Guardiola himself wouldn't wholesale port his Manchester City ideas to the Emirates: but the core principles of juego de posicion Always remain.
Without the ball, it's classically a Marcelo Bielsa-inspired philosophy of pressing all the way to the goalkeeper and aiming to win the ball high up the pitch. The "six second rule", as it's known. Are Arsenal doing anything like this? The data gives us a pretty strong no.
Before Arteta arrived, 19.9% of Arsenal's pressures happened in the final third. Under the new man? It's 19.5%, which doesn't seem like a statistically significant difference to me. So the pressing isn't really taking place any higher up the pitch, but is it at least winning the ball back more aggressively? Again, no. Earlier in the season, Arsenal allowed their opponents 10.44 passes on average before making an attempt to win the ball back. Since Arteta came, that figure is 10.80. Doesn't look like anything to me.
In possession, it's looked a lot better to the eye. Arteta has tweaked the shape quite a few times, but it's clear he likes one principle from his old boss. Guardiola is always keen to have a sort of "3-2" shape to go into at the back to shield against counters. As İlkay Gündoğan once explained it, "we always want to be in the position with three [defenders], two [players in central areas] and then the two attacking midfielders because that makes the game easier for us". At Manchester City in 2017/18 for example (a year when Arteta was assistant), he would on paper be playing a 4-3-3, with a back four of Kyle Walker, John Stones, Nicolás Otamendi and Fabian Delph while Fernandinho sat in front of them as the defensive midfielder. But in practice, Delph would then push up into midfield to form a double pivot with Fernandinho while Walker shuffled along to become a third centre back. Half the time, it looked more like they were playing a 3-4-3 than a 4-3-3.
In the last couple of games, Arteta has done it the other way round, starting with a 3-4-3 shape that can adjust. Against Southampton, that meant Shkodran Mustafi and Kieran Tierney either side of Rob Holding, but Tierney often shuffled over to more of a left back position, with right wing-back Héctor Bellerín dropping in to make it a back four. At Sheffield United, the personnel changed a bit. David Luiz sat in the middle of the back three (recalling his career best season under Antonio Conte), Ainsley Maitland-Niles came in for Bellerín, Tierney was moved up to the left wing-back role and Sead Kolašinac took that left centre back spot. But the idea was the same. The principle remains while the players change.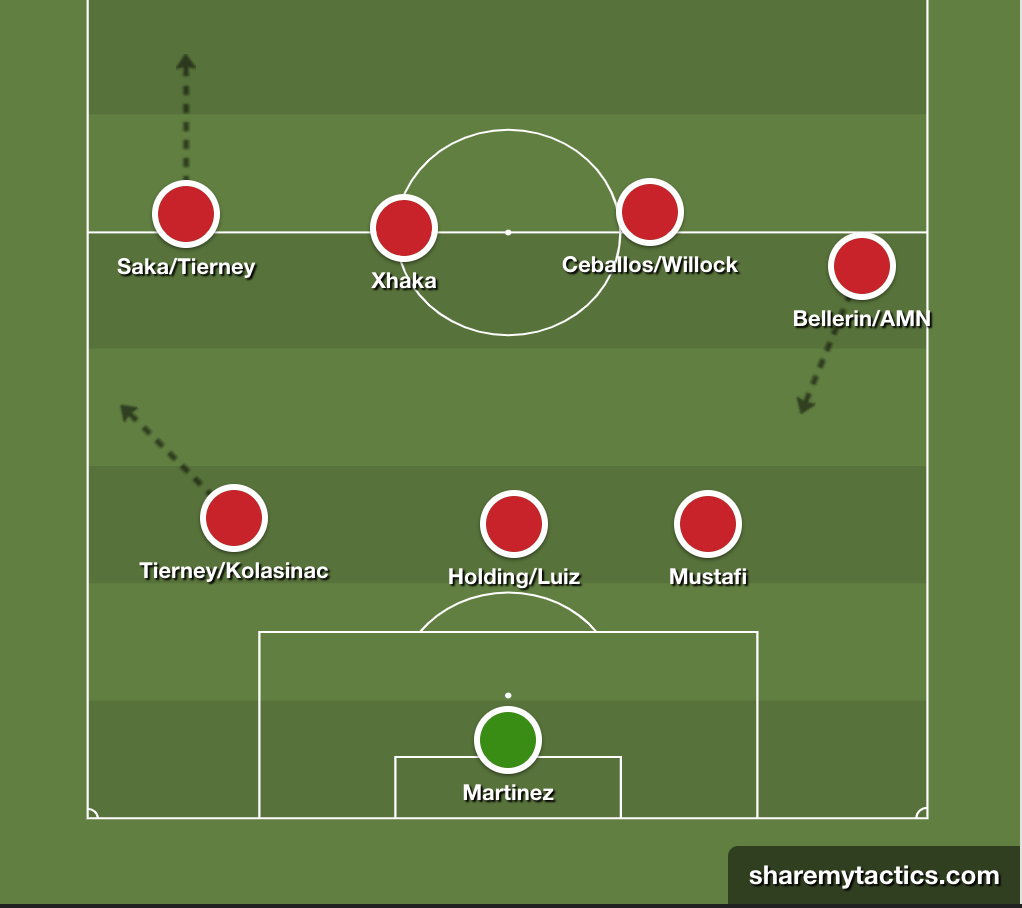 This is all much more subjective, but it does feel like some progress is being made in terms of what Arteta wants. It takes time to coach really good passing patterns and you could see some of the work done against Sheffield United. Luiz remains, throughout everything else, extremely adept on the ball. A key to so much with juego de posicion is being able to stretch the pitch and make use of both flanks. "You overload on one side and draw them in so that they leave the other side weak", a certain famous practitioner of the style said. "And when we've done all that, we attack and score from the other side". With this Arsenal shape, the wing backs are key, able to stay in position as wide outlets as everyone else takes up a more inside role. And the club have really good options in these positions. Bukayo Saka is looking like a superb all rounder who might suit left wing back best of all, while Tierney is very comfortable either there or as a left centre back. A post-injury Bellerín might benefit from not having to use his recovery speed quite so often, and he'll be challenged by Maitland-Niles, who can use his strengths more often than his defensive errors. It's probably the area of the pitch where Arsenal have the most depth, so they're right to make use of it.
Central midfield feels like a bag of Cadbury Misshapes. It's easy to understand why Arteta has taken to Granit Xhaka. He's easily the best deep lying passer in this squad. Only Dani Ceballos (who's going back to Real Madrid, so we're discounting him here) has completed more progressive passes per 90 of the midfielders. Wenger signed him to play nice passing football, and he can still do it. But he's also, you know, Granit Xhaka. You're over a thousand words into a newsletter that's used the phrase juego de posicion twice, so you surely know that Xhaka can be a dickhead. Lucas Torreira was supposed to be the more conventional holding player to keep him in check, but damn if that signing hasn't been a mild disappointment. He's a solid enough holding player, but he lacks either great physicality or a real passing range to stand out in the role. If he's going to partner Xhaka regularly, there's going to be a physicality deficit. Mattéo Guendouzi theoretically could tick all these boxes. He's a gifted progressive passer with greater mobility and should be knitting this all together, but he seems to lack the tactical understanding in the system. Though at 21 he should be allowed more time to learn and grow. In terms of younger options, Joe Willock looks a prospect but his best football is probably to be higher up the pitch. I don't know what the obvious answers are.
The final third is where all the excitement is, but it also feels a little unbalanced. I'd feel more comfortable if Mesut Özil wasn't getting frozen out. I'm sure Arteta has good reasons for this, but I still find the attack of Nicolas Pépé, Pierre-Emerick Aubameyang and Alexandre Lacazette a little unbalanced without him. We're talking about three very good footballers here, no doubt about it, but their game is about running into space and getting shots. Lacazette is a little different, but not drastically so. No one can be that glue in possession that Özil provides.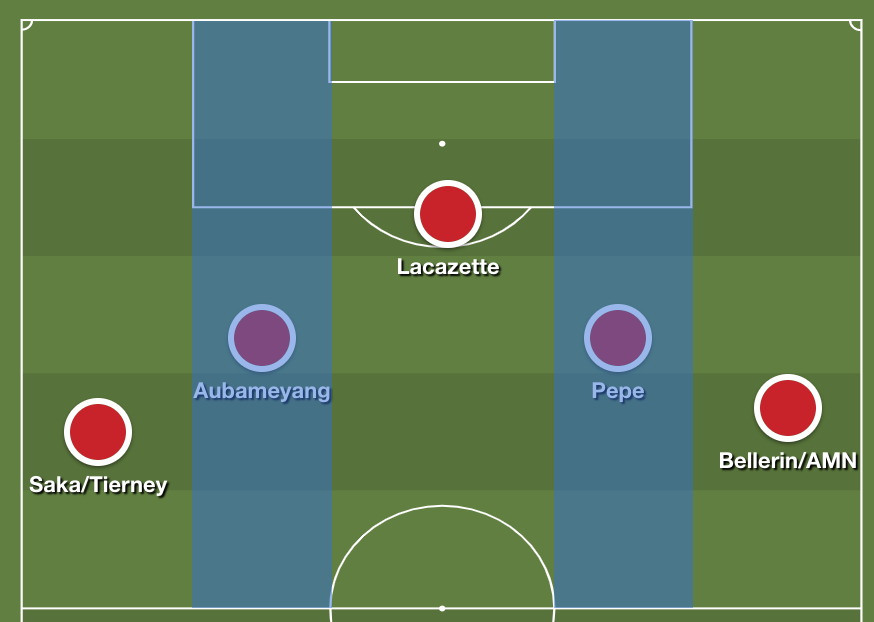 Let's say Arsenal are, like the last three sides to win the Premier League, looking to attack with five players in five channels. The two wing backs will take up the widest roles, while Aubameyang and Pépé attack the half-spaces and Lacazette plays between the posts (as shown above). There's no one who's really a specialist in possession here, who could really be called a true creative passer. Man City are deep here with Kevin de Bruyne and the two Silvas. Liverpool are less possession based, but still make great use of Trent Alexander-Arnold. Arsenal's attacking options look fairly focused on running into space.
All of these personnel issues are real, and I'm yet to be convinced Head of Football Raúl Sanllehi or Technical Director Edu can fix it. Their approach seems based around agents (or perhaps more accurately, agent), which is what it is. The budget under the Kroenke ownership remains suboptimal. But the good news is that they're now working for a manager who knows exactly what he wants and will provide a very specific idea of the player profiles he's looking for. In Unai Emery's time at the club, there was never remotely that clarity. Arsenal have an identity now, which serves as a starting point from which to build everything.
And I'm actually more confident than previously that Arteta can execute on his vision. We knew he'd have a clear idea of how he wanted to play football, and it's not a surprise at all to see him bring ideas from City. But he seems to understand the limitations of the players he's working with and has been subtly tweaking the ideas in response, while maintaining the core principles. I'm not really an expert on man-management, but all the talk is that he's brought greater structure and discipline to the club, which the players seem to be appreciating. There are reasons to doubt any project Arsenal embark on under Kroenke and Sanllehi. But if there's anyone who's going to right the ship at Arsenal, it's Arteta.