Discover more from Grace on Football
The Premier League and other football (soccer) nonsense.
Over 12,000 subscribers
Why Gareth Southgate's England Squad Is So Weird
It looks strange overall, but the individual choices all have a certain logic.
Cards on the table: I'm something of a Gareth Southgate apologist. Way back in around November 2017, when everyone was convinced he had no idea what he was doing, a part of me looked at his tactical set up and thought, in vague astonishment, "hang on, there seems to be an actual coherent plan here". Jump forward to June and I wrote my first article for StatsBomb on the very subject. Somehow, it launched my "career", if doing this can be called such. You wouldn't be reading this newsletter if Southgate hadn't started making coherent tactical choices. So I feel something of a connection to the man and still find myself wanting him to do well.
I've also spent a lot of time thinking about the decisions he makes and looked at the logic behind what he does. And even when he does stuff widely criticised or ridiculed, there's usually some good reason behind it, even if I disagree. Thus I tried to break down the current England squad and looked at why he picked and did not pick certain players.
---
Goalkeepers
Ok, this one isn't very complicated. Jordan Pickford has been England's number one for nearly three years now and even if it's probably time for him to be replaced, it's going to be a delicately handled decision. I'd guess that he plays one of the two upcoming games. After that, Nick Pope and Dean Henderson were the two outstanding English goalkeepers last season, so of course they're in. Easy peasy.
---
Centre Backs
I don't really want to talk about Harry Maguire because it has nothing to do with Southgate's tactical set up, but fine, he sits this one out. But after that, it gets harder. Of the four remaining centre backs, Joe Gomez is the only no brainer. Afterwards, he's done the thing everyone hates: picked players he trusts who have played for England before. The obvious thing to do from a fans' perspective is to name a squad simply of the best players, but it's hard. The priority isn't these two Nations League fixtures but building the right side for the European Championships next summer, and that includes the dressing room. He can bring in lots of new players at once and really overhaul things, or he can introduce new faces gradually and really have a good look at them without changing the whole atmosphere around the squad. Since England's atmosphere has been really good under Southgate, he's gone for the latter.
That's why Tyrone Mings, Eric Dier and Michael Keane are here but Lewis Dunk and Conor Coady are not. Really, the person who should feel hard done by is twice capped James Tarkowski (who seemingly didn't impress Southgate), while this seems like a statement that John Stones really needs to turn things around to go to the Euros. Fikayo Tomori might wonder if he needs to get that loan move to make his way back in. After that, he's picked the three guys he trusts to turn up and do a professional job. It's not about the "best" centre backs, and unless there had been someone really impressive who had to break in, he wasn't going to make changes here.
---
Full Backs
Something undeniable about Southgate is that he has a hard time disposing of players who have done a solid job for him. Kieran Trippier was a key part of that World Cup side and has always applied himself well even if his England form last autumn wasn't great. So he's still in. As is Trent Alexander-Arnold because duh. He's going to have to make some hard choices eventually with only two spots for that pair and either Kyle Walker or Aaron Wan-Bissaka. But that's a decision for another day, with Walker being rotated back in this time. No other right back is really going to be in the conversation.
Ok, so there are no left backs and yeah, that's a weird one. I'm paraphrasing here, but Southgate's own justification was that Ben Chilwell and Luke Shaw both had knocks while Danny Rose hasn't really been at it recently. All of these things are true, but the interesting thing is that he didn't even mention the idea of bringing in someone new. Do Ryan Bertrand and Brandon Williams have cases that they should be here? Yes (Bukayo Saka of course does, but it seems like he's not going to be a left back in the long term). But again, Southgate doesn't want to blow up the harmony of his squad just so he has options at left back. He clearly picked the three players he wanted to have a look at and set the limit on new arrivals for these fixtures.
---
Central Midfield
I don't really watch the Championship so I can't say I have a strong opinion on Kalvin Phillips, but trusted voices who do seem pretty sure he's good. And while England might have depth elsewhere, things are kind of thin in this area, especially with Jordan Henderson's absence. Declan Rice really has improved in the last twelve months and I wouldn't worry too much about him starting games, but Harry Winks has stagnated and may well have been dropped had Henderson been fit. Again, he's in because Southgate doesn't want to fill the squad with new faces all at once. In the long run, none of them would really get enough of a chance to impress him and it wouldn't do anyone any favours. James Ward-Prowse is another of Southgate's trusted lieutenants, but he also really was good for Southampton in the second half of last season.
---
Attacking Midfield (ish, formations are getting too abstract for this stuff)
Southgate has at times liked to include a younger player or two primarily to "have a look at them", because they're seen as long term important players more than necessarily being ready to go straight in. That's why he called up Mason Mount in late 2018 when he was still playing Championship football. Phil Foden's form has been excellent, but that's also the role he plays here. Certain players might be better to go straight in right now, but none are potentially among the most talented creative midfielders England will ever produce the way Foden is.
Ok, ok, you want me to talk about Jack Grealish. In fact, you can find and replace to get my thoughts on James Maddison as well, since they're exactly the same. Let's start by reading what Southgate himself said on the matter:
"I know at times Villa play Jack as a midfield player – that is not as I see him in the way we play. So with us he would be a wide player or a 10 and at the moment I think we have got players who deserve to be in just ahead of him. The difficulty for Jack is Mason Greenwood, Jadon Sancho, Raheem Sterling and Marcus Rashford. We have got incredible players in those positions, we have got competition for places."
I don't know if Southgate believes Mason Greenwood is actually a better footballer than Grealish right now, but hey, gotta say nice things about the guy he just called up. But let's track back to "the way we play". Since the post-World Cup tactical switch, England have generally played a 4-3-3, though Southgate has experimented a bit with a 4-2-3-1 (hence the "or a 10" line). But is he that different to Mason Mount? Looking at the areas where he touches the ball, it doesn't seem so: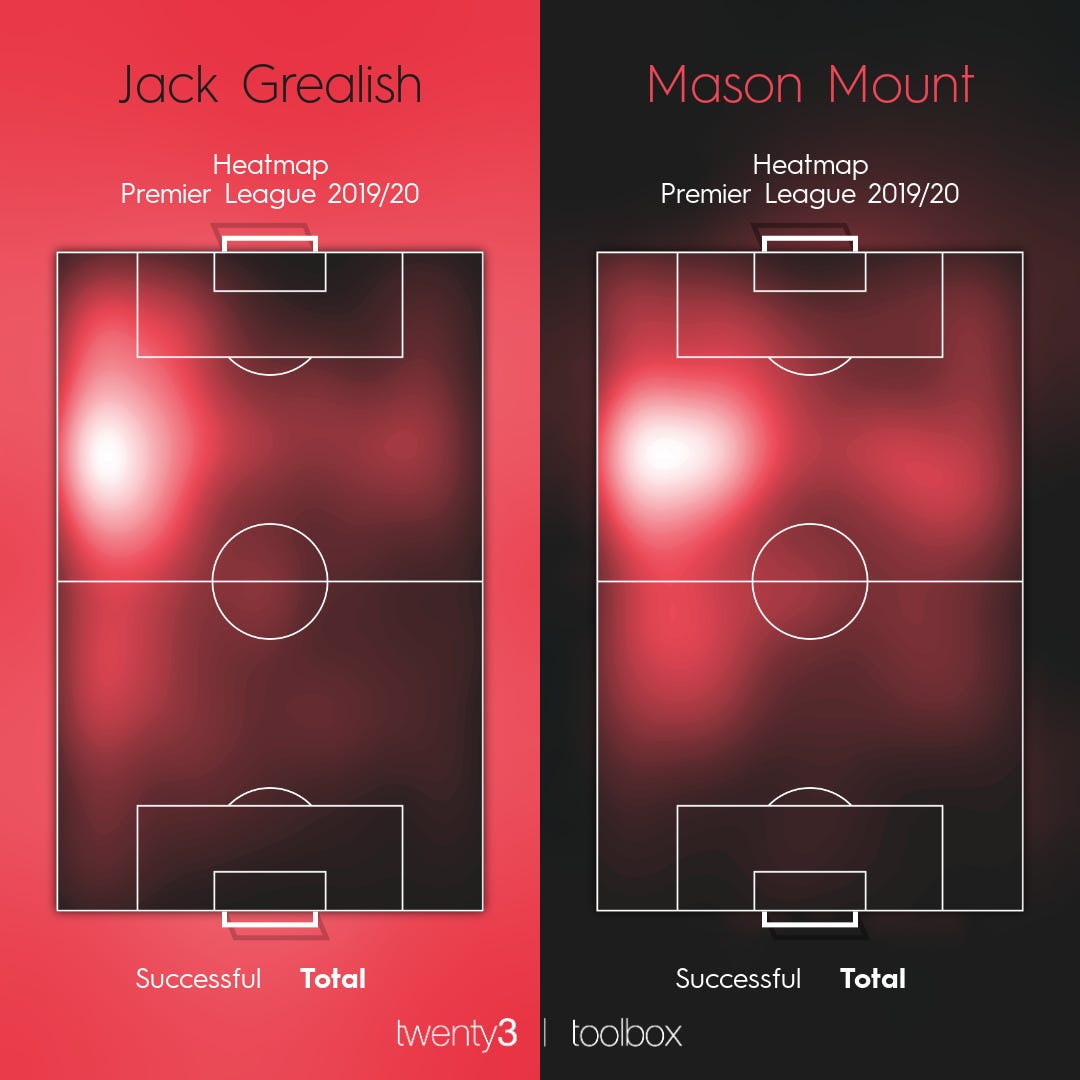 (Graphic provided by the Twenty3 content toolbox using data from Wyscout)
It looks pretty similar to me. Not unlike Grealish, Mount has split his minutes between central midfield, number ten and the left. They are comparable in terms of position, but different in what they do from those areas. Grealish is much more talented than Mount, yes. Aston Villa would be in the Championship right now if they had Mount instead of their main man. But Mount is a guy who can fill in and do the hard running while those around him apply the quality. His main skills are pressing well and getting shots, and we're increasingly seeing a level of tactical discipline from him at Chelsea. Grealish is a fabulous ball progressor, but one you want the whole team to be built around to really get going. England can't offer that.
There's an often told story about England rejecting technicians in favour of hard working players and goalscorers as part of why the side fail in tournaments. Good modern football is about building around these people, it's said, rather than eschewing them or shoving them to the left (see: Scholes, Paul). To be honest I find this a classic case of a falsehood that feels true. The Spain team of Xavi, Andrés Iniesta et al didn't succeed primarily because those players had great technique. They succeeded because those players had fucking brains. That's not to say Grealish lacks intelligence, it's to say that you have to have a system of complimentary skillsets where all play together intelligently. Spain didn't really click in the 2010 World Cup until the second game, when David Silva was dropped for Jesús Navas. If England did that, everyone would write the same headlines about English football hating technique. It's about tactical intelligence.
---
Forwards
Southgate sees his front three as Raheem Sterling, Harry Kane and one of either Jadon Sancho or Marcus Rashford, so of course they're all in. Danny Ings makes a long awaited return because he can press well and link with others running beyond him along with, yes, scoring a lot of goals. It's become fashionable to criticise Tammy Abraham recently, as seems to be the case with a lot of academy players who break into clubs' first teams for some reason, and it strikes me as unfair. This is someone who scored 0.61 non-penalty goals per 90 last season, ahead of frequent penalty takers Kane and Rashford (stop letting penalties guide how good you think strikers are in open play). That he scored an awful lot of his chances early on and then finished poorly afterwards strikes me more as a case of shit happens than anything else. He's good.
Then we get to the biggest "have a look at him" pick in Mason Greenwood. I'm really in two minds on this one. His expected goals overperformance is in the 99.9th percentile, meaning either this 18 year old kid makes Lionel Messi and everyone else in the history of football look like amateurs at kicking the ball into the net, or he is not going to keep finishing like this. If he had simply finished at the rate of his xG, there is no way he is in this squad. He's not exactly offering a lot of creativity, either. But when I watch him, he really does seem to have more strings to his bow than Rashford at the same age. He's interesting, which makes him worth at least paying attention to.
Southgate is the first England manager I can remember to have a clear and coherent plan about what he wants to do with the side. He's going to gradually bring new players in to enhance this, and he's not going to throw everything out just because some people are playing well right now. The aim is to win tournaments, not to pick the best players.