Discover more from Grace on Football
The Premier League and other football (soccer) nonsense.
Over 12,000 subscribers
Yes, Manchester United should pay up for Jadon Sancho
He's worth it and, contrary to popular belief, exactly what they need.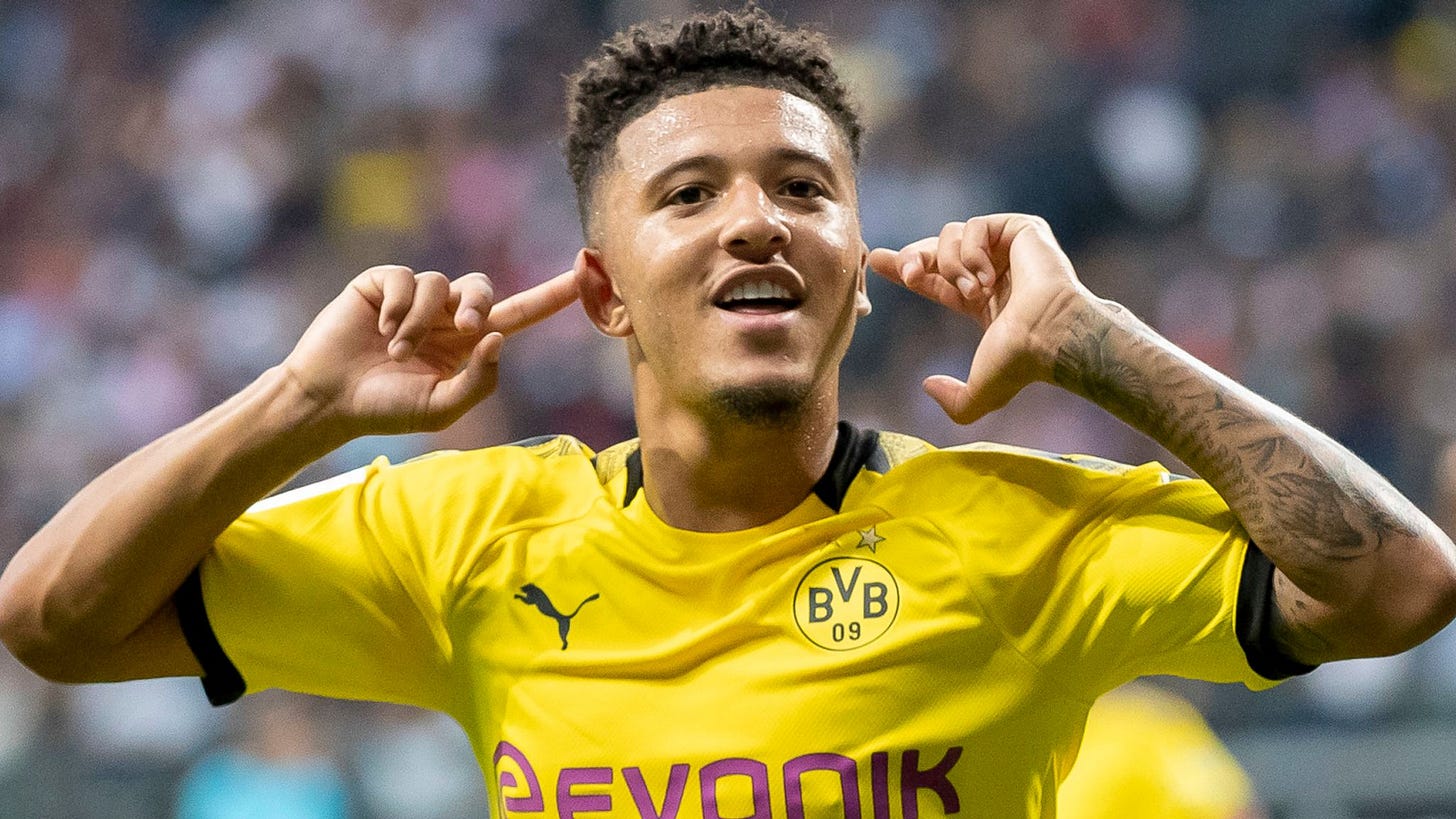 Jadon Sancho is hot property. When you break 30 Bundesliga goals and assists in the season you turn 20 years old, that can happen. That he's become a symbol of this very exciting generation of English young players, both more gifted than their predecessors and more willing to try different opportunities abroad, certainly helps promote his allure. It's new, but in someways it's very much the same old, as Manchester United go after perhaps the most talented English player of his generation, just as they succeeded with Wayne Rooney and failed with Alan Shearer.
But there's been a bit of a backlash to the move that strikes me as misplaced. Part of this is simply the huge sums of money involved at a time when so many are struggling, including some football clubs laying off employees. Personally I'd argue that this is a false choice, as the Glazers have already taken so much money out of Man Utd and can cover any and all operating costs without scratching the surface of their back pockets. Some in football would like to see a little less free spending at this time, but I'm not sure a big pile of money staying in the hands of one wealthy family who barely lift a finger for the club is really any better than seeing that cash flow to Borussia Dortmund, Sancho himself and his agent. They're good for this money, and it's a false choice to pretend it's this or protecting jobs in the area or whatever.
"Why did they not go for a forward, such as Raúl Jiménez from Wolves?", claimed Peter Crouch this week. "The defence needs strengthening, so why are they concentrating on Jadon Sancho rather than a partner for Harry Maguire? Sancho is superb, don't get me wrong, but how much of an upgrade is he on Anthony Martial, Marcus Rashford and Mason Greenwood, who can all play in that position?
"The £100million for Sancho could be better invested elsewhere."
It became a bit of a punchline, but Crouch's comments echoed the sentiment many have: Sancho is good, yes, but United have plenty of exciting attackers of his mould, while there are real problems with the defence that needs sorting. Surely a centre back, left back, and defensive midfielder are bigger concerns if Ole Gunnar Solskjær's side want to push on?
This seems to have become the "smart" read of things. People looked at Chelsea's significant investment in attacking talent and pointed that the real issues were further back. The same appears to be true of United. But I think this is incorrect. I think Sancho is exactly the player they need, in exactly the position they need to strengthen.
Let's look at what United actually achieved last season. They finished third, which was good enough. But while Bruno Fernandes, Marcus Rashford, Anthony Martial and Mason Greenwood were getting all the right headlines down the stretch, with Harry Maguire and Victor Lindelof becoming a bit of a punchline, that's not really seen in the numbers. United conceded 36 goals from 38 games last year, only three more than Liverpool. It doesn't feel right, but that's a better defensive record than many of Sir Alex Ferguson's title winning campaigns.
As StatsBomb's James Yorke put it, "the blast of finishing and run of penalties while Fernandes has been at the club gives the impression that United's attack is their strength, when actually the opposite is likely true--the defence is their bedrock and has been for some while.
"A season long expected goal against value of around 0.9 per game is in the ballpark of their rivals--including Manchester City and Liverpool. A season long expected goal for value of 1.3 per game parks then between Southampton and Everton. If this team has designs of winning enough games to point upwards out of the island of third to fourth, it will first and foremost need to get better in attack."
No one could claim Maguire and Lindelof are world class centre backs. No one in their right mind would put them in the same conversation as Rio Ferdinand of Jaap Stam. But United have become pretty effective at defending as a unit. Aaron Wan-Bissaka, for all his limitations in possession, is outstanding at shutting down United's right flank and preventing most attacks from ever really materialising from there, so that's part of the problem solved already. Lindelof, Maguire and Luke Shaw don't have anywhere near this ability, while none of Fred, Scott McTominay or Nemanja Matić are "do everything" defensive midfielders that could naturally cover for this (think N'Golo Kanté making Wes Morgan and Robert Huth look great for Leicester). Solskjær's solution to this has been to add in a fair amount of stale possession and not lean too hard on the high pressing. 23% of United's pressures came in the final third last season, a very middling ninth most in the Premier League (numbers from Football Reference using data from StatsBomb). It's not very exciting, and it looks bad when it goes wrong, such are the flaws of those centre backs. But it works, and to be honest I think Solskjær should get a little more credit for maximising his resources like that.
United went on a good goalscoring run in the second half of the season that really made it feel like their attack was purring, but so much of this was driven by finishing hot streaks and winning penalties. It's exactly the kind of recipe that's unlikely to work forever. If United just play back the same formula, expect them to score many fewer goals than the 2.44 per game they were getting post-lockdown last season.
But there are some interesting pieces to work with here. Bruno Fernandes is very high risk/high reward, but between him and Paul Pogba there's now plenty of creativity coming from the middle of the pitch, after it was a real issue in late 2019. Donny van de Beek should compete with them to offer less of a passing threat but more runs into the box and more goals in open play. Marcus Rashford is becoming a really good all round wide forward with great dribbling, passing and shooting threat. Slowly but surely, he's becoming a very complete player. Upfront, they have Anthony Martial, who I'm still a little cooler on than most. A striker for Man Utd needs to be taking more than 2.7 shots per 90. But he does seem to be a genuinely above average finisher, having beaten xG for several years now, and his link up play is superb, particularly with Rashford.
The right sided attacking role is less settled. Part of this is about Wan-Bissaka, for all his shutdown qualities, isn't offering a lot in possession, so it really all has to rely on this one player. For most of last season, that burden was on Daniel James. If you're reading this, Daniel, I'm sorry, but you're just not very good in this team. But you're not thinking about James. You're thinking about Mason Greenwood.
Let's be fair and start with what the young England international is good at. 2.6 shots per 90 for an 18 year old wide man is impressive, and he has a real ability to shift the ball between his feet and create a pocket of space to get his shot away before someone has the chance to close him down. Whether defenders will wise up to that a bit now that he's a "name" is anyone's guess, but the talent is real. Anything done at Premier League level by an 18 year old is worthy of respect. But he's not going to score all those goals unless he starts taking a lot more shots and from better positions. Models estimate about a 0.01% chance of him scoring so many from the shots he took. I know this is exactly what people talk about when they say stats ruin football, but the facts are still the facts. The expectation for him has to be as an occasional scorer rather than a regular one. And beyond that, he's mostly a safe passing option who doesn't create much danger for opponents. Take this possession value graph from Kees van Hemmen. Find Mason.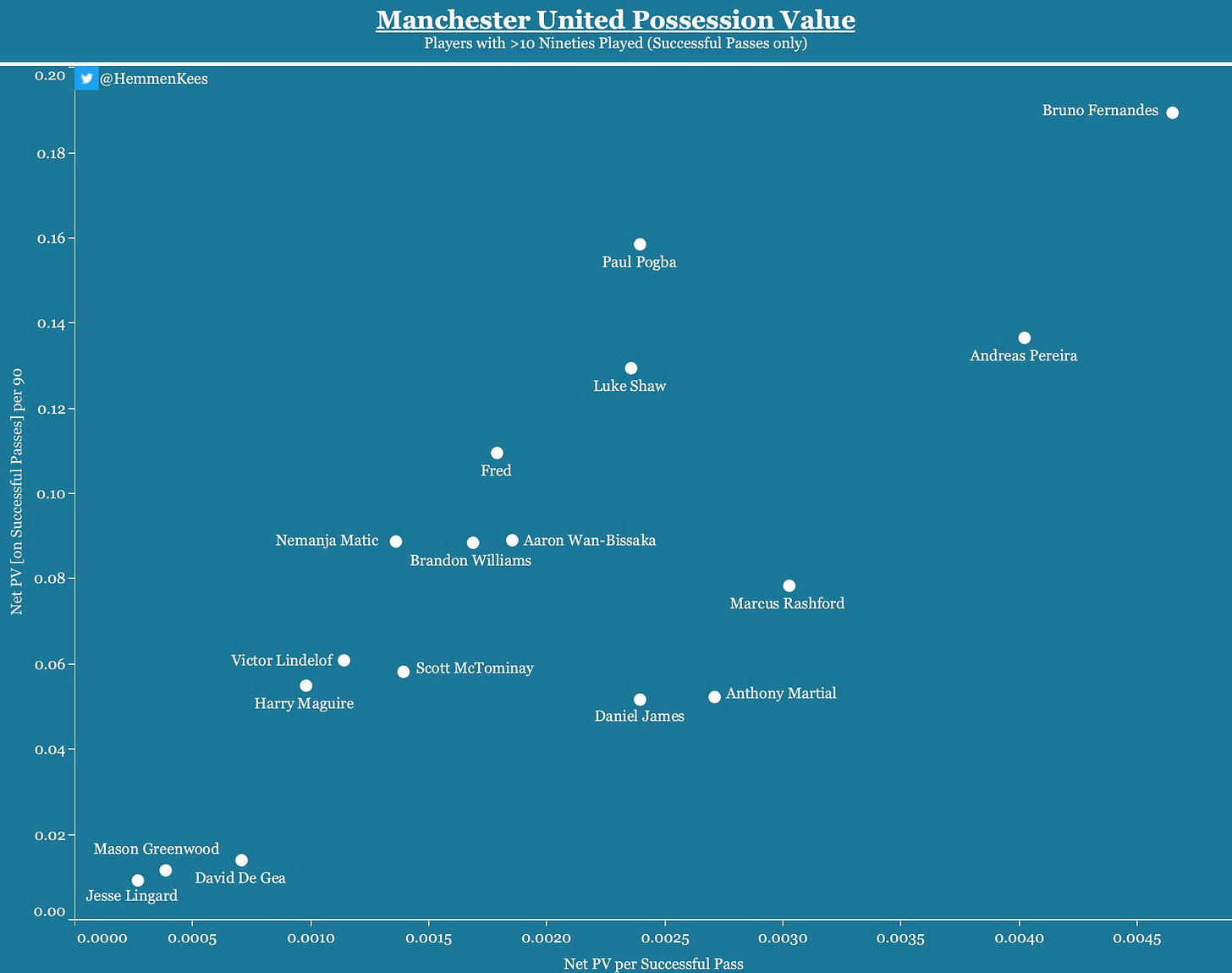 United are not going to win the league this season or, in all likelihood, next. Their "window" is somewhere in the future. That's why Greenwood is important, since he really does offer a lot, but likely as a striker and definitely not to start a lot of games this season. He can come on late in matches for the foreseeable future. What United really need, then, is someone who can play from the right as something of an all round threat. Someone who can score, assist, pass and dribble at a high level, and someone at the right age. Defensive work isn't as much of a concern since Wan-Bissaka cleans up so much on that side.
That someone is Sancho.
In Europe's top five leagues last season, seven players 21 or under hit 0.60 expected goals and assists per 90 minutes.
And of that magnificent seven, only two were also producing more than three dribbles per 90.
One of that pair was Kylian Mbappé. But he wasn't the one who was also making over six progressive passes per 90. Only one young player hit all those marks in terms of scoring and assisting, dribbling and passing.
Jadon. Sancho.
Say his name.
(Again, numbers are from Football Reference/StatsBomb.)
Does he play the right position? We can fire up the Twenty3 content toolbox (with data from WyScout) and see that he's popped up on either flank. To the eye, he's generally looked more comfortable on the right rather than the left. This should be a perfect fit.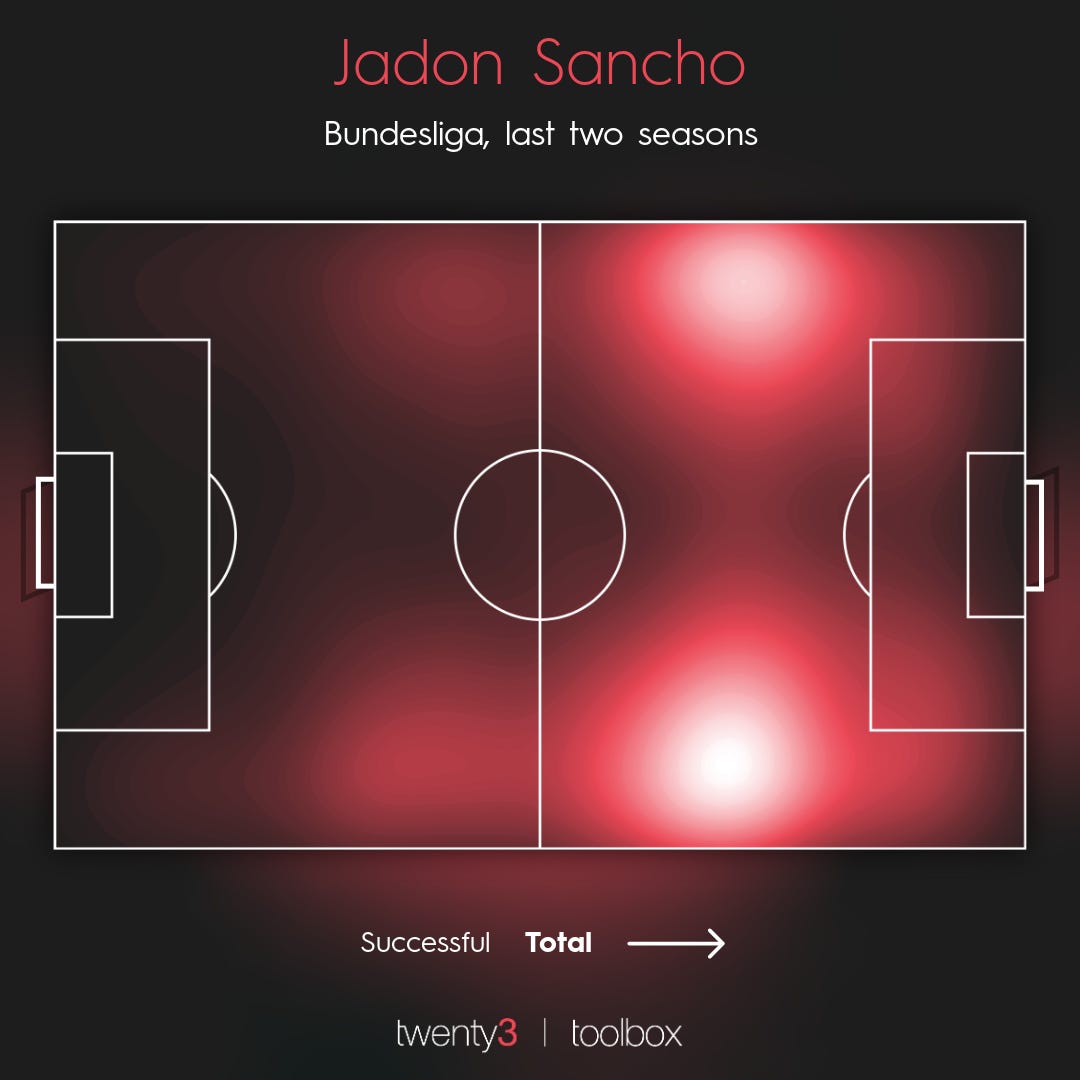 Maybe it's just that he plays in Germany, but I don't think people in England quite realise what a unique talent Sancho is. Players have done significantly less than him in the Premier League and earned reputations as "England's future". Sancho is the one. He's special. If United are going for a "window" of a few years' time, he's the guy you build that next side around.
Any club that can should be doing whatever it takes to get him in the door.